| | |
| --- | --- |
| | Words of the Betancourt Family |
Antonio Betancourt hosts Washington DC Forum: Peace Zones as Avenues for Stability in South Sudan, Syria, Colombia and Korea
Velma Anne Ruth
October 15, 2013
President, Independent Review, Inc.
Executive Director, Middle East Democracy Federation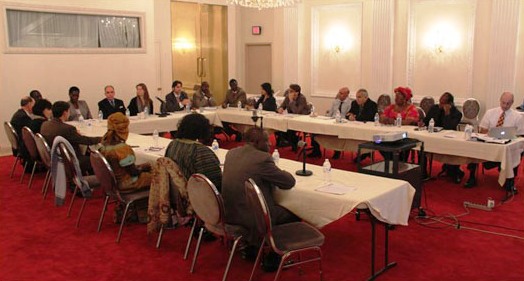 Washington DC, USA -- The United Nations first introduced the concept of "peace zones" in 1947 to promote peace in Jerusalem. Since then, the UN has engaged dozens of peacekeeping missions through the development of international coalitions for stability, addressing crises of military proportions, humanitarian, volatile conflicts and major natural disasters. UPF's Office of Peace and Security Affairs organized forum on Oct. 15, 2013 on the topic of Peace Zones: Creating Avenues for Stability through Development. Participants reviewed four case studies and the viability of establishing zones of peace as a means to resolve conflicts in Korea, South Sudan, Colombia, and Kurdistan.
In addition, the participants discussed a refinement of the concept of "peace zones," as proposed by UPF Founder, Dr. Sun Myung Moon at the United Nations in 2000. Dr. Moon, at the same gathering, called for the creation of an inter-religious council at the United Nations. Governed directly by the United Nations, he said, "These peace zones would be havens that exist for the sake of peace, prosperity, and reconciliation. They would be free of racial and sexual discrimination, human rights violations, and war. These areas would also be ecological and environmental havens for the entire natural world."
Speakers:
Korea: Dr. Seung-ho Lee, President, DMZ Forum
South Sudan: Dr. Matilda Rial, Board Members, South Sudan Health Development Group
Colombia: James Patton, Executive Vice President, International Center for Religion and Diplomacy
Kurdistan: Sharif Behruz, President, Iran Roundtable, and Habib Azarsina, Board Member, Iran Roundtable
Moderator: Velma Anne Ruth, M.Ed., President, Independent Review and Executive Director, Middle East Democracy Federation
Host: Dr. Antonio Betancourt, Director, UPF Office for Peace and Security Affairs, Washington, D.C.
Participants:
Mr. Raymond Awiyo -- Third Secretary, Embassy of South Sudan
Dr. Joseph Agolory -- Board Member, South Sudan Health Development Group
Mr. Habib Azarsina -- Board Member, Iran Roundtable
Dr. Norman Bailey -- Adjunct Professor of Economic Statecraft, The Institute of World Politics, Washington, DC (submitted paper)
Dr. Mark Barry - Advisor, Office of Peace and Security Affairs, UPF-DC
Dr. Maciej Bartkowski -- Senior Director for Education and Research, International Center on Nonviolent Conflict
Mr. Sharif Behruz - President, Iran Roundtable
Ms. Emelyn Besem -- Upper Banyang Women's Organization, Cameroon
Dr. Antonio Betancourt - Director, Office of Peace and Security Affairs, UPF-DC
Ms. Cynthia Dillon -- Host and Producer, Republicans International Radio (Republicans Abroad Radio)
Mr. Ken Feltman - Chairman, Radnor, Inc.
Ms. Anna A. Forgwi - Member, African Women Human Rights Group
Mr. Alex Georigaidas - Director, Business Development, MSCI Federal (Medical Service Corp. Int.)
Ms. Samira Ghaderi - Director, American Kurdish Council
Mr. Richard Groden - President, Island Sky Corp.
Ms. Mary Kombo - Member, African Women Human Rights Group
Dr. Seung-ho Lee - President, DMZ Forum
Mr. Samuel Mbuh - President, MECUDA, Washington, DC Metro Chapter
Rev. Zagery Oliver - Pastor, Unification Church of Washington, D.C.
Mr. Aban Othow - Counselor, Embassy of South Sudan
Mr. James Patton -- Executive Vice President, International Center for Religion and Diplomacy
Dr. Matilda Rial -- MBBS, Board Member, South Sudan Health Development Group
Mr. Aisau F. Robert - Counselor, Embassy of South Sudan
Ms. Velma Ruth - President, Independent Review, Inc.
Mr. Jehad Saleh -- Syrian Kurdistan (Rojava)
Dr. William Selig -- Deputy Director, UPF Office of Peace and Security Affairs
Ms. Vivian Tamufor -- African Women Human Rights Group
Mr. Joseph Tezi - President, Ngyen Mbo Development and Cultural Association, Cameroon
Mrs. Cynthia Turner -- Executive Vice President, Medical Service Corporation International
Ms. Elizabeth Asaha Ufei - President, African Women Human Rights Group
Opening Comments by Dr. Antonio Betancourt, Director, UPF Office of Peace and Security Affairs
The concept of "peace zones" was first introduced in 1947 through the UN's Security Council Resolution 181 to promote peace in Jerusalem. Since then, the United Nations has engaged dozens of peacekeeping missions through the development of international coalitions for stability, addressing crises of military proportions, humanitarian, volatile conflicts and major natural disasters. Over time, as conflicts deteriorate, large territories are designated to promote advancement, such as industrial zones for trade, production, and resulting economic growth which facilitates strength in diplomacy between neighboring nations.
During his speech at the United Nations in 2000, UPF Founder Reverend Dr. Sun Myung Moon raised the concept of "peace zones," drawing on United Nations history and capabilities to promote stability in conflicted territories by fostering a global authority in leadership and governance which embraces the collective intervention of multiple nations into a coalition that addresses security, humanitarian aid, democracy, and economic development.
Intervention is brought into disputed borders that "pass through rivers, mountains, fields, or the sea, [where] we can create buffer zones or peace zones along these borders." These are "protected territories that promote peace, prosperity, and reconciliation"... "free of racial and sexual discrimination, human rights violations, and war" as Reverend Moon described. He further proposed that the peace zones would be green, such as with low carbon footprint, environmentally sound, and promoting natural resources. At the height of stability, the territories could engage "cultural promotion, exhibition halls, museums, educational sites, and peace parks in this zone in order to teach visitors important lessons regarding peace."
In the course of peacekeeping missions, surrounding intervention, and follow-on nation-building, land designated by a given nation, local or regional authority promotes stability through ongoing negotiation, management of refugees and internal displacement, or establishing industrial trade zones that promote economic growth and partnership between nations or territories.
Through international cooperation, the concept of "peace zones" can and is furthered through partnerships between government, charitable, corporate and financial institutions that share visions of stability for the given territories, committing valuable assets to the strategic process for the greater benefit of indigenous and surrounding peoples through security, medical development, housing, industrial growth and job creation.
Peace zones, "peace cities," charter cities, or peace parks, like the one proposed by President Park Geun-hye of South Korea for the DMZ between the two Koreas, can be established in other border areas of conflict, and territories between developed and under developed areas. They can assist in promoting stability. Consider the borders of the U.S., Mexico, and other Central America nations. Guerrillas and violence in Latin America like in Colombia, ongoing volatility and unrest in Africa, in countries like Democratic Republic of Congo with Rwanda and Uganda, border conflict between Sudan and South Sudan, integrating territories between Jordan and Syria, the intersection of Kurdistan that is Iran-Iraq-Syria-Turkey, disputed regions between Afghanistan and Pakistan, and beyond.
Peace cities may be designated locations within a given country, or between countries, that deepens capacities for growing stability through developing infrastructure towards higher qualities of life. The most opportune peace cities would give indigenous peoples avenues to establish prosperity for themselves, their families and communities by implementing internationally renowned best practices in legal systems, in technology, finance, banking, health, law, and open markets for sustainable solutions in green energy, water, agriculture, and beyond.
Today, we will be looking at four case studies - Korea, South Sudan, Colombia, and Kurdistan.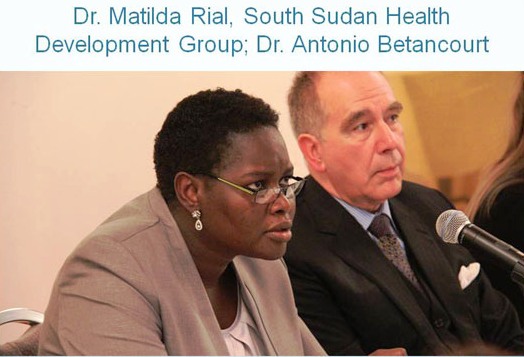 Roundtable Proceedings
The roundtable discussion was moderated by Velma Anne Ruth, M.Ed., President, Independent Review, Inc and Executive Director, Middle East Democracy Federation. Velma welcomed all participants in appreciation, and also to Universal Peace Federation for hosting this event and recently appointing her an Ambassador for Peace, in hopes that many Ambassadors for Peace from around the world can join forces in addressing issues such that we are discussing today.
Velma reflected that people in this room know her well, because they work closely together in support of their countries, or many countries around the world. But that this is a first opportunity also for many to meet each other, and be introduced to the Universal Peace Federation.
The concept of Peace Zones is something that Velma views as a long-term mission for many countries, where we can begin with the seeds of development in promoting stability. There are some critical issues that many people are facing in the world, while it seems that our global security is vastly deteriorating. These issues include water, food, health, housing, sewage, agriculture, energy, alternative energy, and the fundamental governance of infrastructure such as democracy, diplomacy, and intelligence.
Over the course of strategic planning and program implementation, the most important component is the people that are impacted, the voices from within the given country, village, or community being served, their direct participation and opinions on how any development supports their advancement, because it is the people that make up the infrastructure, and it is the human assets that are the beneficiaries. For example, Velma expressed, she as an American cannot tell her friends in Cameroon, South Sudan, Iran, Syria, Iraq, or otherwise how to develop their own country. All she can do is offer resources in support of their independent aspirations. Then what we can do is identify locations to begin, where do we start the budding of internal assets towards more national advancement.
Case Study #1: Korea and the Korean Demilitarized Zone (DMZ)
The Korean Demilitarized Zone (DMZ) has served as a buffer zone between North and South Korea since the 1953 Armistice ending the Korean War. It has seen discussion of numerous possible co-ventures, most notably a nature reserve, but by and large, the DMZ remains a no-man's land directly controlled by each nation's military with numerous Armistice violations in the past 60 years.
The roundtable was joined by special guest speaker Dr. Seung-ho Lee, President of DMZ Forum. Dr. Lee's opened his comments highlighting that this year, 2013 we observe the 60th anniversary of the DMZ, given the Korean War ended in 1953. Since then security concerns continue in northeast Asia. From a global perspective the Korean peninsula is the highest security concern, while North Korea (DPRK) is always saying that they are at risk from outside the country, and DMZ has been their frontline.
Many people, including South Korea have been trying to turn the DMZ into a peace park. Dr. Lee reflected on North Korea's perspective, and how to persuade them into this program, which is an idea of UNESCO. Dr. Lee explained that the DMZ separates two major mountains, one in North Korea, the other in South Korea, and both mountains are national parks on either side. Joining the land in between the two mountains would promote a peace park.
Dr. Lee discussed primary concerns of the peace park as turning this commission into a peace treaty, transitioning DMZ into a world heritage site, the process of designating sites, and operating through UNESCO without security risk.
In reference to Dr. Lee's organization DMZ Forum, "The Korean Demilitarized Zone is a strip of land running across the Korean Peninsula that serves as a buffer zone between North and South Korea. The DMZ cuts the Korean Peninsula roughly in half, crossing the 38th parallel on an angle, with the west end of the DMZ lying south of the parallel and the east end lying north of it. It is 250 km (160 miles) long, approximately 4 km (2.5 mi) wide and is the most heavily militarized border in the world."
"The DMZ clearly demonstrates how nature can restore itself after the destructive effects of war. There we can see rare and endangered species. Due to nearly 60 years without human intrusion, the area's biodiversity has thrived, creating a place that is both ecologically and culturally significant. Protected migratory birds also thrive in the DMZ and recently it is reported that the tiger has survived in the DMZ.
"The DMZ has great cultural value to Koreans and to all the world's peoples. It is a living symbol of the costs of war, one that can inspire us to strive for peace. It serves as an educational site, teaching us that sacrifice need not be in vain, and that if we work together, we can bring peace, prosperity, and ecological sustainability even to those places most damaged by the ravages of war.
DMZ Forum continues reflecting on the proposal to "Turn Korea's DMZ into a UNESCO World Heritage Site. Each UNESCO World Heritage Site represents cultural and ecological treasures important to us all. The DMZ is a very special place that reflects both the tragedy of war in the 20th century and the beauty and wealth of Korea's unique ecology. Today, it is protected only because on-going hostilities deny human access to the area. To ensure its continued survival, it is our responsibility as global citizens to preserve the DMZ's historical and ecological significance through registering it as a UNESCO World Heritage Site.
Dr. Mark Barry is an independent Asian affairs analyst, specializing in US-DPRK relations for over 23 years. Dr. Barry suggested "what is significant is that the idea of a DMZ peace park, which goes back at least as far as the early 1980s, is no longer merely an idea but South Korean official policy.
"President Park Geun-hye first publicly proposed it in a speech before a Joint Meeting of the U.S. Congress this past May, and reiterated it in her annual Liberation Day message on August 15. However, as senior North Korean officials have affirmed, the two Koreas can make progress on a DMZ peace park only when they are able to fully agree and successfully operate the existing Special Economic Zone in Kaesong, just north of the DMZ. That zone where almost 200 South Korean companies have manufacturing operations, which had been temporarily shut down by the North from April through September, is only now just getting back to normal operation. The North Koreans see successful operation of Kaesong as a prerequisite to something much larger, which is consideration and implementation of a peace zone of some kind in the DMZ."
The road for DMZ Forum and UNESCO in establishing the peace park is no doubt in the spiritual vision of establishing a peace zone for Korea.
Further perspective on peace parks, Yonhap News Agency (Oct. 22), wrote: "The DMZ peace park project is not achievable if current inter-Korean relations continue, as the project requires agreements between the two Koreas," Unification Minister Ryoo Kihl-jae said during a press conference organized by the Seoul Foreign Correspondents' Club.
"We have to see the situation where the cooperation between the two Koreas for the project will also contribute to inter-Korean relations, but the time is not right as of now," he said. "We are now reviewing many aspects on the project, preparing for its realization in close cooperation with the international community."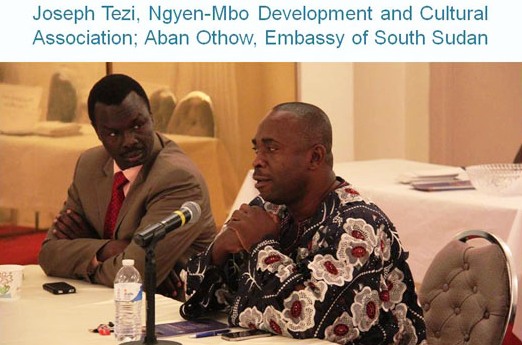 Case Study #2: South Sudan
On July 9, 2013 South Sudan celebrated its second independence day, as the youngest of all countries in the world. Separated from the north, where Sudan maintains conflicts over Darfur, border conflicts with the South, and other issues discussed in this segment, South Sudan maintains a bulk of natural resources that has yet to be tapped and invested in by foreign market leaders such as energy, minerals, and agriculture. To date, American company and financial institution investments have been limited, while competitors and Europe and Asia are gaining speed in consideration of promising outputs. Sudan has been lacking proper health infrastructure for decades, and the South has been struggling to rectify, while is waiting for industry advancements to empower social conditions. Philosophically, the Sudanese share goals of development in promoting stability between north and South, where of work, health, water, and food resources would lessen need for conflict overall. In this theory, any designated location for development whether in border areas or deeper in-country would share the vision of a peace zone.
In this session, a presentation was given by Dr. Matilda Rial and Dr. Joseph Agolory, board members of South Sudan Health Development Group, who support collaboration between private sector advancements in medicine and water with the Republic of South Sudan, Ministry of Health, state and local governments in country, while directly engaging South Sudanese diaspora in promoting the cause. Special guests included a delegation from the Embassy of South Sudan whom provided comment in representing their Ambassador Dr. Akec Khoc: Counselor Aban Pagan Othow, Counselor Aisau F. Robert, and Third Secretary Raymond Opi Silas Awiyo.
The presentation began with a quote from Ambassador Dr. Akec Khoc, reflecting his aspirations in promoting the health and wellness of South Sudan, considering also that he is a medical doctor by training.
"As a post-conflict third world Country, South Sudan needs assistance to improve the quality of health service delivery to the population, raise the capacity of the service providers and avail quality medicines at reasonable prices to be accessible by all citizens. Many more could still be said. However, if we could achieve these three objectives, our population can live better and longer lives....We must contribute to transforming our society."
Historically, Ambassador Akec has been Ambassador of Sudan before its division, and Ambassador to the United Nations. He has also been appointed by Universal Peace Federation as an Ambassador for Peace. It is with much appreciation to His Excellency that the South Sudanese diaspora and South Sudanese leadership can work together with shared goals. Through the Ambassador's advocacy, the South Sudan Health Development Group adopted His Excellency's quote as their mission statement.
Speeches were accompanied by a slide show exhibiting a series of maps including Doctors Without Borders current activities between north Sudan and South Sudan, current medical and sanitation conditions, ongoing conflicts and security issues.
With regards to ongoing conflicts, Dr. Joseph Agolory shared:
Sudan and South Sudan have been in conflict for 23 years, and South Sudan just celebrated its second year of independence. Agreements were signed for South Sudan to become an independent country because certain issues that were not addressed in the north, were resolved in the south, meanwhile security issues continue to plague internal displacement. There continues to be land disputes between ethnic groups, clashes over border disputes, many have been wounded, many have died or been displaced between north and south as a result of this conflict. South Sudan inherits the problems that have been ongoing, still needing to improve quality of health services, food and drinking water conditions, while the people continue to be ill, have no where to go for treatment such as malaria, treatment of traumatic conditions, there is insufficient amounts of medicine, and inadequate medical facilities. The Doctors Without Borders efforts are very organized with a multitude of staff, but still is not sufficient to address South Sudan's dire medical needs.
Dr. Matilda Rial continued the presentation exhibiting pictures from her medical mission to South Sudan in August 2013. The images detailed broken equipment, insufficient medicines and anesthesia (leaving patients to suffer through surgery without it), overflowing waiting areas showing hundreds of people who are left untreated due to the few visiting physicians who were restricted on time and availability, mounds of garbage collected and surrounding medical facilities without any waste management program (thereby promoting disease), and limited water resources mobilized through UN water tanker trucks.
Over the course of exhibit, Dr. Rial voiced medical statistics directly from the Ministry of Health, which the Embassy delegation reiterated and reflected upon in follow-up.
In South Sudan there are three (3) teaching hospitals, 1147 functional and 340 nonfunctional health facilities. A given primary health care unit (PHC) may see 15,000 patients, county hospitals each have 300,000 patients in need on average, and state hospitals each 500,000 patients in need on average. There is a disproportionate distribution of health facilities in urban areas, and health centers not distributed evenly overall.
South Sudanese medical facilities are currently short staffed at 0.5 physicians / 100,000 population, as compared to the WHO standard of 1 / 600. 40% of the South Sudanese people have access to health within a 5 km distance, however due to lack of roads, poor road quality, and lack of medical transportation, 5 km is a distance too often too difficult to reach. For example, in trauma and intensive care situations such as spinal or head injury, lack of care leads to infection, and death.
Dr. Rial also shared images from OBGYN and pediatric wards. According to the Ministry of Health, in South Sudan 60% of the female population are at birthing age (13-40 years old). There is a very high maternal mortality rate as only 14% of births receive any assistance which does not necessarily include any medical doctor or medical staff, while 13.6% of births are in a medical facility, and merely 10% of births are serviced by medical personnel. In South Sudan, there are 2 midwives per 100,000 people and a lack of contraception resources.
The infant mortality rate is extraordinarily high at 75 infant deaths per 1000 births (2010). Mortality for children under 5 is also high, at 105 deaths per 1000 children (2010). Unfortunately, one condition easily prevented through proper access to clean water and nutritious food is diarrhea, however diarrhea is a top killer of children.
In terms of infectious disease, cancer and diagnostics, diagnostic, vaccines, pharmaceuticals, surgical, and other treatment capacities are lacking in disease areas. South Sudan lacks access to medicines, and lacks proper storage facility and transportation units. Further, neglected tropical diseases present a bulk of issues.
In South Sudan, malaria is the top killer, and the situation is worsened by false positive diagnosis, and over-prescribed treatment. Out of 100,000 population there are 140 TB cases. 3% of the population has HIV / AIDS. And South Sudan holds 98% of the world's cases of guinea worm-water. Additional tragic conditions include Typhoid, malnutrition, respiratory disease, and renal kidney failures given lack of dialysis treatment.
Another promoter of disease is travel and immigration, as people move freely between South Sudan, Ethiopia, Congo-Kinshasa, carrying and transmitting diseases with them.
With regards to environmental health risks, a good environment is required for good health, but South Sudan is currently struggling with contaminated environment. Poor water quality, excessive sewage, and lack of waste management system promote major health risks. 40% of the population has access to improved water, yet through wells which may be contaminated due to lack of waste management. For those traveling to obtain water, there persons may venture for at least one hour each way to obtain the resource. Meanwhile, 52% of the population has no access to improved water, and there are extensive contaminants in the Nile River. Unfortunately, sewage systems are only present in official offices, and 95% of population does not have access to any sewage system.
In reflection also of strong collaboration through the South Sudan Health Development Group, Dr. Rial and the Embassy delegation collectively cited the need for overall medical infrastructure such as extended fully operating clinics and hospitals, water resources, waste management, and beyond.
For objectives in development, targeting vital issues is a first step in leveraging infrastructure. Providing clean water, medicine and medical care are crucial areas to address, as most of disease is tied to lack of access to water and medical care. Access to clean water can reduce deathly yet preventable disease such as typhoid and diarrhea. Promoting access to food resources improves nutritional conditions and capacities for disease prevention.
A key priority is building medical facilities that are fully functional, which includes advancing medical transportation and increasing access to vaccination for children, and providing community health education and raising awareness on prevention of disease and managing waste. Further, addressing waste management and sewage systems can reduce flies that promote and spread disease like malaria, and can be advanced into waste-to-energy systems that reduce expenses on health infrastructure by providing energy resource and removing excessive waste products that causes illness.
Joining discussion on medical and water conditions in Africa were multiple representatives of Cameroonian village associations, women's and human rights groups, who are friends to South Sudan Health Development Group through World Institute for Development and Peace. In collaborative dialog, South Sudanese and Cameroonian diaspora share local conditions, challenges, experiences and strategies to promote solutions.
First to compare the South Sudanese conditions to Cameroonian village conditions was Samuel Mbueh, US representative for his Meta village Chief, and President of MECUDA representing 31 villages in the English-speaking Momo Division of Cameroon. Mr. Mbueh highlighted the ongoing commitment of his people to obtain water resources as a key foundation for health promotion, and to advance the one small medical clinic that they have for over 40,000 people.
The next special Cameroonian speaker was Joseph Tezi, President of Ngyen Mbo village association, board member of World Institute for Development and Peace, and lawyer by training. Mr. Tezi greatly appreciated all who attended to share their stories, simply reflected on his continuing commitment to working together. Mr. Tezi organically applies the concept of peace zones in his village as a first step to inspiring over 72 other villages, plus urban areas throughout Cameroon to advance medical and water challenges that all face.
A delegation of Cameroonian women also shared concern and aspiration for bringing about resolves, especially through the role of women as leaders in social and economic issues, and advancing out of human rights atrocities that often occur against women. These representatives included Emelyn Besem of Upper Banyang Women's Organization, plus Anna Forgwi, Mary Kombo, Elizabeth Asaha Ufei, and Vivian Tamufor of African Women's Rights Group. Ms. Ufei is also a member of MECUDA, Ngyen Mbo, and Women's Federation for World Peace.
According to Bloomberg in April 2012, while three US corporations were preparing for developments in Cameroon, U.S. Agency for International Development prepared return to the country after an 18-year absence with U.S. Ambassador Robert Jackson. According to the US Department of State, "The U.S. Agency for International Development (USAID) runs a number of programs in Cameroon, mainly through its regional office in Ghana, and primarily in the health sector. The Centers for Disease Control (CDC) also has activities in Cameroon, mostly in HIV/AIDS prevention. Peace Corps volunteers work in maternal child health, youth empowerment, and sustainable livelihoods."
Throughout the country, according to national statistics, approximately half (48%) of rural inhabitants do not have access to improved drinking water, and 65% of the rural population does not have access to improved sanitation. The degree of infectious disease risk is very high. Prevalent food or waterborne diseases include bacterial and protozoal diarrhea, hepatitis A and E, and typhoid fever. Prevalent vector-borne diseases include malaria and yellow fever, and water contact diseases include schistosomiasis. In addition, 16.6% of children under 5 are underweight.
With the support of World Institute for Development and Peace, in partnership with Island Sky Corporation, over seventy (70) Cameroonian villages are addressed in the cause of water and medical development, whereby provisions of water throughout rural areas are a means to prevent disease, promote health, and begin advancing village level medical infrastructure through charitable programs.
Richard Groden, President, Island Sky Corporation works with both the South Sudanese and Cameroonian groups, also through his efforts with the international charity One Village Planet, and role as board member of World Institute for Development and Peace. Mr. Groden participated via Skype from his company headquarters in Florida, where his team manages allocation of atmospheric water machines, medical supplement, military supply, alternative energy and fuel saving solutions, sustainable village programs and more in over 35 countries between Latin America, Africa, Middle East, Asia, in cooperation also with American and European institutions.
Mr. Groden reflected on his commitment to continuing to work with the presenting organizations and all in need of water and sustainable resources, suggesting that provision of clean health promoting water is a crucial tool to promoting and building peace. He often sees young girls and women with the task of fetching water daily or weekly, where they walk along roads unprotected, vulnerable to attack, rape, having their water stolen, or worse. If peoples are provided with water resources in their immediate location, given hygienic solutions, that the provisions can immediately reduce risk and disease upon communities, and leverage opportunities for societal advancement. Water infrastructure, whether on- or off-grid is central to the cycle of stability: it provides healthful resource for consumption, cleaning, and medicine; water furthers local farming through irrigation; plus agricultural and natural waste can be combined and power facilities through waste-to-energy solutions. Further, water can be locally bottled and distributed at low-cost to the consumer in environments where contaminated water is being hand-bottled because commercialized brand water or tanks are not affordable for rural areas or working class. And distributing localized water resources can create jobs, boost economies, and provide opportunities to raise revenues that can be applied to purchasing vital items such as soap or medicine. Overall, Mr. Groden commended the versatility of all event attendees and those they represent for collectively addressing the challenges of obtaining water and health solutions as a means to promote peace.
Case Study #3: Kurdistan: Syria and Iran
In the public arena, the quest for freedom in Syria is at hand. However, this is not the ultimate conquest. The original Free Syrian Army are defectors from Assad's military, are secular in political disposition, and historically have ongoing disagreements with those who claim to represent them to international bodies such as Friends of Syria, as they are firmly against terrorism, dictatorial domination, and risking their lives to liberate their nation. There are at least 60 different militant groups of varying size and network capacity who claim to be part of the opposition, meanwhile some of those extremist groups attack the very original Free Syrian Army. The plethora of fighters is far more diverse in ethnic origin, political disposition, and economic aspiration than Syria was before the 2011 revolution was seized by terrorist groups on all sides, Iranian backed Hezbollah, PKK and PJAK backed PYD, al Qaeda, Salafists, Wahabis, Taliban, Jundallah, the list goes on. This is compounded by Israeli military attacks, in consideration also of the Israeli settlement inside Syria known as Golan Heights.
So why the sudden infiltration of Lebanese terrorists and Iranian military, Turkish and Iranian extremists, Pakistani terrorists, and the global al Qaeda network into Syria? Energy. Any nation, corporate, or other kind of sponsor paying the way for military action inside Syria has this as a means to an end, and is tied to a network of business leaders, all pledging democracy. Meanwhile, millions of people are displaced, become refugees, become ill, starve, hundreds of thousands die. What is the price tag on this much human suffering, that the international community struggles to meet? What is the incentive for paying terrorists and purchasing such massive amounts of weaponry in a country that was not so sectarian, much more pro-diversity before the influx of terrorists?
At least $228 Trillion is at stake inside Syria. This is over four times (4X) the global GDP. Obviously, it is not about the amount of crude that Syria produces, which is on the down slide. It is about the 8.5 Trillion Cubic Feet of natural gas in proved reserves, and 277,930 barrels per day of natural gas already being produced, plus 182,460 barrels of crude produced per day, a measure according to the US Department of Energy against current market values of crude and natural gas. Some of the major energy sector stakeholders are in play: Russia which continues to operate in Syria, plus Iran, Iraq, Saudi Arabia, France which founded Friends of Syria, UK, United States, Israel who has just recently engaged in a Syria energy deal with former US Vice President Dick Cheney, and more. Meanwhile the border nations to Syria are feeling the brunt of issues, experiencing both extreme refugee crises and cross border warfare, including Jordan which is already host to millions of Palestinian refugees, Lebanon which suffers regularly from terror attacks, Turkey whose nation is compounded by both Iranian and Syrian refugees while managing ongoing conflicts with terrorist Kurdish PKK, and beyond.
Next to Iraq, Syria is a battle based also in Kurdistan. Kurdistan is comprised of border regions against the following nations: Iran, Iraq, Syria, and Turkey. The Iraqi Kurdish region is the sole liberated, where Kurdistan Regional Government leadership works tirelessly on unity and peace between the four nations through humanitarian aid, regional economic partnerships, and defensive (not offensive) security apparatus. For decades, policy recognizing genocidal offensive by Saddam Hussein against Kurds remains in the draft originally written by former US Ambassador Peter Galbraith, and to date the Iranian government continues these atrocities. Among surviving lineage, some turn to extreme violence and join the Kurdish militant groups, but most are seeking to be protected from racist oppression, to be liberated throughout all four nations, and to be part of the modern world. Overall, at the heart of Kurdistan is a quest to establish peace between the regions of four-nations, much like a peace zone, but in more nationalistic terms, building unity through mutual identity: Iranian Kurdish, Syrian Kurdish, Iraqi Kurdish, Turkish Kurdish. Many assume that the Kurdish people seek to separate from those four nations, but the Kurdistan Regional Government policy is otherwise, and just, considering "federalism" as a means to establish Kurdish peace zones in each country: Iranian Kurdistan, Syrian Kurdistan, Iraqi Kurdistan, and Turkish Kurdistan.
Special invited guests to this Peace Forum event included Syrian Kurds and diverse Iranian opposition seeking nonviolent solutions, respective scholars, humanitarian aid and government relations consultants. The primary speakers for this section were board members of Iran Roundtable, Sharif Behruz of the Iranian Kurdish community and Habib Azarsina of the Azeri Iranian community, presenting the concept of "federalism" and the significance of diversity to peace process. Mr. Azarsina further expressed that the onset of Hassan Rouhani's Presidency brings hope that a moderate may be positioned to work with the diverse representation that is Iran, and build stability through cultural unity.
Mr. Azarsina reflected on the map of his homeland, Iran and the Azeri region, highlighting the population spread between territories. Iran Roundtable represents the total nationalities in Iran: Persian, Kurdish, Azeri, Ahwaz Arab, Turkmen, Balochi sharing quest for peace zones with Afghanistan and Pakistan, and more. In Mr. Azarsina's reflection, "federalism" is the recognition of cultural density per region within Iran, and promoting stability towards Tehran by addressing development from the border areas, more human rights orientation, and less corrupt practices in cultural regions, especially those with heavy oil concentrations, such as Ahwaz.
According to reports from inside Iranian embassies, the IRGC (Iranian Revolutionary Guard Corps), Iran's defense forces recently took control of energy resources through their top ranking leadership at the Ministry of Oil, explaining deepening oppression against Ahwaz, Kurds, and IRGC presence fighting and training militants in Syria. The IRGC and all military affairs are overseen by Supreme Leader Ali Khamenei, the highest authority in Iran, above President Hassan Rouhani. According to Iranian diplomats, Khamenei's governance is modeled directly after North Korea under Kim Jong Il.
Special guest Jehad Saleh is a Syrian Kurdish journalist and writer based in Washington DC, who has co-hosted the Kurdish National Council to US Department of State and other institutions with his associate Sirwan Kejjo, also one of the few Syrian Kurds in the United States. Kurdish National Council is a panel of twelve (12) Syrian Kurdish parties committed to nonviolent solutions in the peace process, that are sponsored by the Kurdistan Regional Government, and are advocated for to the Muslim Brotherhood affiliated Syrian National Coalition (i.e., Kurdish Democratic Party, Kurdish Democratic Progressive Party, Yekiti Party, Azadi Party, and subsequent branches). Mr. Saleh's father, Hassan Saleh is a prominent leader of the Yekiti Party, based in Syria.
In his comments, Mr. Saleh reflected on the population map of Syria and Syrian Kurdistan ("Rojava"). The northern region is larger majority Kurdish, and was considered an ad hoc peace zone until the rise of Al Nusra Front (al Qaeda) conflicts with PYD (Syrian Kurdish militants). PYD issues are compounded by PJAK (Iranian Kurdish militants), PKK (Turkish Kurdish militants), PYD political imprisonment of Syrian Kurds who are against Assad, while PYD and leader Salih Muslim maintains PKK, Iranian and Assad government backing, according to witness testimony, investigative journalists, and leaks from Assad's Air Force intelligence unit.
Syrian Kurdistan is a gateway for both refugees to move into Turkey, for Arab internal displacement into the Kurdish area, and for weapons trafficking into Syria. The recent increase in tensions has lead Turkey to plan a wall to be constructed along the border, as a nonviolent alternative to border control engagement. On the Iraqi border, the Iraqi Kurdish region has been decreasing in size due to the rise of Iraqi dominance in the country, but moreover in the rise of Islamic State of Iraq and the Levant (ISIS), which as Mr. Saleh described, is also a heated source of tension engaging military activities inside Syria. Recently, ISIS threatened stability in the peace zone of Iraqi Kurdistan, with car bombs and a failed suicide bombing against the intelligence center of Kurdistan Regional Government, the first attack in Erbil after 6 years.
Unfortunately, due to the combination of terror backing the PYD, as verified by the US Department of State, and lack of Free Syrian Army presence in Syrian Kurdistan, the northern territory is restricted against receiving humanitarian aid from the international community, while it maintains the bulk of current Syrian government energy production.
Special guest Samira Ghaderi, Director, American Kurdish Council and law student is both Iranian Kurdish and Azeri. Her comments reinforced fellow people's representatives statements on the necessity of embracing diversity to achieving peace and stability.
Special guest Ken Feltman, past President of the International Association of Political Consultants and past President of the American League of Lobbyists, has advised prominent global figures including former French President Nicholas Sarkozy who founded Friends of Syria, and former President Nelson Mandela of South Africa. Mr. Feltman shared a story of where he was advising a nation on establishing their political process, with regards to free, fair, and frequent elections. He reflected on the concept of a "mulligan" in golf, where you can swing the golf club multiple times and keep trying until you get a good shot in. Mr. Feltman commented on the time during overthrow of President Mubarak, when he shared this mulligan story with a group of Egyptian diaspora and students at Columbia University, encouraging the same. At once, a young Egyptian student stood and raised his fist saying: "You don't understand, we are electing our next Mubarak. And we are going to change the constitution..." In fact, within months, this is what occurred with President Morsi's administration, which was overthrown in short time.
Whether Kurdistan, Iran, Syria, Turkey, Iraq, Egypt, or in another Middle Eastern nation, challenges for the people against establishing peace zones are the same: fundamental lack of representation for the vast majority of people's who seek nonviolent solutions, and liberty from oppressive dictators and vile terror groups. As a starting point, both Syrian Kurdish political party and humanitarian groups, Iran Roundtable plus affiliate cultural groups and political parties, and indigenous development interests within the Iraqi Kurdish region are advocated for through World Institute for Development and Peace. By maintaining a commitment to nonviolent solutions in promoting stability, leaders from the region work together locally to see their dreams of peace to fruition. Every Middle Easterner at the roundtable in this segment is a gateway to millions of people who seek diversity, unity, positive economic relations, and model their movements entirely after the UN Declaration of Human Rights, despite the media propaganda and extensive government relations that chimes against them. In these communities, for every member state of the Arab League, plus Iran, it is agreed that a mere 5-15% of peoples are on the side of volatility. In this ratio, there is no reason that the entire Middle East could not be a peace zone.
In remembrance of Xelil Kawe, member of Syrian Kurdish Azadi (Freedom) political party who was killed on October 4, 2013 in a PYD political prison after being detailed for two weeks. The first Syrian Kurdish opposition to Assad that lost his life in a PYD political prison.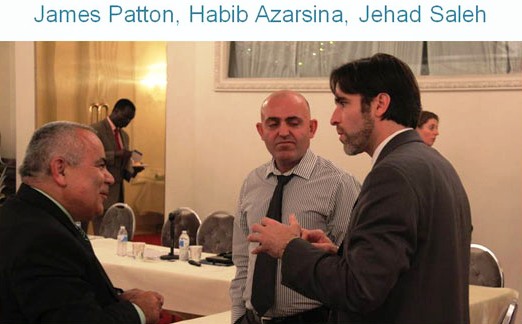 Case Study #4: Colombia and Farclandia
As part of the peace talks launched in 1998, the government of Colombia granted FARC (Fuerzas Armadas Revolucionarias de Colombia), a Marxist-Leninist terrorist organization, a safe haven larger than the state of Maryland. Known as Farclandia, the zone was largely controlled by FARC. Despite the government's willingness to offer land-for-peace, FARC continues terrorist attacks most recently on Colombia's oil industry.
FARC is the oldest and largest terrorist organization in Colombia. According to the US Justice Department, FARC supplies more than 60% of the cocaine entering the US. In addition to illegal drug trafficking, FARC also profits from kidnappings, extortion schemes, and an unofficial "tax" it levies in the countryside for "protection" and social services. In 2002 and 2006, President Alvaro Uribe won the election based on his offensive against FARC. He was succeeded by Juan Manuel Santos in 2010 who followed the anti-FARC platform. The terrorists control large areas in the rural region, particularly in the south and east, where the government is weak.
Presenting at this roundtable was guest speaker James Patton, Executive Vice President, International Center for Religion and Diplomacy. Mr. Patton has broad experience in Colombia and throughout South America. A former Peace Corps volunteer, he has worked in conflict environments to promote economic development and mitigate violent conflict. He offered structural definitions and considerations for developing effective peace zones, which may be applicable to other territories. The following are notes he used as the basis for his presentation.
What makes for a viable Peace Zone? How do we define a Peace Zone? Authentic "Peace Zones" should not be conflated with areas that are set up "ad hoc" at the margin of disasters - including man-made ones such as violent conflict. An authentic Peace Zone needs to be a conscious construction with the aim of addressing the root causes and conditions that are generating conflict, and that proactively generates the conditions for promoting and sustaining peace. The relevant decisions regarding that space should consciously advance that goal.
The Caguan area that was set-aside for the FARC in Colombia during the Pastrana administration is not a good example. This 42K km region was not truly a Peace Zone, since it was not an area wherein policies were implemented to advance the process of resolving conditions for conflict. In fact, it was an area cordoned off for a single armed actor that was embroiled in a civil conflict, without any civil society or public policy changes for that region. The government essentially ceded a huge portion of territory to a fighting force that had no legal standing for the populace in its exercise of the democratic definition of its own government.
Two types of Peace Zones seem functional:
Zones that begin with the exclusion of armed actors and armed conflict, or; Areas that are established to grapple with the more profound issues that are the underlying conditions for a conflict, such as economic insecurity, lack of infrastructure, a broken state-civil society contract, and group identity issues. In many cases these issues exist apart from a major armed civil conflict and are instead related to general social instability - in this conception, Peace Cities are and intriguing idea.
Peace City (loosely defined as a municipal area that tries to build a self-contained system that deals with the root conditions of social instability in an integrated fashion) is an interesting idea, for the following reasons:
- Massive (and global) rural-urban migration. Upwards of 75% of human communities are now located in urban or peri-urban areas (as opposed to slightly more than 60% less than 50 years ago), and the number is growing as conflict and environmental pressures push people out of rural areas, and urban economic opportunities (real or imagined) draw them from rural lifestyles - and urban poverty is exponentially more dehumanizing and deadly than rural poverty;
- The problems with peripheral zones, loosely defined here as the areas at the fringes of cities where many Municipal services, including infrastructure, water and sanitation, transportation and security, among others, simply do not reach. Coupled with traditionally inconsistent governance, including corruption, unequal tax collection, and unequal access to goods and services for citizens, often based on economic class or ethnic heritage, these areas are rife with the conditions for conflict as they are the primary place where poor rural migrants locate themselves - adding stress to deeply stressed systems;
- Social exclusion is the primary result of the above. Vast portions of the urban poor feel (quite accurately) completely abandoned by the social "center" where power, privilege and access lie. Commitment to and interest in the "accepted" norms, institutional rules and social behaviors as defined by that center are at best irrelevant to this periphery, at worst, a target for their contempt and outrage.
The difficulties associated with establishing Urban Peace Zones (or Peace Cities) that grapple with this breadth of issues are fairly significant:
The very municipal governments that must implement any kind of policies to deal with these problems are both underfunded and with unreliable and profoundly weak capacity, in many cases (including funds);
Formal security mechanisms, which are an essential complement to the gradual implementation of policies that will address citizen insecurity, are notoriously imbalanced in urban areas with many services essentially co-opted by the wealthy and powerful elite to protect the very systems that maintain their position. Reorienting and depending on these institutions will be difficult;
There are commensurate negative incentives in both the governance and the private sector for the provision of basic services that will begin to remove the greatest source of a sense of social exclusion, which in many cases is the primary motive and justification for social unrest.
---
Contributed Paper
Zones of Peace and Justice
Norman A. Bailey, Ph.D.
In the productive process, the absolutely essential elements are stability and economic freedom. Political freedom is not essential, as witness the post-World War II experiences of South Korea and Taiwan as well as present day Singapore and Hong Kong.
Prosperity for the collective, whether a company, a group, a region, a country or whatever can be based on those essential elements as has been demonstrated time and again. However, prosperity for the individual within the collective is another story, and that requires a two-fold adjustment in our thinking.
We must stop thinking in terms of economic growth and prosperity as if it takes place in a vacuum. And we must stop thinking that prosperity of the collective will automatically increase the sum of human happiness.
We can learn a great deal from children and their behavior. Once a child has his/her basic needs for food, clothing and shelter covered, what complaint do parents and others hear most often? "It's not fair!". Human beings crave justice, or "fairness" above all other goals after sheer survival. That is why a totalitarian society (as opposed to democratic or authoritarian societies) cannot achieve prosperity. much less happiness. The "evil empires" of this world are poor, in material wealth and in spiritual wealth.
Any genuine and effectively functioning "peace zone" must be, if it is to survive and prosper, a "peace and justice zone", and that means that the means of production must be owned by the widest percentage of the inhabitants possible, through well-known mechanisms such as employee stock ownership plans and community investment trusts. Ideally, there would be an investment trust for the entire population, properly designed and properly administered.
In short, for a "peace and justice zone" to be successful, it must have the following characteristics:
Private property must be protected; and that includes property in productive assets and intellectual property.
The zone must have precise and appropriately-marked boundaries.
It must have its own judicial and security systems.
Economic, political and intellectual freedom must be guaranteed in its charter and assiduously enforced.
The zone must have total autonomy from any other entity, the agents of which will not be permitted to enter, with the single exception of a serious natural disaster, and then only for the time necessary to restore basic services.
The most important ultimate goal of those administering the zone should be the sum of human happiness, not material wealth in the aggregate. People can drown in a lake that is on the average two feet deep.
If the above conditions do not exist, the zone will be a sham and a snare; or worse, a playground for smugglers, money-launderers and other enemies of mankind, as witness the Colon Free Zone in Panama and many others.
Norman A. Bailey, Ph.D. -- Adjunct Professor of Economic Statecraft, The Institute of World Politics, Washington, DC; Visiting Professor of International Relations, The University of Haifa; and author of Operations Conflict Analysis, The Strategic Plan that Won the Cold War, and many other publications.
---
Appendix
Letter to Director of Air Force Intelligence, Syrian Arab Republic regarding Democratic Union (PYD) allegiance to the Syrian government under Bashar al Assad
March 11, 2011
Translated by KurdWatch
Syrian Arab Republic
Army and Armed Forces
Leadership of the Air Force and Air Defense
Administration of the Air Force Intelligence Service
North Division of the Air Force Intelligence Service
Number / /
Date 11/3/2011
To the Director of the Air Force Intelligence Service,
In the course of our surveillance of the chairman of the so-called Democratic Union (PYD), Salih Muslim Muhammad, one of our informants sent us the following information:
About four days ago, in the presence of our informant, Salih Muhammad met with Dr. Rafiq Salih, director of the Syrian-based agricultural research institute ACSAD, at the restaurant -Mudun al?Bahr- at the Victoria Bridge in Damascus.
This meeting had been set for about twenty days in an attempt b y the doctor (Rafiq) to convince Salih [Muslim Muhammad] to participate in the National Dialogue.
The two spoke about the situation in Syria, whereby Dr. Rafiq presented a memorandum (regarding an official meeting of one hundred university professors with the President) that Salih Muhammad quickly and inattentive ly skimmed and then passed on to the informant for inspection. Dr. Rafiq called upon Salih Muhammad to take part in the National Dialogue and asked him about t he position of the National Coordination Committee [meaning the National Union of the Forces for Democratic Change], represented by Hasan?Abdul?azim. The chairman of the so-called Democratic Union answered that the coordination committee was in favor of a change of the regime, but not its overthrow. After Dr. Rafiq inquired about the meaning of this statement, Salih Muhammad responded that the President must step down and the army and security forces must withdraw from a ll Syrian cities and return to their barracks and positions, because no dialogue is possible at gunpoint.
Furthermore, he said that the people must state their op inion. He explained that the committee represents five Kurdish parties, ten other parties, and groups of very different orientations and that this position is not only his own. He would only enter into the dialogue with the agreement of the coordination committee so as not to expose himself. He added that he would try to convince the Kurdish parties in the coordination committee to support him in developing ideas for a solution to the crisis and participation in the National Dialogue. He further stated that after stepping down, the President could again stand for election. He would then vote for no one else and would spare no effort in convincing the Kurds to vote for the President, because the President is the best person for Syria, and especially for the Kurds. A resignation would thus only serve to end the crisis. That is what he meant by change, not overthrow, because an overthrow would be the result of external intervention from abroad.
He said that he is against foreign intervention and not for violence or interdenominational strife. He also made political comments to the effect t hat the state needs to recognize the Kurds and that they cannot remain marginalized in Syria. As an example, he cited that in the committee for the development of the constitution, there is only one Kurdish member (attorney?Ismat Usi), who is not competent enough for this task. He expressed the desire that the President select him for the task, this would make a difference. Moreover, he criticized the committee. He said that the decree regarding its establishment gives the committee complete freedom to consult with any party or person. To date, however, neither he himself nor other high-ranking Syrian-Kurdish figures have been approached, nor any organizations, not even those that have a positive stance towards the Assad family. He said that the reforms were de facto incorrectly implemented and the state took its time with them. The situation in Syria continues to worsen.
He said that in the coordination committee, one tries (insofar as the state gives one responsibilities and opportunities) to involve members of the Council of Istanbul [meaning the Syrian National Council], because the opposite is to be feared [meaning the further deepening of the split between the Syrian National Council and the coordination committee] if the situation in Syria stays the same or escalates. He is against the Council of Istanbul and all foreign opposition groups, because they only carry out foreign agendas.
He said that the coordination committee is being pressured, both domestically and from abroad, with the accusation that it is a henchman of the regime, to which he said verbatim: We are not henchmen of the regime. As a result of the accusations, we are losing our credibility with the Syrian people. It is true that we maintain strategic relationships with the regime, but we are not a tool in the hands of the Syrians. I maintain intensive relationships with the PKK and am in constant contact with Murat Karaylan. A strategic relationship with the regime will force it [the regime] to support us in order to take action against Turkey. I emphasize that we are not, as some contend, a tool in the hands of the Syrians against Turkey
Dr. Rafiq then responded: We as a state trust the Kurds, their national sentiments, and their love for Syria. This arises from our support of their confrontation with the Turkish state. The Kurds were and are a part of the national community. The President insists on the reforms and their continued implementation, more than the Syrian people and the world expect. I ask you to support the dialogue. There is someone there who would like to meet you.
Muhammad agreed, regardless of whether the person was a political figure or a representative of the security forces. No matter what, I will consult with my colleagues in this regard. At this point, the discussion was ended by the arrival of Dr. Fahiz Dawud from Homs and Dr. Ahmad Basim al Ali from Dayr Azizawr (both are university professors, Dawud has American citizenship).
The next day another meeting took place in Dr. Rafiq Salih's office in the presence of our informant. This meeting was better and more relaxed than the previous meeting, but was very short. Salih [Muslim Muhammad] promised that a further meeting would proceed in a more positive manner after conferring with the coordination committee. On the evening of that same day, Salih Muslim Muhammad met with members of the committee in Hasan-Abdulazim's office. At the request of Salih [Muslim Muhammad], our informant could not attend this meeting, because none of those present from the coordination committee were supposed to recognize him. Salih [Muslim Muhammad] reported to our informant by telephone that things were developing favorably with respect to the conversation with Dr. Rafiq and that he would share the details with him following his return from Cairo.
Aside from that, Salih [Muslim Muhammad] asked our informant on the phone not to contact him again before his departure to Cairo and to communicate with the Democratic Union via his wife,?Alishah Afandi, and Ismat Shaykh Hasan so that the informant keeps his distance from the political environment in Ayn al Arab for reasons that Salih [Muslim Muhammad] refused to explain on the phone.
With the request to inspect
Major General Adib Namir Salamah
Director of the North Division of the Air Force Intelligence Service
[signature and stamp]
Copied to:
- the Comrade Party Leader of Aleppo
- the North Leadership
- the Director of Division 290 with the request to inspect a nd take note
- the Director of Division 322
- the Ayn al Arab Group
- the Afrin Group
{Original Arabic available upon request}
---
List of United Nations Peacekeeping Operations: 1948 -- 2013
United Nations Truce Supervision Organization
United Nations Military Observer Group in India and Pakistan
First United Nations Emergency Force
United Nations Observation Group in Lebanon
United Nations Operation in the Congo
United Nations Security Force in West New Guinea
United Nations Yemen Observation Mission
United Nations Peacekeeping Force in Cyprus
Mission of the Representative of the Secretary-General in the Dominican Republic
United Nations India-Pakistan Observation Mission
Second United Nations Emergency Force
United Nations Disengagement Observer Force
United Nations Interim Force in Lebanon
United Nations Good Offices Mission in Afghanistan and Pakistan
United Nations Iran-Iraq Military Observer Group
United Nations Angola Verification Mission I
United Nations Transition Assistance Group
United Nations Observer Group in Central America
United Nations Iraq-Kuwait Observation Mission
United Nations Mission for the Referendum in Western Sahara
United Nations Angola Verification Mission II
United Nations Observer Mission in El Salvador
United Nations Advance Mission in Cambodia
United Nations Protection Force
United Nations Transitional Authority in Cambodia
United Nations Operation in Somalia I
United Nations Operation in Mozambique
United Nations Operation in Somalia II
United Nations Observer Mission Uganda-Rwanda
United Nations Observer Mission in Georgia
United Nations Observer Mission in Liberia
United Nations Mission in Haiti
United Nations Assistance Mission for Rwanda
United Nations Aouzou Strip Observer Group
United Nations Mission of Observers in Tajikistan
United Nations Angola Verification Mission III
United Nations Condensed Restoration Operation in Croatia
United Nations Preventive Deployment Force
United Nations Mission in Bosnia and Herzegovina
United Nations Transitional Administration for Eastern Slavonia, Baranja and Western Sirmium
United Nations Mission of Observers in Prevlaka
United Nations Support Mission in Haiti
United Nations Verification Mission in Guatemala
United Nations Observer Mission in Angola
United Nations Transition Mission in Haiti
United Nations Civilian Police Mission in Haiti
UN Civilian Police Support Group
United Nations Mission in the Central African Republic
United Nations Observer Mission in Sierra Leone
United Nations Interim Administration Mission in Kosovo
United Nations Mission in Sierra Leone
United Nations Transitional Administration in East Timor
United Nations Organization Mission in the Democratic Republic of the Congo United Nations Mission in Ethiopia and Eritrea
United Nations Mission of Support in East Timor
United Nations Mission in Liberia
United Nations Operation in Cote d'Ivoire
United Nations Stabilization Mission in Haiti
United Nations Operation in Burundi
United Nations Mission in the Sudan
United Nations Integrated Mission in Timor-Leste
African Union-United Nations Hybrid Operation in Darfur
United Nations Mission in the Central African Republic and Chad
United Nations Organization Stabilization Mission in the Democratic Republic of the Congo
United Nations Organization Interim Security Force for Abyei
United Nations Mission in the Republic of South Sudan
United Nations Supervision Mission in Syria
United Nations Multidimensional Integrated Stabilization Mission in Mali
---
Suggested References
Peace Zones
Renewing the United Nations to Build Lasting Peace: Reverend Dr. Sun Myung Moon, August 18, 2000; The United Nations, New York http://www.tparents.org/Moon-Talks/SunMyungMoon00/SunMyungMoon-000818.htm
The Role of Unification Thought and a UN Peace Council in Solving the Problems of the Middle East: Thomas J. Ward; Journal of Unification Studies Vol. 9, 2008 http://www.tparents.org/Moon-Talks/SunMyungMoon00/SM000818.htm
Korea
DMZ Forum www.dmzforum.org
UN appoints Kirby to head inquiry into rights abuses in North Korea www.smh.com.au/national/un-appoints-kirby-to-head-inquiry-into-rights-abuses-in-north-korea-20130508-2j82r.html
Michael Kirby delivers scathing assessment of North Korea human rights abuses to UN www.abc.net.au/news/2013-09-17/un-probe-exposes-shocking-nkorea-rights-abuses/4964252
North Korea: UN human rights inquiry 'moved to tears' www.bbc.co.uk/news/world-asia-24726013
Kurdistan: Iran and Syria
Kurds and Arabs mustn't fall into Assad's trap -- Dr. Hussein Ibish now.mmedia.me/lb/en/commentaryanalysis/kurds-and-arabs-mustnt-fall-into-assads-trap
The Syrian resistance: a tale of two struggles -- Maciej Bartkowski and Mohja Kahf Part 1: www.opendemocracy.net/print/75518Part 2: www.opendemocracy.net/civilresistance/maciej-bartkowski-mohja-kahf/syrian-resistance-tale-of-two-struggles-part-2
The Massacre of Amuda and the Struggle for Kurdish Syria -- Jehad Saleh fikraforum.org/?p=3543andlang=en
Turkey warns Syrian PYD against seeking autonomy
www.todayszaman.com/newsDetail_getNewsById.action?newsId=321293andcolumnistId=0
Syria: Country Analysis Brief Overview -- US Energy Information Administration www.eia.gov/countries/country-data.cfm?fips=SY
Barzani warns PYD over its Syria policy in deepening row www.todayszaman.com/news-316087-.html
Syria's Pipelineistan War: Slouching Towards Greater Kurdistan? -- Pepe Escobar www.ekurd.net/mismas/articles/misc2012/8/syriakurd583.htm
Israel Grants First Golan Heights Oil Drilling License To Dick Cheney-Linked Company -- Michael Kelley -- Global Research, 9/2/2013 (pg. 9) www.globalresearch.ca/srael-grants-first-golan-heights-oil-drilling-license-to-dick-cheney-linked-company/5347779
Syria's Kurdish Quagmire -- By Denise Natali www.ekurd.net/mismas/articles/misc2012/5/syriakurd486.htm
The Kurds of Syria in the Den of the Russian Bear fikraforum.org/?p=3397
The Kurds of Syria and the Opposition Coalition: The Cart before the Horse? fikraforum.org/?p=3229
The Salafi Emirate of Ras al-Ain fikraforum.org/?p=2961
A Kurdish View of the Revolution: Between Irbil, Ankara, and the Syrian Opposition fikraforum.org/?p=2811
Colombia
FARC Profile -- InSight Crime: Organized Crime in the Americas www.insightcrime.org/groups-colombia/farc
Welcome to Farclandia: Peace talks have continued for two years (2001) news.bbc.co.uk/2/hi/programmes/from_our_own_correspondent/1106893.stm