| | | | |
| --- | --- | --- | --- |
| | The Words of the Feldsott Family | | |

South Carolina ACLC Prayer Breakfast held March 25, 2006
Alan Feldsott
March 25, 2006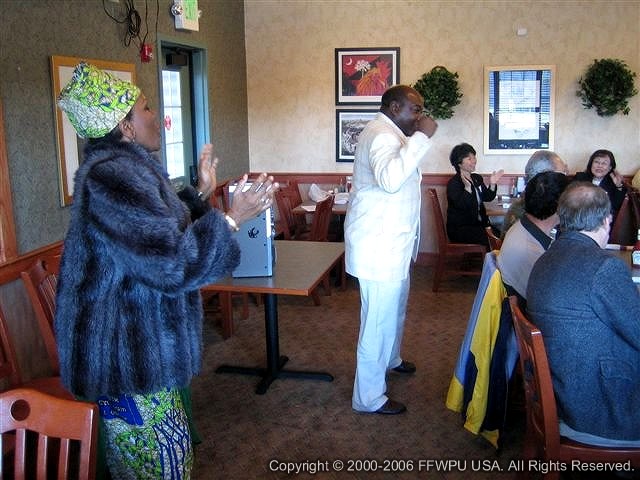 ACLC of SC held its monthly meeting on Saturday, March 25, at the Fire Mountain Restaurant in Columbia, South Carolina. In the past, we have been having mostly lunch meetings, but decided to switch to breakfast to make it easier for ministers to attend without interfering with their other plans.
Rev. Jean Kasongo, Vice Regional Director from Atlanta, had notified us that he would be bringing a powerhouse of support to help revitalize South Carolina ACLC. Just the day before the meeting, we found out that the national ACLC's Secretary General, Levy Daugherty, would be coming, along with our Regional Director, Young Taek Yang.
Members quickly mobilized to bring our closest minister contacts. With such short notice, we were concerned that we may not have the turnout we would like. However, in a truly miraculous way, all of our closest long-time contacts came to the meeting. Some of them we had not seen for months. In all there were thirty people in attendance, and I don't remember ever seeing all of them together in the same place at the same time. The Spirit truly moved in a fantastic way. Rev. Daugherty wanted to have a minister read the guidelines to ACLC.
Rev. Tony Gordon was chosen for the reading. He was the perfect choice. At one point in the reading was a passage about Jesus coming to True Father on Easter morning, at the age of sixteen. Rev. Gordon asked all in attendance, who had such a deep and direct relationship with Jesus.
All were silent. His testimony to Father was truly an inspiration to all the ministers. Another minister, Rev. Lloyd Norris, shared that, twenty years ago, he went to Korea for the ICC conference. He met on this plane a very young and inspiring minister. That minister happened to be Rev. Levy Daugherty. He had not seen him since that plane trip. What a small world!
Another minister, Rev. Diana James, was so determined to attend that even though her car broke down on the way to the breakfast she called a friend to give her a ride there, and her friend stayed for the meeting! Also coming to the meeting, for the first time, was Rev. Stallings' local pastor, Rev. Reginald Glover. He wanted to attend before this time but there was always a conflict of interest. However God worked this time to bring him to this meeting where he could meet Rev. Daugherty. There was an immediate bond between the two. Maybe this is why he could attend this particular breakfast.
Mrs. Kasongo helped prepare the atmosphere with a beautiful rendition of "How Great Thou Art". Rev. Daugherty fired everyone up with an amazing sermon. Rev. Yang shared his gratitude for those who took the time to attend. And finally Rev. Kasongo called for 12 people to fill out and turn in their ACLC membership applications. Rev. Kasongo told all that he felt God wanted twelve people to sign up. One by one, ministers began to respond.
By the end of the meeting, we only had 11 applications in hand. After closing, one minister who had not signed up excused himself to go to the restroom. I'm not sure what happened in the restroom, but when he came out, he approached Rev. Kasongo and said, "I will be the 12th one". This was truly an inspiring and hopeful conclusion to a wonderful prayer breakfast.


Download entire page and pages related to it in ZIP format


Table of Contents


Information


Tparents Home