| | | | |
| --- | --- | --- | --- |
| | The Words of the Jenkins Family | | |

New York Sunday Service
Michael Jenkins
January 22, 2006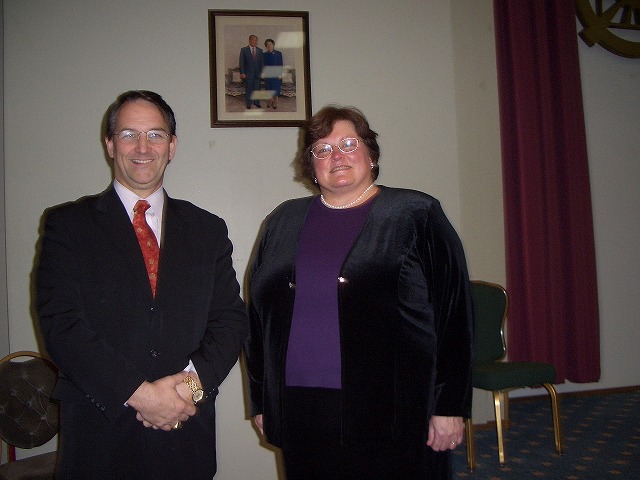 Mrs. Alexa Ward president of WFWP USA with President Michael Jenkins
I felt moved to write this small report about one of our church services in Manhattan.
The service led by Rev. Desmond Greene was uplifting and most inspiring. Rev. Bruce Grodner, the Vice Regional Director of New York region, was also there, as was Rev. Juanita Pierre-Louis, and her husband Edner. Rev. Edner Pierre Louis did a beautiful job as emcee of the program. The attendance was quite strong, and the 43rd Street sanctuary was completely full. Rev. Edner led the service, which also included powerful praise gospel music and holy songs.
Rev. Juanita has been very important in our NY movement for many years as a most faithful and dedicated leader. She has done so much for clergy, connecting them to True Parents, truly a religious leader who knows how to move peopleís hearts. She has always been like a true sister to me throughout my course. Rev. Juanita led the praise portion of the service and then Rev. Edner gave a very beautiful introduction to me, which was quite unexpected. He shared about his own experience of receiving the different reports that I write when Iím with True Parents and how that helps him and other members connect with True Parents directly. Rev. Edner Pierre Louis is a very special blessed brother who is very successful. He and his wife make a very powerful couple for building the peace kingdom.
Rev. Beryl Greene is Rev. Desmond Greeneís wife. She also has a spirit of incredible kindness, and both in Manhattan and Brooklyn they have developed some of our strongest ACLC clergy, including Chairman Bishop Cecil Riley and many other key leaders. They have such a heart to invest everything in the work to bring about the kingdom. Itís very moving to see them working also as a couple. Through thick and thin theyíve always been very effective and very serious about Fatherís work to bring Christianity together, and also to pastor and lead our community.
Rev. Greeneís sermon was truly magnificent. He developed his sermon basically by following the contents of Fatherís 120-city world tour speech, "Godís Ideal Family, the Model for World Peace." In every way it was meaningful and uplifting. It really hit the mark of the meaning of Fatherís speech and the central point of changing our blood lineage, and the meaning of the holy blessing as the central work to build the Peace Kingdom.
I felt Rev. Greene has really matured in faith and become such a great representative of True Parents. Weíre very proud of him. Heís always been ready to work with me at any time, 24 hours a day, on any occasion. Weíve traveled together in Brooklyn. From the small churches to mega-churches of New York, Rev. Greene knows them all. Itís a profound experience to see the dedication of True Parentsí sons and daughters and how they are going 24 hours a day, 7 days a week without hesitation, knowing that our goal is to unify the hearts of people and especially the religious people to heal this land. Rev. Grodner gave some guidance and closing remarks and his leadership in the region is definitely helping bring everybody together to a new level, centering on Rev. In Hoi Lee. Rev. Chen Fong also testified about he witnessing center, which is another breakthrough occurring in NY.
Mrs. Debbie Gullery came, chairwoman of WFWP for NY. She announced that she and Mrs. Alexa Ward would be meeting with all sisters concerning WFWP, concluding the service with a very beautiful spirit. The service was powerful and uplifting and Iím very proud of our NY family. Congratulations on advancing the kingdom.


Download entire page and pages related to it in ZIP format


Table of Contents


Information


Tparents Home