| | | | |
| --- | --- | --- | --- |
| | The Words of the Jenkins Family | | |

God's Ideal Family and Peace Kingdom" 120 Nation Tour - New York, NY
Michael Jenkins
April 29, 2006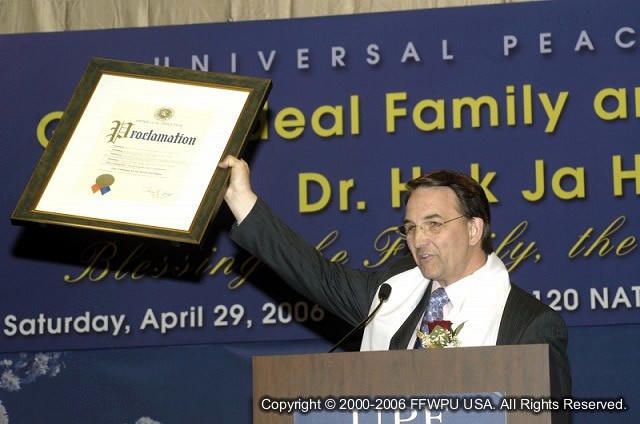 Dear Family,
True Parents were pleased with the Blessing Tour in New York. Over 4,000 gathered at the Jacob Javits convention center. It was overflowing. Thanks, New York (and surrounding New Jersey and Connecticut for support).
During the prelude Akiko Ikeno gave a moving testimony of faith and purity inspiring everyone to lift up our second generation. Our young people centering on Hyun Jin Nim are rising. Bishop Cecil Riley gave the invocation. A member of the Surinam United Nations office gave a very sincere and thorough presentation of the work of True Parents and in particular the effect True Mother is having on the nations of the world, leading them into peace. Dr. Yang as Chairman of the Universal Peace Federation for North America gave welcoming remarks as to the impact of True Parents in healing the problems of racism and cultural division. All is completed through loving one's enemy and marrying with a heart to heal all of the divisions of history.
Rev. Kwak, Chairman of UPF worldwide, gave deep understanding and guidance on the heart and holy value of the Blessing. He said, "Please do not doubt that there is a living God and a divine providence at work in history, leading all humanity to a world of lasting peace. Tonight's meeting is directly linked to the guiding hand of God. Through the words we hear, we will learn of the root causes of human suffering and conflict, and of the true path to lasting peace. Our response to this message will affect not only our personal lives, it will even affect the course of history."
Then Hyun Jin Nim spoke. People are being moved. Think about what it means when a son can inherit his father's vision and put it into practice. This is moving heaven and earth. Bishop Stallings said, "Hyun Jin Nim has taken full ownership of his father's World Tour message; now it is his message and he delivers it powerfully." Sherefiah Tomlinson presented flowers.
Then ___ performed "Amazing Grace." performed "Amazing Grace." ___ has heart. She sings in such a way that comforts God. I can never forget during the 50 state tour, Seiko and her husband sacrificed everything to make their former Colorado region shine for True Parents. She pushes with sacrifice to bring people to the providence and that is why her performances comfort God and True Parents.
True Father had requested "Amazing Grace." I remember one time when we were sitting with Father late at night. Suddenly during a quiet moment when Father was reflective he began to hum softly "Amazing Grace." It is very moving to think about Father's life and how God saw him through all the persecution and imprisonment. Beginning in a Presbyterian church, how profound was his journey as Jesus gave him clear understanding of the providence and the full anointing to become the True Parent of humanity. Each and every inch of the path to perfect and complete the responsibility of Adam and Eve was filled with tears, suffering and sorrow. All of the forces against heaven were permitted to freely use any and all means possible to stop the restoration of Adam's family. How far we have come through "amazing grace" to the place where all religions and peoples are now cooperating to receive the Blessing of Marriage. Now all people are coming forward with incredible support. Hyun Jin Nim is gaining power with each presentation. There is so much content in this historic address. Clearly it gives a most central point as its message - that the Holy Blessing is the way to bring about ideal families.
There was a strong contingent of our clergy there. It was beautiful to see their response. Bishop Riley and Dr. McGhee have "settled" in their feeling of total confidence in the anointing of True Parents. Ambassadors for Peace and many dignitaries were present.
True Mother came and delivered her message with such great heart and spirit. Imagine, True Mother going to 120 nations with no rest. We can't imagine the sacrifice that is required and the clarity internally to fulfill such a role to heal all the strife between Cain and Abel. She said, "Distinguished leaders, you are living in the most blessed and exalted time in history. I now proclaim the launching of the era of a new heaven and earth after the coming of heaven, long-awaited and yearned for by billions of your ancestors in the spirit world who have come and gone in history. This is the era of the Kingdom of the peaceful, ideal world. Not only the four great religious founders but also billions of good ancestors have come down to earth to guide you on the heavenly path. The age in which the unreasonable and corrupt world runs amok, allowing those who are evil to live better than others, is passing away."
After True Mother's presentation, the flowers were presented by Yasu and Rene Igarahshi, and we began to prepare for the blessing. This blessing has a very special meaning and is a new blessing not only for first-time candidates but also for clergy, Ambassadors for Peace and all the Unification blessed couples. It is a blessing that covers all humanity. That is why Father is asking that we give the holy wine to all Americans and to all the world -- man, woman and child of every race, religion and culture. The 120 Nation Blessing has a special meaning. There are three stages. The first is rebirth. The blessing is now going to the baby in the womb as the Rebirth covers the baby up to 8 months. This is why Father asked for pregnant women to be on the stage with their husbands. Then the resurrection. This covers all individuals and couples from 8 months through 18 (that is why young people up to 18 must be on the stage). Then the third stage is the blessing for eternal life. It represents all ages from 18 up to the spirit world. This means every category of humankind is covered, through the holy blessing. The Ambassadors for Peace appointments were made for a City Councilwoman from Brooklyn, Bishop Dunn, Dr. Bada, and several other outstanding leaders. Dr. Lonnie McLeod, of Harlem's Light of Hope Church and professor of Unification Theological Seminary, gave the call to action.
New York, New York, start spreading the news! I want to be a part of it, New York, New York!!!


Download entire page and pages related to it in ZIP format


Table of Contents


Information


Tparents Home