| | | | |
| --- | --- | --- | --- |
| | The Words of the Jenkins Family | | |

Greetings From Jerusalem
Michael Jenkins
May 21, 2006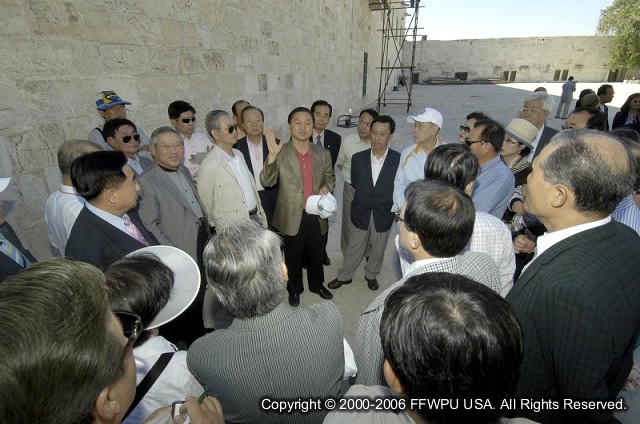 The main focus of our MEPI strategy is to strengthen the relationship between the 1st and 2nd Israels. To do that we are conducting a series of dialogues between Jewish leaders and Christians. On May 17th and 18th we had our second in a series. Dr. Frank Kaufmann chaired the sessions, and once again we are very encouraged and we can see that the conditions that True Parents have set to remove the barriers that have blocked Jews and Christians for 2,000 years are now removed. We had Orthodox rabbis as well as prominent scholars join in the dialogue once again. The topics ranged from the value of prayer to the story of Jacob and Esau, and Joseph and his brothers. One prominent chief rabbiís wife participated in the discussion.
One of the most beautiful things about the rabbis is their depth of understanding of the meaning and the value of Godís word. Repeatedly we saw in statements and in reflections that their knowledge of the word was very precise, and many revelations could be received by the Christian leaders. Outstanding theologians and religious leaders from England and Norway played very prominent roles. Rev. Dr. Marcus Braybrooke, who has written many books on Jewish-Christian dialogue and received honor and respect from many of the key rabbis in the United Kingdom, was very pleased with the dialogue. We all felt that a new level had been reached as we transcend the traditional hang-ups that have caused division and separation.
Somehow there was a longing in the rabbis for this kind of discussion. Whereas traditionally there has been an understanding that there is very little common ground, Dr. Braybrooke, with his immense knowledge and appreciation of Judaism, was a stabilizing and reassuring example of what Christianity really should have been -- a religion of love based on Jesusí love that would really seek to love and understand and appreciate everyone. The discussion on Jacob and Esau brought out a lot of concerns.
Dr. Joshua Ben Ami, who is truly an expert on Old Testament, New Testament history and theology, shared his concern for the Jacob and Esau story because even though the brothers come together, there is a breakdown in the relationship later. All agreed that the meeting of Jacob and Esau was significant, but it was understood that the story of Joseph embracing his brothers after he had been sent to prison was a richer story, with a better conclusion.
It was interesting to note, as one rabbi read, that Joseph said to his brothers that he was sent by God to go the way he did, and that even though his brothers sold him into slavery, he didnít blame them because he felt God allowed him to go this course. It was also brought up that Rebecca, the mother of Jacob and Esau, received revelation even before the boys were born that the elder would serve the younger, meaning that God had certainly set up the situation to occur.
Jewish women scholars were present and contributed greatly. One of the most beautiful discussions concerned the story of Esther. The chief rabbiís wife shared that just as Estherís identity was initially hidden from Ahasuerus, the king who later became her husband, there are many hidden meanings in the whole book of Esther. The role of women in the Bible was discussed in a very profound way, highlighting that the biblical figures such as Rachel and Zipporah were instrumental and central to the success of the family mission.
We are truly uplifted and amazed that this discussion could occur. We even went into the sensitive topic of the messiah and the identity of Jesus as a Jew. Certainly the Jerusalem Declaration and the other conditions that have been made by the MEPI program, such as the coronation of Jesus, have laid internal conditions that allowed for a dawning of a new day.
Critical to our discussion was the fact that we are not seeking conversion; we are looking to go back to our roots to strengthen our own faith and relationship with each other, seeking to bring unity of Godís people. It becomes more and more clear that the unity of Godís people is essential to strengthen the family. It is equally clear that the secular world and those who are unappreciative of the role of faith often promote the division of religions. Truly the people who understand Godís intention and Godís word seem to find the scriptural foundations within their faith traditions that show that we will eventually all come together as one family under God.
Archbishop Stallings, a Catholic theologian and priest, displayed a vast understanding of the historical implications of the break of the early Jewish followers of Jesus from traditional Judaism. All agreed that love is the key to overcome. Christians must truly have Jesusí love for all people, instead of condemning not only non-Christian religions but also other Christian denominations. This was highlighted by Archbishop Stallings as being essential. Only a movement of true love guided by the sprit of God can allow us to go beyond the walls of our religions and doctrines, to focus on the essential teachings which are common through all faith traditions Ė that we must love God and love one another.
It was beautiful to read in Isaiah 58 that "My house is a house of prayer for all people." This inscription can be found at the entrance of the Western Wall, and is the spiritual foundation for the Jewish rabbis welcoming all believers to come together to pray.
Rev. Darryl Gray from Canada contributed significantly to the discussion. He has participated extensively in Jewish-Christian dialogues in Canada and has traded pulpits with Reform groups there. His observation was that this is a time when genuine believers within each faith tradition see the hope of coming together. Only through the coming together of religious leaders who appreciate the founders of the different religions, as well as the fundamental core teachings common to all the Abrahamic faiths, can we really achieve a true family atmosphere.
Brothers and sisters, please understand and believe that the foundations of the earth are shaking in Jerusalem. A foundation for peace is now being realized as the 1st and 2nd Israel are coming together. As you know, the American culture is often referred to as a Judeo-Christian culture. The two religions are not meant to be separate. They are meant to come together. As they come together, they become the true embodiment of Isaac. As they unify, the hope of healing the division and separation with Ishmael becomes real, and the light of hope that one day Christians, Muslims and Jews will come together is now being realized. We are deeply grateful for True Parentsí love and understanding.
Forty-one years ago True Father made a holy ground in Gethsemane, and into one olive tree there he drove three nails, one for Judaism, one for Christianity, one for Islam. All of our delegations went there today and prayed together. Itís so beautiful that these three Abrahamic faiths can become one family in heart and spirit and truth.
I want to thank all our brothers and sisters for sacrificing so that this MEPI program could go forward.
MWJ


Download entire page and pages related to it in ZIP format


Table of Contents


Information


Tparents Home