| | | | |
| --- | --- | --- | --- |
| | The Words of the Jenkins Family | | |

HDH at CJG
Michael Jenkins
December 30, 2006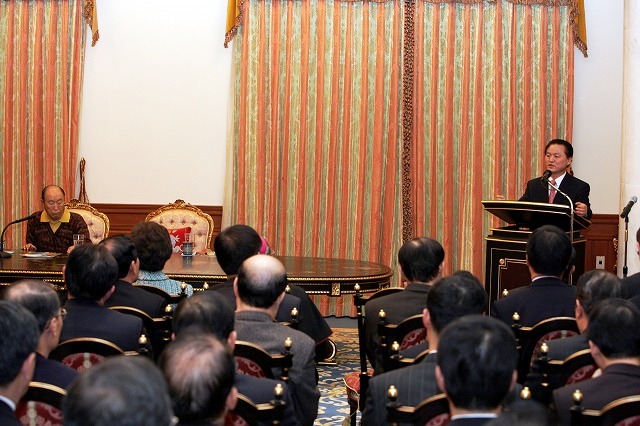 Dear Family,
My wife and I attended HDH with Dr. Yang on the morning of the 30th. True Parents look radiant and totally strong and completely confident. The Peace Kingdom is coming!! For HDH Father had Dr. Peter Kim read the messages from the spirit world. Then Father asked Dr. Yang to report. He could report about the successful growth of Archbishop Milingo's movement and the incredible impact it is having. Two Cardinals of the Roman Catholic Church have confirmed that Celibacy is a rule that could be changed. Married Priests are starting to join the Archbishop's movement called Married Priests Now!! Throughout the world (Brazil, Europe, India and the Philippines) movements of married priests are joining Archbishop Milingo. This is a revolutionary development centering on the value of the blessing. 800 articles were generated in major papers (electronic and print) throughout the world and the Washington Post carried Archbishop Milingo's praise for Father's deep spirituality, humility and zeal for heaven. True Parents want to help the Roman Catholic church - they are praying for Archbishop Milingo's success to heal the church and reconcile the 150,000 married priests with the Mother church.
Dr. Yang reported that the 120 nations Fourth World Tour was successfully completed and gave excellent testimonies collected by the District Directors. Amazing trials and tribulations were endured by the Ambassadors for Peace but all 120 made it around the world without incident. Father was very pleased and savors each and every moment - because he knows that every step we take and every sacrifice we make hastens the coming Peace Kingdom of Cheon Il Guk.
Dr. Yang also reported the total completion of the 1200 events in America and that the America movement had gone over the goal to make 1347 events. Testimonies were shared from the 5th world tour which is going on throughout the world. We currently have over 70 Ambassadors for Peace who have been out on the 5th world tour. We will fulfill every step of the providence. This is a time for us to rejoice and stay focused on what Father is asking us to do. He also reported about our experience in Lebanon and the work in Israel. We are getting stronger and more developed in our MEPI foundation as we are now gaining deep support from the Abel type people in the parliaments of all the key Middle East countries - including Israel. There is an undercurrent of deep longing for peace. The methods of war do not bring the unity and peace that are needed.
Dr. Yang emphasized that the most central thing at this time in America is the American District Directors taking responsibility for all aspects of Ministry and the Public Sector with particular emphasis on the development of the Hoon Dok Family Church led by Rev. Joshua Cotter. HDF church must link with the Sunday service worship experience. Also this is the year 2007 in which membership growth of families and individuals must take off. Also, many, many second generation are starting to come forward to participate in the providence and in our ministries. We pray that there will be a revolution of growth of young people into our movement. God is with us.
Dr. Yang and I sincerely thank True Parents and True Family for creating the incredible foundation upon which all this could happen. Every Blessed Family and every young person is being touched by the Holy Spirit. The timing of when they feel a burning desire to serve is in God's hands. Our role now is to reach out and nurture each and every family - without hesitation. All must be loved and embraced, because God knows the right moment in which their heart can receive God's love and be awakened to every greater things that they have been destined to do.
Thanks America - Happy True God's Day
MWJ
P.S.
Here is Rev. Betty T.'s testimony which Dr. Yang shared from the 4th world tour.
My Kinsasha, Congo experience was like the signing of the Jerusalem Peace Declaration, forever etched in my heart. I will forever be telling the story.
The Democratic Republic of the Congo has been a communist country for a long time. On the day of our event, the first election in 40 years was being held. Many U.N. troops had been in place for a long time, cruising the country – preparing for civil war. Rev. Tokuno and Mishel, his assistant, had prepared an incredible event. It was held in a government building – attended by, it looked like a thousand people. They were well dressed, well mannered and patient. We and the message were enthusiastically received. At the end of the day, the election was contested. There was no winner announced.
Our team went across the river the next day and returned the next. When we returned, we were invited to meet with the Vice President Manywa. He sent several vehicles of military to escort us to his compound. He spoke to each of the five clergy individually. "Why are you here?" he asked. "You are different religions, from different parts of your country. What brings you together here in Africa?" We told him it was to read the message of the Peace Kingdom that Rev. Moon received from God.
"I was out of the city on election day," he said. "I was preparing for war. I am a warrior, I have thousands of soldiers ready to fight. I do not know peace. I do not know what peace looks like; but on my phone back here I heard the word "peace" in my mind. I didn't know what it meant – it confused me. When I arrived here I turned on the television set and saw your gathering on peace. I wanted to meet you. I heard you speak. I have decided "I will not fight – I am going to stand for peace. I want my children to know peace. I want my country to know peace." He stood in front of me and a golden light shone through his eyes. "He is a good man" I could feel in my spirit.


Download entire page and pages related to it in ZIP format


Table of Contents


Information


Tparents Home