| | |
| --- | --- |
| | The Words of the Ushiroda Family |
This Summer! Apply for the Lovin' Life Leadership Program!
Naokimi Ushiroda
May 25, 2012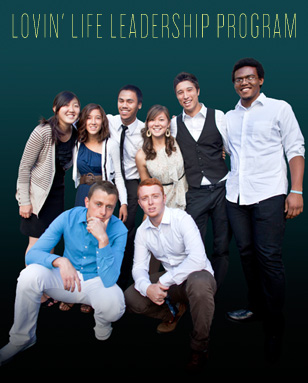 Dear Applicant,
Participating in the Lovin' Life Leadership Program is one of the best ways to understand and experience first-hand the vision and culture of Lovin' Life Ministries. You will receive valuable leadership training and become able to support your local Lovin' Life community in a very tangible way. The three educational outcomes of the program are:
To understand the vision and culture of Lovin' Life Ministries
To gain applicable leadership skills
To become proficient in one area of ministry
The morning sessions will focus primarily on learning the core content of Lovin' Life Ministries, and will cover topics like the member educational track, OSDP, small group development, and Unification perspectives.
As for leadership, you will have ample opportunities to practice goal setting, public speaking, group facilitation and much more.
We also have a variety of practicums in the afternoons, where you will work directly with HSA-UWC USA HQ staff to become proficient in an area of Ministry. There are four types of Ministry teams, and several options within each type to choose from:
Support Team: Culinary, Life Lounge, General Affairs, Service
Care Team: Guest Care
Life Team: Ministry, CARP
Creative Team: Unification Church Magazine, Public Affairs, Design, Video, Ballroom Dancing
On top of that, you will have opportunities to attend weekly evening programs like Junction (a mid-week young adult service), Ballroom Social, and Open Mic Night. Saturdays will generally be open to visit NYC tourist sites and on Sundays we will be attending Service at the prestigious Manhattan Center.
The summer session will be 7 weeks from July 1st to August 18th and will be hosted at 4 W 43rd Street, NY, NY 10036. The participation fee for the summer session is $900, which covers room and board and travelling expenses incurred for trips during the program.
You are required to bring your own laptop, which will be used for the practicums. Please also bring some spending money for personal expenses.
To apply, go to www.familyfed.org/LLLP. Once your application has been received, you will be contacted for a telephone interview within a week of submission. After the phone interview, the Leadership Program staff will contact you about acceptance within a week.
For further information, please e-mail us at nushiroda@unification.org. We look forward to hearing from you.
Thank you,
Naokimi Ushiroda
Director, Lovin' Life Leadership Program
Keimi Kanno
Senior Coordinator, Lovin' Life Leadership Program