| | |
| --- | --- |
| | The Words of the Dolfay Family |
1907 Denny Mansion Opens Its Doors For Tours
Haley Edwards
September 22, 2007
Seattle Times staff reporter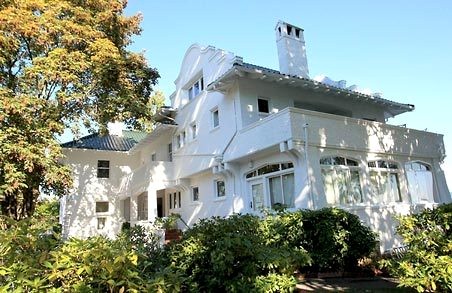 If you follow Sandpoint Way north from the University of Washington, then take a right into that rabbit warren of affluence called Windermere, you'll stumble upon a gem of Seattle history, nestled behind a curtain of trees: It's the 7,700-square-foot mansion that Rolland Denny, the first son of Seattle pioneer Arthur Denny, built in 1907.
The Spanish-style country home -- its four balconies and ornate friezes impossibly white on a bright fall day -- will host a centennial celebration from 10 a.m. to 4 p.m. today. Visitors may pick up a shuttle to the mansion every 15 minutes between 9:45 a.m. and 4:15 p.m. today from the parking lot at the south entrance to Magnuson Park off Sandpoint Way N.E. Signage and volunteers will be available (more information: lochkelden.org/).
A committee including Seattle's Museum of History & Industry, Duwamish Tribal members and the Unification Church, which owns the property, will provide outdoor architectural tours, indoor house tours, live music and a display of old photographs.
Shortly after moving in, in 1908, Denny named his new domain "Lochkelden" -- loch, meaning "lake" in Scottish; "Kel" for his wife, Alice Kellogg; and "Den" for Denny. Today, it's the only residence left in Seattle where one of the original pioneers lived.
Rolland Denny was an infant when Arthur Denny and the original pioneers arrived on Alki Beach in 1851. The Duwamish Tribe helped keep him alive by teaching his mother to feed him clam broth through the winter. Ivar's restaurant will donate 20 gallons of clam chowder on Saturday to commemorate that winter. Seattle's Department of Neighborhoods also provided $15,000 for the community event.
Two surviving descendants of the original Denny party -- Pat Wright, the great-great granddaughter of Arthur and Mary Denny; and Brewster Denny, the great grandnephew of Rolland Denny -- may come to the centennial celebration.
Like any 100-year-old institution worth its salt, the old Windermere mansion, as it's called, is not without intrigue.
In 1974, the Unification Church, a nontraditional church established by the Rev. Sun Myung Moon in the 1940s, bought the property for $175,000. In 1977, a group of Windermere neighbors, "Save Our Neighborhood," brought a lawsuit against the new owners, questioning their right to use the residential property for religious and commercial ventures. The lawsuit, spurred partly by a popular condemnation of the church's mass marriages and recruitment techniques, was dropped in 1982.
Since then, members of the church -- often pejoratively called Moonies -- have quietly used the property for private weddings, parties, and as a temporary residence for church dignitaries, including the Rev. Moon and his wife. Last January, the old mansion played host to a daylong Super Bowl party. The game was projected on its grand white walls.
While some neighbors remain uncomfortable with the Unification Church's hold on the property, others applaud the church's efforts to refurbish the house, which suffers from the inevitable internal decay of 100-year-old plumbing and wiring.
"There's so much to fix. I have so many projects. And it's an absolute bottomless pit for money," says Scott Dolfay, a carpenter and church member since 1981. In 2001, he helped raise $180,000 from the church for maintenance purposes and estimates he and other church members have contributed over a million dollars more in personal cash, materials and volunteer work since then.
Exploring the old mansion is like peeling back layers of time, he says: There's the grate on the north side of the house where Denny and his family would have kept fruit and vegetables in the summertime to keep them cool. And then there's the false-backed cupboards in the master bedroom, that can be revealed using a pulley-system, rigged to the closet. ("There was nothing behind them, unfortunately. No diamonds," he says, laughing.)
"In 1907, this place was in the middle of nowhere," says Cathy Palmer, a member of an informal group of Seattle's pioneer descendants. According to her research, Denny would have had to commute to Seattle by boat, via Madison Park, for lack of usable roads in the area that's now Laurelhurst.
"In today's terms, it would have been as if someone prominent in Seattle -- like Mayor Nickels -- all of a sudden moved to Snoqualmie Pass."