| | |
| --- | --- |
| | The Words of the Essoyan Family |
Big Isle school (High School of the Pacific) likely to close
Susan Essoyan
May 8, 2009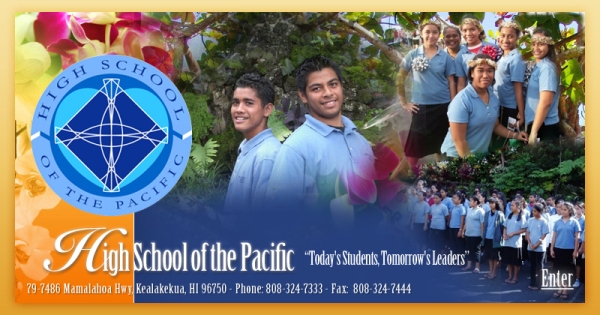 A tiny high school on the Big Island that provides a free college-preparatory education to students from Pacific island nations expects to shut down at the end of the academic year for lack of funds.
High School of the Pacific, which has 38 students on its campus in Kealakekua, opened in September 2004 with backing from the Rev. Sun Myung Moon, head of the Unification Church, and his followers. The school, however, is nonsectarian and accredited by the Western Association of Schools and Colleges.
"Right now we don't see the funding being available to open our doors next year," Principal Michael Breslin said yesterday. "This is largely due to the economic downturn, in particular the financial crisis in Japan. The bulk of our funding for our school comes from Japanese supporters."
The private school relies on grants from the Pacific Rim Education Foundation Inc., based in Kailua-Kona, which owns the campus. If funding is not found, the school will lay off most staff and keep a skeletal operation in hopes of reopening later.
"I'm not giving up," Breslin said. "I have several staff and faculty members who are also writing and calling and looking at every possible alternative funding source for the school."
All but two of its 38 students come from Pacific island nations, including the Federated States of Micronesia, Palau, the Marshall Islands and Solomon Islands. Two students are from Kona, children of staff members. The school has seven teachers.
Students from Oceania receive free tuition, housing, food and medical insurance, costs that run up to $30,000 each, Breslin said. The tuition fee for local students is $9,000.
The school is focused on developing leaders who will go back and serve their communities, and all its graduates have been accepted to college, Breslin said. When the news broke a couple of weeks ago about the closure, "there were many tears shed by faculty, administration and students," he said.
The school's spirited students, always a hit at the Kailua-Kona Christmas Parade, will perform at a Diversity/Cultural Night at 7 p.m. May 17 at the Kona Imin Center in Holualoa to bid farewell, according to Elizabeth Polloi, dormitory staff member. Admission is $10. Graduation is set for June 12.