| | |
| --- | --- |
| | The Words of the Haydon Family |
On Soccer: A witness to the growth of the game and Sun Myung Moon
John Haydon
September 9, 2010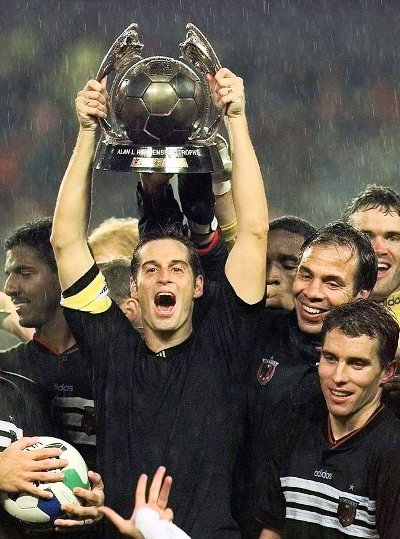 Associated Press John Harkes captained D.C.
United to its first two MLS Cups.
When I started writing about soccer in 1991, the game had a minor footprint on U.S. soil. The days of the North American Soccer League, when Pele played for the Cosmos and Johan Cruyff starred for the Diplomats at RFK Stadium, were a distant memory. It was a bleak time for soccer.
The U.S. men's team, back at the World Cup after a 40-year hiatus, had gone 0-3 at the 1990 finals. The local semi-pro team, the Maryland Bays, played on a high school field in Columbia, Md. The only soccer on television was a weekly roundup of the Dutch league.
On the horizon, however, things looked promising. Soccer's governing body took a huge risk and awarded the 1994 World Cup to the United States, even though the country didn't boast a professional league. It turned out to be a huge success, and there was no looking back.
Two years later, Major League Soccer kicked off with 10 teams, and D.C. United won its first title under Bruce Arena. The U.S. women's team went on to win the 1999 World Cup before 88,000 at the Rose Bowl. Brandi Chastain made the cover of Time, Newsweek and Sports Illustrated wearing her famous sports bra. Mia Hamm became a household name.
In 2002, the U.S. men's team reached the quarterfinals of the World Cup. D.C. United then earned its fourth title in 2004 with a youngster called Freddy Adu. David Beckham caused a media tsunami when he joined the Los Angeles Galaxy in 2007. Today, MLS has grown to 16 teams and will have two more clubs added in 2011.
The U.S. men's team is ranked 14th and is respected around the world after knocking out top-ranked Spain in the Confederations Cup. More than 40 American players earn their pay on overseas clubs. Soccer is all over TV these days, with two channels devoted to the sport and ESPN airing Premier League games regularly.
The game has come a long way in America since I began covering soccer for The Washington Times, and I'm grateful to have witnessed many of the milestones. Sadly this will be my last soccer story because of the demise of the Times' sports section.
There are so many people to thank, especially sports editors Mark Green, Gary Hopkins, Mark Hartsell, John Taylor and Dick Heller.
I've had a lot of fun even though it was tough at times. I covered the World Cup in Germany, where I slept on a camp bed in a garden house -- minus a bathroom -- for more than a month. Not to mention one night on a station platform in Dortmund.
I made four trips to South Korea to report on the Peace Cup and covered the most recent Peace Cup in Spain, where in Seville I shared the same hotel as Real Madrid and my English hometown club, Aston Villa. As a kid growing up in an orphanage in Birmingham, England, I was taken by a kind benefactor to see Aston Villa play. At the Peace Cup in Spain, Villa won the event by beating Juventus on penalty kicks with American Brad Guzan in goal. The club was handed the winning trophy by the 90-year-old Rev. Sun Myung Moon, who founded this paper with its award-winning sports section, back in 1982.
Over the years I interviewed some noted characters in the game, including boyhood heroes Pele and Bobby Charlton, and other great names: Beckham, Eric Cantona, Bobby Robson, Alan Shearer, Paolo Maldini and Fabio Capello to name a few.
Lastly, I'd like to thank those friends I made over the years on the soccer beat, notably John Harkes, Gary Davidson, Bob Wagman, Steve Goff, Dave Johnson, Chris Webb, Craig Stouffer, Alex Caudana, John Diceson, Chris Snear and Charles Boehm. Also, thanks to those at D.C. United over the years: Bruce Arena, Kevin Payne, Dave Kasper, Ray Hudson, Doug Hicks, Kyle Sheldon, Boris Flores and Dan Giffin.
Last but not least, a special thanks to my wife, Pat, who always supported her soccer-crazed husband.