| | |
| --- | --- |
| | The Words of the Murud Family |
Day of Families Observed at a Forum in Oslo
Steinar Murud
May 10, 2012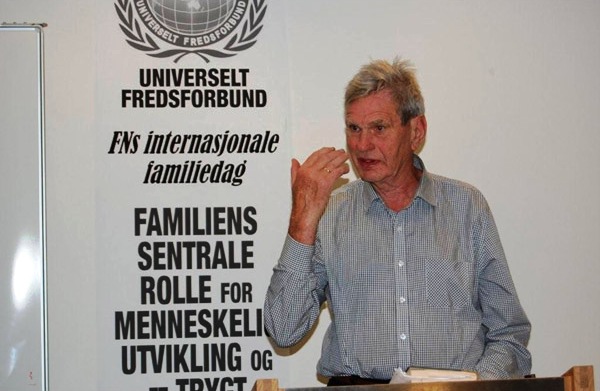 Oslo, Norway -- Around 50 participants attended the UN International Day of Families on May 10 in Oslo. The event was organized at Diakonhjemmet University College with the theme The Role of the Family for Human Development and a Healthy Society.
Stian Bragtvedt, from the UN Communication Office in Norway, opened the event with a general explanation of the day, the mission of the Communication Office, and the topic of the conference.
Professor emeritus Per Sundby, a medical doctor and specialist in psychiatry and social medicine, shared his experiences from a long career. Interestingly, he started as a radical socialist but ended up as what some would call a "moralist." He dwelled on the dilemmas between science and morals. "There must be a moral base behind scientific development," he stated. He also pointed out the need to eliminate not only concrete risk factors like smoking and drinking in order to enjoy a good family life, but also less concrete risk factors such as free sex and a lack of fidelity.
Member of Parliament Øyvind Håbrekke, from the Standing Parliamentary Committee on the Family and Cultural Affairs, elaborated on the possibilities of modern biotechnology. In an age where there seemingly is no end to what can be achieved, where shall we draw the line? He asked the questions "What is a child?", "What is parenthood?", "What is a family?" He cautioned people against being blinded by the progress of biotechnology. Single women seem to think that it is their right to receive the help of the state and modern reproductive technology to get a child. How does such an attitude affect one's view of children and being a parent?
Steinar Murud, UPF Secretary General, elaborated on the family ideal and the universal qualities of the family, emphasizing the unique role of the family for human development. No other institution is able to fulfill such a role. He presented studies that showed the importance of family ties for the children. Mr. Murud showed how the upbringing in stable families gives the child a solid foundation for the rest of its life.
Elisabeth Rusdal, head of the Norwegian Women-and-Family Federation, pointed out how some take the family for granted. She congratulated UPF-Norway for organizing the event.
A refreshing coffee break gave the participants the possibility to mingle socially and discuss the topic.
The evening was concluded with a whole string of comments and questions from the floor. Several participants commented on the great value of the variety of perspectives presented during the conference and the need for more events like this before next year's International Day of Families.