| | |
| --- | --- |
| | The Words of the Patron Family |
The First Filipino Family National Convention in USA: A Reflection
Virgie Patron
August 12, 2007
Leader of American Task Force Witnessing in Chicago, IL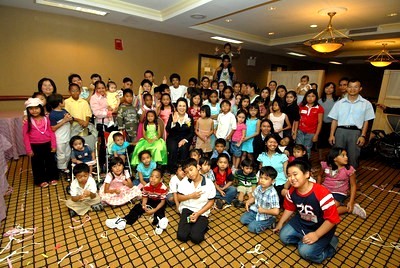 New Jersey, USA - "One Voice, One Family, One World" was the theme of the First Filipino Family National Convention in USA at the Crowne Plaza Hotel in Secaucus, New Jersey held last August 11-12, 2007.
It was a great experience to meet 170 Filipinos and other nationalities (including 80 second-generation children), and hear their testimonies. Also, I was so happy to see Dr. Julia Kim, the Continental Director of Asia, and the family of Mr. John Doroski, one of the first American UC missionaries in the Philippines.
We were greatly honored having the presence of our leaders, including Dr. Chang Shik Yang (Continental Director of USA), Dr. Michael G. Zablan (National Leader of the Philippines), Rev. Phillip Schanker (Vice President of FFWPU - USA), Rev. Barry Geller (New Jersey District Director) and Rev. Bruce Grodner (New York District Director) among others.
Dr. Yang encouraged us to remember the purpose of our presence in America beyond our personal motivations. Filipino members arrived in America as missionaries and will never forget the original purpose why we came to this nation of America. The reason America is great is not because of political power, material wealth, but because God make America great. So, our motivation is to serve God in this nation by fulfilling our responsibility, said Dr. Yang.
Rev. Schanker explained in his lecture that, "God sees something in you that can help America become greater and fulfill its mission as the Elder Son Nation." He encouraged us to be more active in Hoon Dok Family Church and witnessing activities.
Dr. Michael Zablan presented his very large vision of the "Two Million March Rally" to welcome True Parents in the Philippines on December 2008. He has been greatly encouraged by Hyun Jin Nim and plan to duplicate the two-million rally which welcomed Pope John Paul II to the Philippines in 2000. After the presentations and lectures were done during the day, in the evening we all enjoyed traditional Filipino entertainment with famous Filipino singer Anthony Castelo singing Kastilyong BuhanginĚ followed by his Ambassador for Peace appointment, and the ballroom dancing.