| | |
| --- | --- |
| | The Words of the Patterson Family |
Profile of C. Patterson - Outstanding Student to be Honored by Pace University's Lubin School of Business
Douglas Burton
May 7, 2009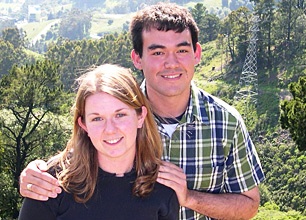 C. Patterson, a 2003 graduate of Irvington High School, has been selected as a recipient of Pace University's Trustee Award and the Lubin School of Business Scholastic Achievement Award, which are the highest academic awards attainable by an undergraduate at the University and its business school, respectively. In addition, he will receive the Management Faculty Award for outstanding contribution to the Management Department. Mr. Patterson will address graduates of the Lubin School of Management on May 17, 2009.
Mr. Patterson is well known in the West Rock Family church in Tarrytown, New York, as an active member of the community who for years organized programs for high-school and middle-school youth.
His planned wedding in August to Megan Simonds, a graduate of the University of California at Berkeley, has been in the works since his "Marriage Blessing Ceremony" by Rev. Sun Myung Moon on December 26, 2004. As far as the wedding goes, Mr. Patterson and Ms. Simonds are following in the footsteps of their parents. C.'s father, Charles, and his mother, Toshiko, a native of Yokohama, Japan, were blessed in marriage by Rev. Moon at New York City's Madison Square Garden in 1982. C. says he owes his achievements due to the love of his family and community.
He credits his early religious life with helping him to form a strong work ethic and he says that his volunteer work showed him how to take care of people. Mr. Patterson hopes to begin his career in human resources somewhere in New York area. He also hopes to contribute to non-profit work, an idea that stems from several years of an enjoyable experience working with the WestRock Family Church and with non-profits such as the Religious Youth Service and Peace Dream Foundation.
Contributed by Douglas Burton