| | | | |
| --- | --- | --- | --- |
| | The Words of the Anglin Family | | |

An Ideal Marriage: Seattle Prayer Breakfast
Mary Anglin
August 19, 2006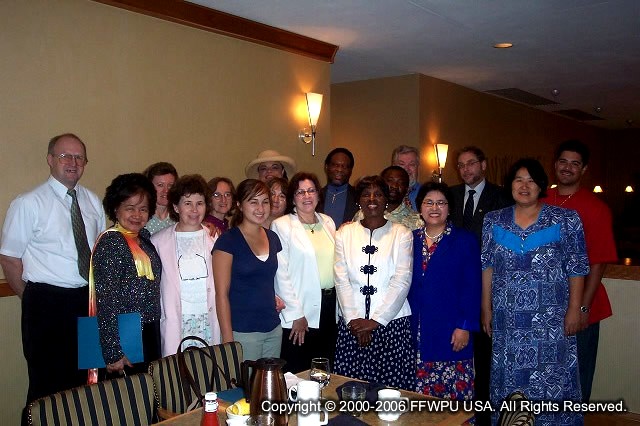 "Therefore a man shall leave his father and mother and be joined to his wife, and they shall become one flesh." Genesis 2:24
"The place of love, which is absolutely unchanging, is the dwelling place of God." True Love and True Family ` page 47
Minister Ray McCready emceed Seattleís August prayer breakfast that took place at the Northwest Landing Restaurant.
The reading of the ACLC Goals and Objective brought excitement from the crowd. The social action and community empowerment programs were received well, with excitement expressed about the potential of the ACLC community activities.
Selections on the topic An Ideal Marriage were read. Selected were passages from the 7th chapter of 1 Corinthians and the 5th chapter of Ephesians. Also selected were words of wisdom on this topic from ACLC Founder, Rev. Dr. Sun Myung Moon.
A thought provoking discussion ensued, beginning with Bishop Donovan Rivers expressing his observations of Rev. and Mrs. Moon and the bond seen and humility expressed between them.
Various personal testimonies and bits of wisdom were shared. A sampling:
As religious people we have to lead by example. Even though we have faults and our spouses have faults we must show absolute love. We cannot budge one inch in the areas of right and wrong, yet we canít judge or accuse others. We must proclaim the righteous way with love.
We must be big enough to go back and admit our mistakes and apologize. When our children see this trait in their parents, they can see Christ. Have I led my children to Christ?
It is Satan who works to confuse the standards of marriage. Therefore we must make daily effort to bring God in and center our lives on Him.
In public you can put on a façade, but not to your spouse. It is both precious and crucial to have a husband or wife who will love you in spite of your faults. Try to see your spouse from Godís viewpoint and find in him or her what it is God wants you to utilize.
After 54 years of marriage I can say that it isnít always easy. Be with your wife; be with your husband. Always say "I love you."
Rev. Anglin closed the discussion by sharing words of counsel that she received 24 years ago, before her own engagement by her spiritual leader, Rev. Moon, "Your spouse is your 2nd messiah". Through Christ we receive spiritual salvation; through our spouse we receive character salvation. We can become more Christ-like through our daily living in a marriage relationship. She advised the group to remember that your husband or wife is a gift from Heaven and will take you closer to that ultimate goal.
The crowd of twenty-two dispersed on a high note, with renewed vigor that comes from sharing the love and truth of God.


Download entire page and pages related to it in ZIP format


Table of Contents


Information


Tparents Home