| | | | |
| --- | --- | --- | --- |
| | The Words of the Anglin Family | | |

Embracing a Peaceful Future September 11th Prayer Breakfast
Mary Anglin
October 2, 2006
Seattle, WA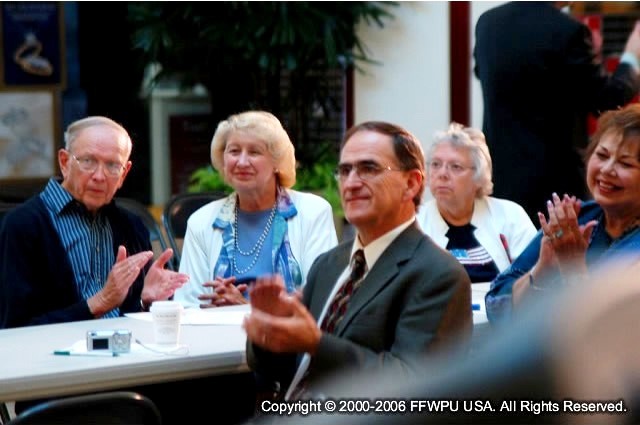 "They shall beat their swords into plowshares, and their spears into pruning hooks; nation shall not lift up sword against nation, neither shall they learn war anymore." Isaiah 2:4
The Paige-Aimi World Peace Foundation joined forces with the American Clergy Leadership Conference in Seattle on September 11, 2006, for a rousing and uplifting prayer breakfast!
On the fifth anniversary of the September 11th tragedy, we chose as our theme "Embracing a Peaceful Future". Hoon Dok words were selected from Father Moonís IIFWP Inaugural address of February 6, 1999.
Mrs. Paulette Wiesinger had done incredible work in reaching out internationally to bring people to the International Autumn Gathering-World Music Festival, which had taken place the previous day. A number of the performers and guests returned for the prayer breakfast the next morning.
Guests from ten nations enjoyed breakfast, listened to our Founderís words on peace, were introduced to ACLC and watched a beautiful Dance of Prayer by Aarhie Kaushik from India.
As if this were not enough, special guest performers from Trinidad and Tobago belted out five beautiful songs, including a stirring rendition of "The Lordís Prayer."
Rev. Larry Krishnek, newly appointed District Director of the Family Federation, gave the final call to action. "Peace workers are not just dreamers. Peace has been the desire and goal since the beginning of time. Our legacy is a legacy of peace. It is the only reasonable goal. Let us continue on this road, bound together in heart."
The thirty participants reluctantly parted but took with them the words of Peace Pilgrim, "We who work for peace must not falter. We must continue to pray for peace and to act for peace in whatever way we can. We must continue to speak for peace and to live the way of peace; to inspire others, we must continue to think of peace and to know that peace is possible."
Amen!


Download entire page and pages related to it in ZIP format


Table of Contents


Information


Tparents Home