| | | | |
| --- | --- | --- | --- |
| | The Words of the Choi Family | | |

Mrs. Won Pok Choi has passed to the Spiritual World
Chang Shik Yang
January 17, 2006
Dear Family,
A most historic and central woman in God's dispensation has made the transition to the spiritual world. True Parents will return to Korea shortly for her Seung Hwa. True Parents have shared many times about Mrs. Won Pok Choi's historic role and the sacrifices she made to open the way for True Mother to fulfill her role in history.
America expresses profound gratitude for her life of faith and the historic role she played in relation to the restoration of the woman's role in history.
She fulfilled so much for Heaven. Our sincerest prayers and love and respect go out for her and all of her family. We also give our sincere love and support to Dr. Joon Ho Seuk, Continental Director of the Northeast Region.
Dr. Chang Shik Yang
Continental Director
FFWPU of North America
Rev. Dr. Michael Jenkins
President
FFWPU-USA
---
World Seonghwa Ceremony for Mrs. Choi Won-bok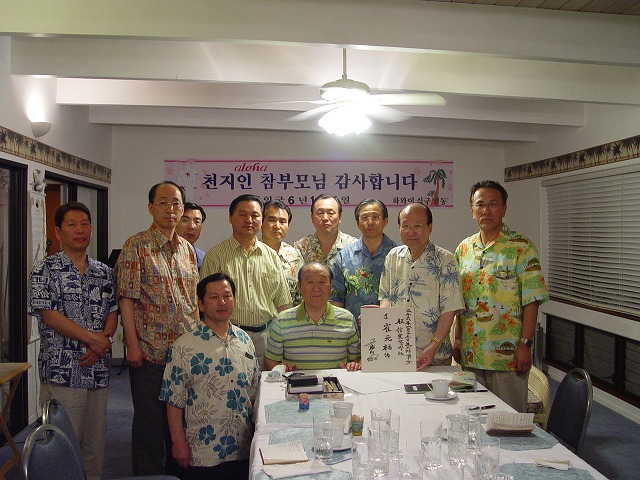 Photo: Sun Myung Moon, Chung Hwan Kwak, Chang Shik Yang, and other elders comemerating Won Bok Choi, Kona, Hawaii
Mrs. Choi Won-bok passed away on January 15, at 2:35 p.m. at the age 91 at her own house, while fighting a chronic disease. The schedule for her Seong Hwa ceremony is as follow:
1. World Seong Hwa Ceremony
Date: January 19 2006, at 8:00 a.m
Place: Little Angels
2. Weon jeon Ceremony
Date: January 19, 2006 at 11:00 a.m.
Place: Paju Woenjon
3. Contact Information
Address: Koyang city Ilsan dongku, Shiksa dong 814, Dongkukdae University Hanbang hospital, funeral hall, room no. 1
Contact person (Seok Joon Ho):


Download entire page and pages related to it in ZIP format


Table of Contents


Information


Tparents Home