| | |
| --- | --- |
| | The Words of the Choi Family |
Day of Peace in Chisinau, Moldova
Byung Ho Choi
September 21, 2010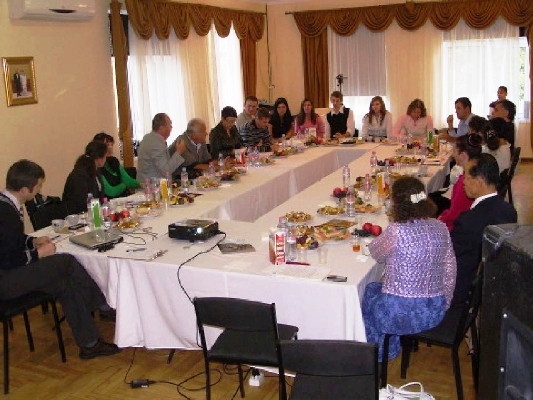 Chisinau, Moldova -- On the UN International Day of Peace, UPF-Moldova and its NGO partners organized presentations in schools and colleges on the theme "Youth for Peace and Development" as well as one conference.
In collaboration with the Chisinau city Central District Administration, presentations were organized at the Polytechnical College on September 15, attended by 168 students, and at the Construction College on September 22, attended by 225 students.
On September 21, UPF-Moldova organized a conference on the theme "Youth for Peace and Development 2010." This offered a good opportunity to give an overview of the ten years of activities dedicated to promoting a culture of peace and non-violence in Moldova.
In his opening remarks, Senior Advisor Mr. Byung Ho Choi gave credit to Rev. Sun Myung Moon's initiative in the early 1990s to promote peace, development, and freedom of religion in the former USSR. We are harvesting the fruits of his courageous and visionary investment in the spiritual education of youth leaders from the former Soviet Union.
The program was attended by 25 participants: Ambassadors for Peace, NGO leaders, professors, business leaders, local administrators, young volunteers from various organizations, and journalists from radio and the print media.
The presentation by Tatiana Sanina about her experiences as a volunteer in Moldova, USA, and Korea inspired the audience as as example of a young Moldovan learning from the world and returning to serve Moldova to promote a culture of peace and sustainable development.
A presentation about UPF collaborations with the UN was given by Mr. Alexander Zamushinski, a recent graduate of UTS Interfaith Seminary in New York. He shared about his personal experience as an intern at the UPF-UN office in New York City in promoting an inter-religious council at the United Nations. He proposed that affirmations of support for an inter-religious council by UN representatives from countries in the region could help advance inter-religious harmony in their countries.
Former Vice-Minister of Economy and UPF Peace Council representative, Dr. Marin Mazur, suggested launching a project involving all nationalities and ethnic groups living in Moldova for the cause of the harmonious and sustainable development of the nation and its families. Participants were encouraged to come up with proposals and be more actively involved in UPF-Moldova and its local NGO partner projects.