| | |
| --- | --- |
| | The Words of the Compton Family |
Camp Lovin' Life for Middle and High School Students
Ilhwa Compton
June 1, 2011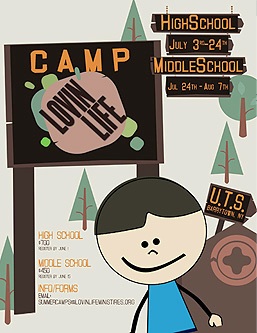 Dear Families,
It is our great pleasure to announce Camp Lovin' Life, a summer camp for middle and high school students that will take place at the Unification Theological Seminary in Barrytown, New York. Under the direction of our National Pastor, Rev. In Jin Moon, we are preparing a three week High School Camp and a two week Middle School Camp that will help teenagers experience the joys of the Unification faith, inherit the vision of Lovin' Life Ministries, and grow closer to God and True Parents while having lots and lots of fun with their peers.
Camp Theme
The theme for Camp Lovin' Life this year is The Shoulders We Stand On, which is about recognizing our spiritual heritage. It would begin with recognizing that we stand on God's shoulders. This would include recognizing first that God is our Heavenly Parent and understanding that we are God's divine and eternal children, and involve a discussion on the implications of that understanding.
It would also include recognizing that we stand on Jesus' shoulders -- that Jesus brought us to a new age of spiritual enlightenment and his sacrifice on the cross (and victory through resurrection) gave all humanity the opportunity to gain spiritual salvation and the forgiveness of sins.
We would also have to recognize that we stand on True Parents shoulders. We would contrast the concepts of spiritual and physical salvation and recognize that while Jesus was victorious in giving us spiritual salvation, humanity still longed to be born into God's family and be relieved of sin. On this foundation, we would convey the need for the Messiah to return, the centrality of the Blessing in the Unificationist life of faith, and the role the True Parents.
We would also convey that we stand on the first generation's shoulders -- that the first generation were the pioneering disciples that took the role of "Israel" when Christianity failed to unite with True Parents. In the future, the first generation will be honored as the people who helped True Parents build the Unification Church / Movement, stayed united with True Parents through thick and thin and thus helped save True Parents' life and move God's providence forward.
Additionally, we would recognize that we stand on the True Children's shoulders. We would convey that while there is only one True Parents of all humankind, the True Children are the direct descendents of the union between True Adam and True Eve, and thus are most qualified to lead God's providence when True Parents pass on to the spiritual world. In this we would convey the importance of the transition to the settlement era, and most definitely convey the importance of Honoring Our Tradition (H.O.T) while leading lives of both Internal and External Excellence.
Lastly, we would convey that we stand on the shoulders of our older brothers and sisters (BCs). We would convey the importance of having an older Abel figure to guide and support you in your life of faith, especially an older brother or sister who is connected with In Jin nim and understands her vision with Lovin Life Ministries.
Camp Facility
The facility in Barrytown affords us lots of room for all of the exciting activities that we are planning for this year's camp. In addition to the traditional camp favorites like roasting marshmallows over a campfire or running until your legs burn in a game of capture the flag, we are making efforts to ensure that our campers will also be able to go horseback riding, travel to amusement parks, and get a first hand understanding behind the history and heritage of the UTS property. Camp Lovin' Life also provides teens with the unique opportunity to connect with In Jin nim and the True Family directly by attending Lovin' Life Ministries in New York City on a weekly basis. As you may know, Lovin Life Ministries is constantly encouraging teenagers to discover a sense of pride in who they are as Unificationists.
Please find enclosed in this package the camp flyer, information on meningococcal disease, a copy of New York State's Immunization requirements, the Camper Registration form, and the Staff Application form. All the information you need to know is outlined below:
What You Need to Register Your Child:
1. A complete Camper Registration Form (3 Pages)
2. A copy of your child's Immunization records, signed by your Child's Physician
3. Payment in full for each child your are registering, via check, cash, money order or credit card
4. The above three items should be sent in by June 15, 2011
Camp Dates:
High School Camp: July 3 -- July 24, 2011
Middle School Camp: July 24 -- August 7, 2011
Young Adult Staff Training: June 29 -- July 3, 2011
Camper Qualifications:
Students who were enrolled as a high school freshman, sophomore, junior or senior in the 2010-2011 school year may register for High School Camp. Students who were enrolled in sixth, seventh, or eighth grade in the 2010-2011 school year may register for Middle School Camp. Students who were enrolled as high school seniors during the 2010-2011 school year may apply to be a Counselor-in-Training for the Middle School Camp only. Young Adults, aged 18 or older, who were enrolled as college freshmen and/or graduated high school in the Spring of 2010 may apply to be camp counselors for both/either Middle and High School Camp.
Camp Fees:
High School Camp: $700 per camper
Middle School Camp: $450 per camper
Young Adult Staff: No Fee
We apologize, but there will be no early bird or multiple child discount. We chose to charge the lowest fee possible for all campers. We are grateful to In Jin nim as camper fees are being substantially subsidized by Lovin' Life Ministries.
Parents, please send all registration items (Camper Registration Form, Immunization Record signed by child's physician, and payment) to us by email. If you prefer to send items by mail, please send the forms and payment to:
Camp Lovin Life
c/o Ilhwa Compton
481 8th Ave. Room 618
New York, NY 10001
If you have any questions, please send an email to us. We look forward to a great camp this year and we are confident that your child will have a great experience.
Sincerely,
Camp Lovin' Life Staff