| | |
| --- | --- |
| | The Words of the Compton Family |
Report on my trip to Korea including some guidance from True Mother
Andrew Compton
March 1, 2013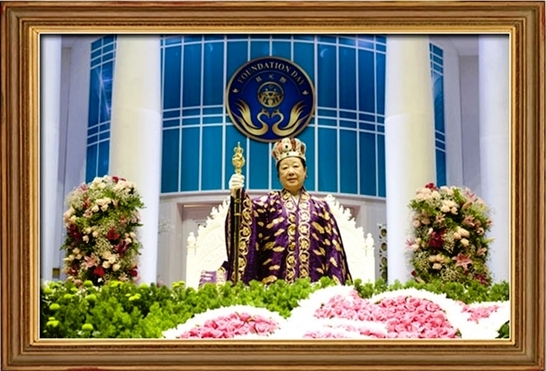 Hak Ja Han - February 22, 2013
Dear Brothers and Sisters
I am deeply grateful for the opportunity to be have been with True Mother in Korea for Foundation Day. I tried my best to represent you and our NY District. I pray that wherever you were, you had a meaningful experience through your participation in the Foundation Day event.
Now I am looking forward to working with you in the great task before us -- to make True Parents' vision a reality.
This week, instead of a Newsletter -- I will offer this brief report on my trip to Korea (including some guidance from True Mother).
We arrived the evening before Foundation Day -- and that night it snowed 1 or 2 inches. When we got up and saw everything covered in snow -- it felt like a sign from heaven, as though everything had been covered by God's grace.
We arrived at the Peace Stadium (I was seated on the floor level in the back, stage right), took our seats, and prepared ourselves for the event. I won't go into the program since you saw it all through the internet. One point you may have missed is -- at one point during the dance they projected an image of True Father onto True Father's empty chair (meaning it really wasn't empty -- True Father's spirit was there next to True Mother). The whole stadium went "aaaaaaaah!"
I felt a bit sad when True Mother wept while proclaiming the accomplishment of Foundation Day. I felt sorry that I was not able to more fully appreciate her heart -- what she must have felt having walked such a painful course -- and yet making it to this point of victory with True Father in the spiritual realm.
Later when we attended the lunch celebration -- the spirit was totally different. You could see it most clearly when True Mother held in her arms the puppy dogs (given as a gift from North Korea). Her face was bright and filled with joy -- as though a burden had been lifted from her shoulders.
The next day we were able to attend the opening session of the World Summit at which time Hyung Jin Nim read True Mother's speech. Congratulations to Dr Walsh and his staff at UPF! It was amazing how many heads of state were present.
On our last full day in Korea we were able to go to the Palace and attend the morning session of our church's international conference. It began with words given by True Mother. The following are a few of the main points I received from her:
1) The unit of languages -- it is important that we make effort to learn the Korean language (it is an act of filial piety)
2) We are blessed. Amongst the billions of people who have lived, who longed for this day, we were chosen to receive this great blessing.
3) As blessed people -- what do we need to do? With blessing comes responsibility. We need to share this blessing with others.
4) We are greatly indebted. We were given this blessing unconditionally. Many people from the past, who longed for this day, invested more than we did. In comparison -- we are unworthy.
5) What should we do from now? The emotion of gratitude must well up within us when we think of our True Parents. "Heavenly Parent -- I am grateful!"
6) For this to happen we must understand our responsibility and fulfill it.
7) We must have the desire to make True Parents happy. When they look at me (each of us) they should see someone who has matured to the point that they can feel, "All our investment -- it was worth it!"
8) Over the next 3 weeks we must offer conditions of devotion
9) Be able to set aside private personal things -- and become people Heaven can embrace
These points are from my notes -- so they are not a perfect translation. But I believe you can get the main points. Please take time to reflect on them, pray, and then let's make good plans and with good determination let's do great things together with our True Parents!
God Bless You
Andrew Compton