| | | | |
| --- | --- | --- | --- |
| | The Words of the Corley Family | | |

ACLC New York Prayer Breakfast Meeting Report
Tom Corley
June 24, 2006
Held at Christ Family Church Mt. Vernon NY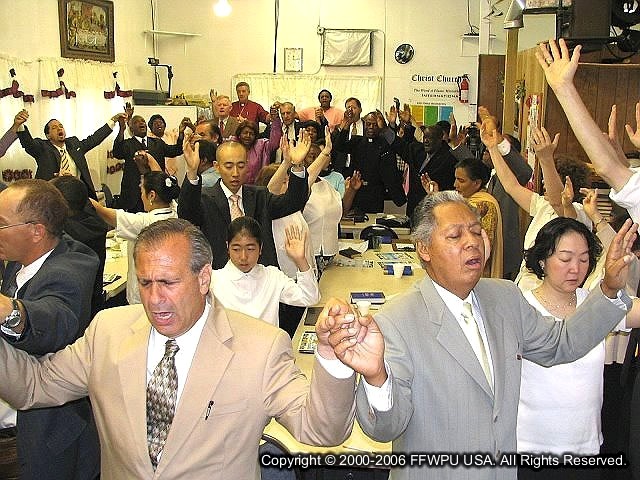 New York Regionís ACLC June Prayer Breakfast took us to the beautifully illuminated Christ Family Church nestled in the hills of Westchester County in the town of Mount Vernon, where Bishop Margie de la Rosa is the Pastor and one of the co-conveners of ACLC New York. We were warmly welcomed by her husband Archbishop Moses de la Rosa, who is the overseer of Christ Family Church International.
Rev Bruce Grodner, co-convener of ACLC New York, was our emcee for this breakfast meeting and made everyone feel welcome by sharing a story of how we are all on a journey through life and therefore do not need a lot of possessions. Rev. Nagi Yousef, Pastor of the First Arabic Baptist Church in Yonkers led us in the invocation for the meeting. Our WestRock Family Church choir serenaded all present with a beautiful rendition of Bow the Knee. Following the choir and prior to breakfast participants had an opportunity to introduce themselves, an ice breaker, which always brings people closer together.
After breakfast the goals and objectives of ACLC were read by Rev. Dr. H. G. McGhee Jr. co-convener of ACLC New York. Ministers who joined the ACLC in the past month were welcomed and presented with certificates of ACLC membership and their membership cards. Rev McGhee followed with encouragement for new ministers to join in the coming month. In preparation for our keynote speaker, Rev. Levy M. Daugherty, Secretary General of the ACLC national, Rev Kendricks of the First Grace Baptist Church in Harlem read three scriptures 1 Cor: 12-12, Eph: 2-14, Col: 2-2 and concluded with words from ACLCís founder, Rev. Moon.
Rev. Daugherty began his talk by saying it was a time of great blessing and we should go out and tell the world the good news. "You will be leading people who used to persecute you" he proclaimed! He emphasized the need for all men and women to realize that we are only one half of Godís reflection and can never fully reflect God on our own. To experience and reflect Godís love fully we need our spouse and only together can we resemble our parent God. He shared a quotation from Genesis 5 concerning this point. He talked about the challenges ministers face from others who do not understand what ACLC is about and then shared a story about a man from an earlier time who suffered great misfortune in loosing his daughters in a ship accident, who, however, was able to offer this loss to God in the form of a beautiful poem, which later became a hymn called "It is Well with My Soul" He encouraged everyone to overcome the challenges, no matter what they are.
Rev. Daugherty introduced a new step in the minister providence with the announcement of the establishment of the United Federation of Churches and presented several ministers with plaques recognizing their affiliation. He also encouraged everyone to attend an upcoming ACLC conference to take place in the Bahamas from August 14th to the 17th.
A blessing and rededication of married couples was led by Rev. Grodner and the Archbishop and Bishop de la Rosa couple. Bishop Peter Armah led us in a closing prayer, followed by unison song and prayer led by Rev. Daugherty, which filled this illuminated chapel nestled in the suburban hills of Westchester with a companionship of purpose for all present.
Reporter: Rev. Tom Corley


Download entire page and pages related to it in ZIP format


Table of Contents


Information


Tparents Home