| | | | |
| --- | --- | --- | --- |
| | The Words of the Corley Family | | |

Report on ACLC New York Breakfast Meeting
Tom Corley
August 19 2006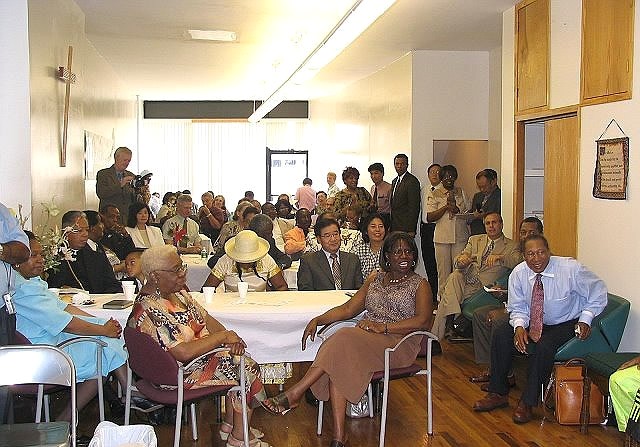 Approximately 80 people gathered at the Church of the Living God on Saturday, August 19th, at 205-15 Jamaica Avenue, Queens, for New York's ACLC monthly prayer breakfast hosted by Rev Ebony Kirkland and Pastor Bruce Kirkland. After a warm welcome from Rev Kirkland, Bishop Margie de la Rosa of the Christ Family Church was introduced and gave a short introduction to the founding of the ACLC and its goals. She made everyone feel at home by leading us all in the song "Love Lifted Me".
Our ACLC host Pastor and emcee Reverend Kirkland shared how she started the church with a small group of people in her home and how God blessed them as their ministry grew with new and talented members, several of whom she introduced. Pastor James Robinson gave the invocation and breakfast was served. As breakfast concluded a 15 minute video entitled The Path to Peace was shown, which shared about the work of the founders of ACLC, Rev & Mrs. Moon, and their efforts to bring peace around the world, especially to the Middle East . Following breakfast Rev Harvey Kendricks of the First Grace Baptist Church, read the goals and objectives of the ACLC.
Rev Kirkland introduced her praise and worship team, who shared two songs "Our God is an Awesome God" and "He Lives with Me." This was followed with a dance presentation from the Trees of Righteousness Dance Ministry director Theresa Allen. In preparation for Archbishop Moses de la Rosa's keynote address, two readings and a song were shared: The first reading by Pastor John Moye from John 15: 1 through 8, "I am the true vine" and the second reading by Rev Hanner was an excerpt from a speech given by Rev Moon on this 120 Nation Speaking Tour, entitled "The True Owners in Establishing the Kingdom of Peace in Heaven and on Earth," concerning the re-establishment of the original family that was lost through the fall. The song "How great Thou Art" was sung by Sister Davetta Ogunlola.
The Archbishop de la Rosa began by recognizing several ministers present and quoting John 15: 1 saying, "Every branch in me he prunes those that bear fruit so they can bear more fruit and those that don't to be taken away." He related about growing up on a farm and watching his neighbor doing the pruning and as a result could well understand this analogy. He said as Christians we are supposed to be one. However, we are not; we are eating just part of the word, not the whole thing. We don't give each other justice; we are not even qualified to judge others. Our righteousness is like filthy rags. We must long for righteousness and pray for others. He shared a testimony about how he used to work three jobs, play in a band and was determined to make his first million but then got saved. Quoting John 15: 5 he said, "I am the vine, you are the branches." We cannot do things without God. From John 15: 7 "If ye abide in me and my words abide in you ye shall ask what ye will and it shall be done unto you". He shared a story about a car he desired and how that dream came to be realized. When we honor others, we will be blessed. He also shared stories about living for others that he experienced through his wife and daughter that gave him inspiration. In an introduction to the blessing that was to follow, he related how he and his wife blessed many couples in their church and how it had helped their marriages.
In preparation for the holy wine ceremony, Pastor John Moye sang "Sweet Communion" and our District director, Rev Bruce Grodner, explained the significance of the holy wine and guided the ceremony.
Also in attendance at this month's prayer breakfast were ACLC Secretary General Reverend Levi Daugherty and newly appointed ACLC vice-Chairman and religious outreach coordinator Bishop Ki Hoon Kim from Chicago. Rev Daugherty shared about the ACLC conference recently held in the Bahamas and the rejuvenating impact of the lectures and Mrs. Moon's words on those who attended. He talked about the importance of a good husband-wife relationship and raising children properly. He said families who have received the holy wine are like seeds planted in the neighborhood. He said, "Love your neighbors and make your actions speak louder than your words." He shared how when Reverend Moon was incarcerated in Danbury in 1984 he responded by loving America even more by directing that millions of dollars be spent on trucks for distribution of food to those less fortunate. At the end of his talk Reverend Daugherty presented Reverend Kirkland with a certificate recognizing her church as a member of the United Federation of churches.
Following Rev Daugherty's talk an offering was taken for our keynote speaker. During the offering two songs were shared by sister Sonja, "Lord I Lift Your Name on High" and "Crying Out to You". In brief remarks near the end Bishop Kim from Chicago said he felt like a New Yorker today and mentioned how the ACLC was known by most of the pastors in Chicago . He also referred to the completion of Mrs. Moon's 120 nation's tour and how hard it is to accomplish such a feat. He said he would be touring America with Reverend Daugherty and Reverend Sakamoto, visiting ACLC chapters in each region. In closing Reverend Kirkland emphasized the need for the unity of all races and languages and invited Archbishop Moses de la Rosa to give the closing prayer.


Download entire page and pages related to it in ZIP format


Table of Contents


Information


Tparents Home