| | | | |
| --- | --- | --- | --- |
| | The Words of the Corley Family | | |

Report On The ACLC NY District Prayer Breakfast
Tom Corley
December 2, 2006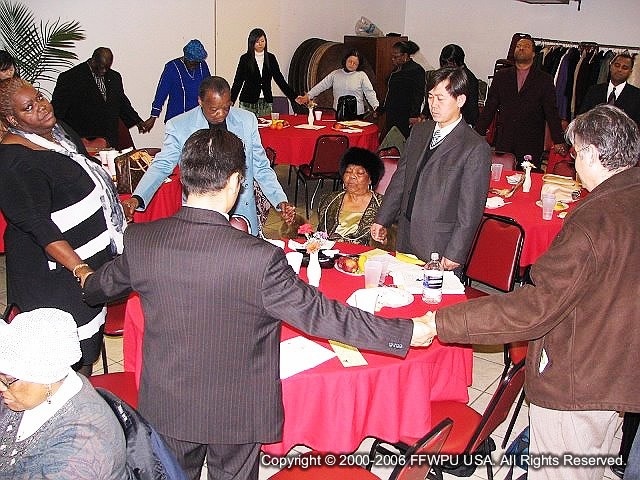 Bishop Cecil G. Rileys Freedom Hall Church of God in Brooklyn was the venue for our final prayer breakfast meeting of 2006. As Bishop Riley was on a mission to the Caribbean, evangelist Lyle and others from the Freedom Hall were on hand to give us a warm welcome and had a hearty breakfast prepared. In welcoming ACLC Women In Ministry New York, who were the hosts of our December breakfast, Sister Lyle recognized several important guests and stated that beside (instead of behind) every good man is a good woman. She gave us a new definition of fellowship by saying that it meant all the fellows in the same ship.
Sister Lyle then proceeded to read a message from Bishop Riley that touched on several themes: the most important being that we need to have a bigger mind to think beyond our four walls and come together under Gods love. After this wonderful welcome, Sister Lyle introduced Mrs. Beryl Green of the Women In Ministry, New York, who was our emcee for this meeting.
Representing the Women In Ministry, Bishop Dr. Margie de la Rosa gave welcoming remarks by saying, let us be peacemakers, and stressed the importance of not complaining and not criticizing. She said, have we asked to be forgiven for things we have done wrong even without knowing? Have we loved someone we regarded as an enemy? Mrs. Green, our emcee, offered a prayer for breakfast, and everyone was invited to enjoy the hearty meal that was prepared. As breakfast was concluding, Sister Riley (a daughter of the Bishop and Mrs. Riley) offered the song "Guide Us With Your Grace."
The theme of our December breakfast was "Repentance and Purification." To start us off in a good direction three prayers were offered centering on three issues, one by Mrs. Daugherty on Gods dream to be fulfilled, one by Mrs. ___ on unity, and one by Mrs. Lorna Galvan for peace. We had two special song offerings at this months breakfast meeting, the first one being a presentation of two beautiful songs by the West-Rock family choir, who sang "For Such A Time As This" and "Glory." These songs prepared the atmosphere for the blessing ceremony that followed, led by Rev Andrew Compton, the pastor of the WestRock Family Church in Tarrytown, NY.
In preparation for the blessing ceremony Rev Compton explained that Reverend Moon was called by Jesus to bring the family back to God. He explained that Adam and Eve married outside the Garden and as a result gave birth to problem children. He asked, who initiated the fall between Adam and Eve? All answered Eve. He explained that in receiving the holy wine the wife drinks first and then offers the holy wine to her spouse, through this process reversing the mistake Eve made in the process of the fall. The co-chair of New Yorks ACLC, Rev Grodner and his wife Debbie officiated the blessing ceremony. The four blessing vows were read and a prayer was offered.
Dr. Gilda Price, one of the New York ACLC pastors who participated extensively in the 4th world speaking tour, was called on to read the ACLC goals and objectives. After returning from the world tour she was filled with the Holy Spirit and determined to share a testimony about the power of that tour to bring peace. She related her experience in Kinshasa in the Republic of Congo, where she said the Vice President had seen news of the peace tour on TV and requested a meeting with the Ambassadors for Peace (AFP) who were visiting. The meeting was held at the vice presidents home shortly after the elections in that country had concluded. There was a lot of tension and talk of war in the air after the election as there was disappointment on the losing side. However, the vice president said he constantly heard the words peace, no war ringing in his thoughts and as a result determined that there should be no fighting. Dr. Price concluded that the peace tours are having a great impact on the world and that Father Moon is doing a great work. She reflected that there are times when she sits back and wonders why she was not more involved in this movement, having known it from many years ago. She said, however, there is a time for everything under the sun and now with a little more understanding and wisdom it is time to carry the cross. Dr. Price then read the ACLC goals and objectives in a voice filled with emotion and conviction.
An important announcement was made concerning the passing of a beloved sister, Rev. Dr. Margaret Savage who was a longtime supporter of Father Moons work and was one of New York ACLC board members from Long Island. Cards were circulated for messages of support for her family and an offering was taken for a flower arrangement to be sent representing ACLC. Prior to our keynote speaker, the Rev. John Moye and his wife from Queens offered a song and dance duet.
Bishop Peter Armah, ACLC co-chair of Bronx, NY was the designated speaker for this breakfast meeting and he began by honoring Bishop Dr. Margie de la Rosa, the head of the Women In Ministry New York, by presenting her with a book entitled "All The Women In the Bible". He noted that Bishop de la Rosa has been married for 43years and called her husband to stand with her in receiving the gift.
In beginning his talk Bishop Armah quoted Thessalonians 1 chapter 5 verse 17, "Pray without ceasing." He emphasized the need for ministers to support each other. He talked of how, when we follow a righteous but unpopular path, we are often left alone and in these kinds of situations we should encourage and support each other. Citing the miracle of the loaves and the fishes, he said Jesus did not ask the people if they were believers; he loved them all regardless of who they were. We should never condemn anyone, regardless of their beliefs. He said, Jesus brought two new commandments: love God and love your neighbor. We must pray for that love. He shared a story about a drunken man who entered a church and was about to be thrown out, but instead that man is now one of the churchs biggest benefactors.
In recognition of our hosts, the Women In Ministry, Bishop Armah stated that we must treat our women properly. He said when he stood with Father Moon, initially his wife was the only one who was willing to stand with him. We need our spouses to lead our churches effectively, he said. He compared the investment in love to a deposit in the bank. If you dont deposit, you cannot expect to withdraw. If you dont give love, you cannot expect to receive love. The responsibility is ours. Holding up the Bible, he said, "It can bless you and it can punish you. Let us not blame others. Let us be responsible for ourselves. We always need to pray.If you believe in the truth, the truth will set you free."
Following Bishop Armahs sermon, our sister Mrs. Julie Okamoto, from WestRock Family Church, read ACLC founders words for this month entitled "The Path: Its Purpose and Its Value" excerpted from a prayer delivered in 1957. An offering was taken for our keynote speaker. Senior Pastor Ebony Kirkland of the Church of the Living God in Queens, after reading the 23rd Psalm, offered a very passionate prayer (first in English and then in Spanish) saying that each time we read the Psalm 23 as Rev Moon says we should elevate our love. Bishop de la Rosa was invited to introduce her sisters from the Cherokee Nation and said they had come dressed in their traditional clothes in order to honor the True Parents, Rev and Mrs. Moon, who did not forget them. She concluded by offering a prayer for purity and the family and for forgiveness among all people. Rev. Desmond Green, in his appeal for new members, stated that this gathering was a love affair where people came from many different areas to love each other and offer it up to God. The date of our next ACLC meeting was announced to be held on January 13th, 2007, in Westchester.
At this point in our meeting we received our next great song offering, that of soprano ___ with a beautiful rendition of "Deep River." Mr. Alan Inman welcomed back the new arrivals from the 4th world tour and congratulated them on their great work of spreading the message of peace around the world. AFP and ACLC certificates were presented to several participants by Reverend and Mrs. Grodner. Flowers were presented to our visiting Women In Ministry national representatives, Rev. Reiko Jenkins and Mrs. Daugherty and also evangelist Lyle of the Freedom Hall. Offerings were made to the Freedom Hall Church and the Women In Ministry. Women were invited to join the weekly prayer group, who gather and pray over the phone every other Monday.
Rev. Grodner, after making some announcements, reminded everyone that its not only us who hurt when we are separated from God but that God is also saddened as he cannot fulfill his desire to live in us as he originally intended. A benediction was given by Reverend Grodner, recognizing that we were now filled to capacity.
Reporter: Rev. Tom Corley
Photographer: Rev. Yasuhiro Hori


Download entire page and pages related to it in ZIP format


Table of Contents


Information


Tparents Home