| | | | |
| --- | --- | --- | --- |
| | The Words of the Corley Family | | |

Report on the ACLC New York Monthly Prayer Breakfast on February 10th 2007
Tom Corley
February 28, 2007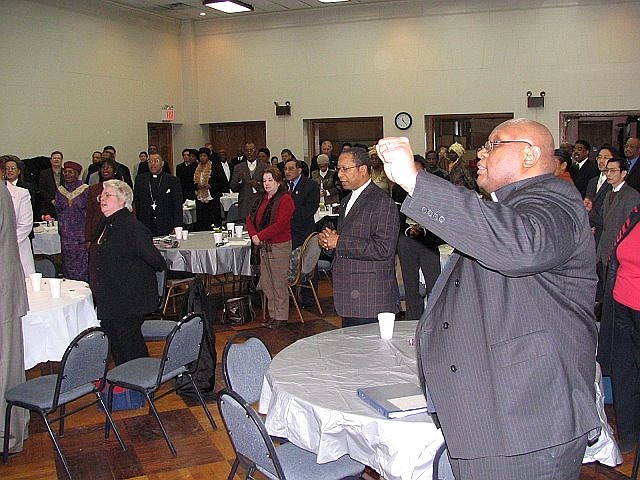 The New York ACLC February breakfast meeting was held at the Manhattan Family Church located at 4 West 43rd Street in New York City. It is also the home of the UTS extension, which was our host for this month. All participants were warmly welcomed by emcee Sister Davetta Ogunlola.
Dr. Ronald Brown, a professor of world religions and adjunct professor at the UTS extension, was invited to give welcoming remarks. He noted how wonderful it was to see so many people in attendance early on a Saturday morning when so many other things compete for our attention.
Rev. William Shultz read a poem in honor of black history month focusing on two things: peopleís search for love and their own identity. Rev. Juanita Pierre-Louis offered the invocation, noting that every cell in our body needs prayer, and she asked us all to think of how great God is.
Following Rev. Shultz, Dr. Lonnie McLeod, who is pastor of the Living Hope Church in East Harlem and professor at the UTS extension, among his many other responsibilities, was called upon to say a few inspirational words. He began by declaring all he ever wanted to do was to provide enrichment and a better life for Godís people, and that what attracted him to the Unification Theological Seminary was its focus on the family. Dr. McLeod served as president of the Exodus Transitional Community, an organization that deals with the re-entry of prisoners into society. Many come from broken families. He explained that we can do what we can to fix the cracks that result from mistakes in the foundation, but that unless we solve the problem of the foundation, these problems will only get worse. He said the family is that foundation, and that is why he is at UTS. After all, he said, God started with the family. We cannot hope to unify the nation or the world unless we unify the family.
A hearty breakfast was served as people mingled and got to know each other. As breakfast was coming to a close, David Bratton and the Spirit of Praise singers created a joyous and holy atmosphere by performing several songs giving praise for Godís boundless love. One veteran of the 4th world tour, Dr. Owens, shared the central theme of that tour: one family under God, overcoming all the barriers of race, religion, and ethnicity. Dr. Gilda Price, another 4th world tour veteran, read the goals and objectives of the ACLC.
Two readings and a song of praise prepared us for the keynote speaker. The Bible reading was Matthew 25: 31-46, which was read by Rev. Kim Scott, and the ACLC founderís words were read by Rev. Raymond Cabbagestack, Jr. Rev. Cabbagestack encouraged all ministers present to share with their congregations and communities about the work Reverend Moon is doing. With the Spirit of Praise, David Bratton returned once again to lift our spirits and prepare our hearts for the upcoming message with the song "Have Mercy on Me." The keynote speaker for February was Rev. Leander Hardaway. His sermon was titled, "I can hear you, but I just canít see you."
Rev. Hardaway complemented David Bratton and the Spirit of Praise for their heartfelt songs of praise. He said when he speaks he likes to have a response from the audience and that even Unification Theology supports this approach with the explanation of give and take action. He read again the words from Mathew 25 concerning Judgment Day and how the Lord will reward us on that day, concluding the reading by saying, "Donít tell me about it, be about it. I can hear you, but I just canít see you." This scripture, he said, enlightens us clearly that God is going to reward action, not just talk. The devil has been blocking us with a lack of understanding. We are locked in 19th century thinking, which is ineffective for this day and age, while the devil is using 21st century methods. We are now at a defining moment. The NYC school system is plagued by high dropout rates, with the city at the center of the AIDS problem in America. One hundred thousand people are living with AIDS in our city right now, and 4,000 more contract the disease each year.
"With an all-time boom in housing development, homeless families subsist in record numbers. At a time when technology abounds, many young people cannot read. At a time when money for prisons keeps going up, money for schools keeps going down. At a time when people once earned a respectable living, they are now in the shelter system. It is a time when it is easier to attain illegal narcotics than to afford prescription medicine; a time of rampant drug addiction when the voice of the gang leader is tuned in and the voice of the clergy is tuned out; a time when pseudo intellectuals and policy makers are so confused that they retreat to the ancient doctrine of their forefathers, who never envisioned a world as complex as this; a time when people are crying out in an old way for a new manifestation of the power of God. We opiate ourselves with symbols and rituals; at a time when disillusionment has hit members of the clergy.
"This is a defining moment, but here is where we find Jesus with an irrefutable message of hope toward social action. Jesus is enjoining us, Jesus is imploring us, Jesus is importuning us. Jesus is saying, Donít talk about it, be about it. I can hear you, but I just canít see you. He is telling us that a ghostlike gospel will not work today. If you deny that, just get in your car and ride through the streets of New York, where there is block after block of churches with nothing happening. The situation is getting more intense, more painful and more hopeless, and the response is getting weaker.
"Before I close," he went on, "I have three suggestions which are important to grasp if we are to start Ďbeing about it.í (1) Stop hiding behind symbolism and rituals. Dipping in pools and drinking wine is just the beginning. Prayer and prayer vigils are just the beginning. There is still work to be done after that. Jesus fed people, Jesus healed people, Jesus brought people back to life, people who were physically and spiritually dead. (2) You canít save souls until you first save lives. Soup and soap can nourish and clean my body, but many words cannot alleviate my condition. (3) Remember the word movement. The word movement switches to the word action. Think about the founder of this organization, the founder of the seminary, author of unity around the world, a man who has dedicated his entire life, his fortune, his family, to building the Kingdom of God on Earth. Yes, there have been speeches and sermons, but they have been backed by corresponding action. The Rev. Dr. Sun Myung Moon is extolling us to action, just as Christ extols us to action in the scripture. Rev. Moon is telling us it is time to do something about the human condition."
Following Rev. Hardawayís sermon, Rev. Grodner, with Rev. Wesley and Gladys Samuel, officiated the Holy Wine ceremony. Dr. Winings followed with encouraging words for those present who had not yet enrolled at UTS, saying it would be of great benefit to their ministry. An offering for the keynote speaker was taken up as David Bratton and the Spirit of Praise returned to offer one more beautiful song. Rev. Grodner announced and welcomed one new member this month. Rev. Daugherty shared a few words about the benefits of membership, stating the goal to have a core ACLC membership of 3,000 by November 2008.
Mr. Naokimi Ushiroda was introduced, representing CARP. He informed us that Dr. Hyun Jin Moon has asked CARP to get to know and work together with the youth in the churches. Evangelist Nolan from Queens gave a heartfelt testimony about the UTS seminary, and Dr. Winings.
Dr. Lonnie McLeod gave closing remarks and great recognition to Rev. Hardaway and his message this morning. Dr. Mc Loud again emphasized the value of the UTS experience and how it can really benefit church pastors and evangelists. Rev. Hardaway offered the benediction, asking Godís blessing on all present.


Download entire page and pages related to it in ZIP format


Table of Contents


Information


Tparents Home