| | |
| --- | --- |
| | The Words of the Edwards Family |
ACLC Gets Jazzed in New Orleans
Tanya Edwards
October 15, 2008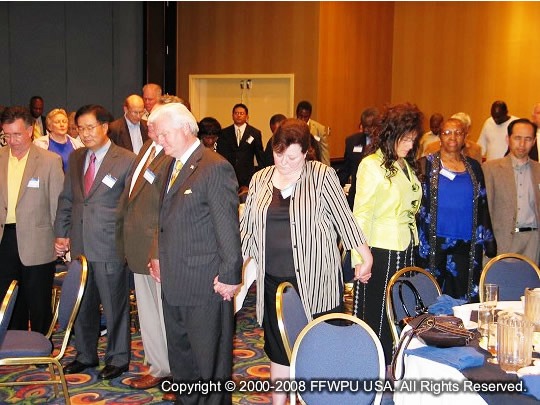 The energy of the American Clergy Leadership Conference (ACLC) Convocation in New Orleans from October 13-15 was insurmountable and moved from person to person. I was amazed by the atmosphere of enthusiasm, and, indeed, the spirit of everyone was high as well as anointed. Faith leaders' involvement with each other and with the Word, the singing, the testimonies, and the participation were truly uplifting.
Conferees heard a superb explanation of the ACLC vision by Archbishop George Stallings, whose eloquence set the tone for the convocation. The teaching by Bishop Jesse Edwards on the "True Family Values" enraptured the assembly, which also was receptive to an introduction to the Divine Principle by Rev. Levy Daugherty, followed by lectures on the Divine Principle by Rev. Kevin McCarthy.
Rev. Mark Abernathy, Rev. Carl Rawls, and Rev. Bennit Hayes did a fantastic job as they opened the sessions and introduced each speaker and lecturer. During the daily devotions, Bishop Michael Sykes, Bishop Ernest Hamilton, and Senator Steen Miles gave incredibly inspiring messages, as did Rev. D.C. Corson. There was singing by different groups and various songs introduced to us, and we didn't hesitate to join in unity and praise.
All lectures were well prepared and organized, prompting many to praise the manifest talent of Reverend McCarthy. Group discussion guided participants into even deeper understanding about the contents of each lecture. The lecture on the "Human Fall," taught by Sister Marilyn Rawls, inspired several to testify that her words touched their hearts. Another session, "Building the Kingdom for God's Heart," given by Pastor Joel Barnaby, also was warmly received. Bishop Jim Swilley gave a wonderful report of the Global Peace Festival that was held in his church, Church In The Now, in Atlanta.
During the dinner sessions, we heard from the ACLC's new pastors, who were elated with the convocation. On October 14, after lunch, Bishop Kim announced that all could take a walk to the mall and around New Orleans. We all were so excited because it gave us the opportunity to have fellowship and to enjoy the city. We are so grateful to Bishop Kim for allowing us to take advantage of this time.
On the last day, we heard from Dr. Lonnie McLeod, dean of the Unification Theological Seminary, who briefed us on developments at the UTS campus in New York City. We were then blessed to hear from the Women in Ministry, who not only inspired us, but challenged us to get involved as women and to attend the different events they offer, including their conference calls and their upcoming conference in Atlanta in November. Sister Edwards spoke about introducing local rallies for women as well as women's prayer breakfasts every three to four months, and how to inspire new ministers to join the ACLC. Mr. Alan Saunders then inspired us with a presentation on a curriculum of character education, which inspired us to bring it into our churches, schools, and so forth.
Rev. Kasongo, with his wife and other members from the Family Church, blessed us in music and instrumentals. Their efforts to usher in the spirit to this convocation were uplifting and enlightening. At our last dinner we were blessed by a musician and a singer from the New Orleans area. This conference began on a vision and ended on a vision. It wasn't just the lecturers that captivated all in attendance, but the oneness of those who were able to become more united with one another. I believe that this convocation set the tone for future convocations.
Reflections from Clergy
ACLC New Orleans National Convocation October 13-15, 2008
I was truly encouraged by everything I heard.
Bishop Paul Caldwell
Pastor, Shiloh Temple International, Minneapolis, MN
I have been in this movement since Nov'07 and I have never met Rev Moon but through studying the Divine Principle it is as if I have known Rev. and Mrs. Moon as True Parents longer than someone who has met him before me.
Bishop Calvin E. Williams
Pastor, Mt. Zion Missionary Baptist Church, Cameron, TX
Coming here all of us as one, it was a great experience for me hearing the speakers. Each one caused me to look into myself and my family. This togetherness will remain in many families so we may be "One Family Under God".
Rev. Cecil Holders
Pastor, Mt. Tabor Spiritual Baptist Church, Brooklyn, NY
I am very grateful to hear Mrs. Rawls' lecture on the Fall of Man. It gave a woman's point of view as we should teach our young sons and daughters about abstinence before marriage.
Rev. Margaret Tate
Associate Pastor, Christ Community Truth Church, Los Angeles, CA
Every speaker did a great job being interesting and informing us on things that were in darkness but which now are in the light of the Lord.
Rev. Apostle M.G. de Kock
Pastor, All Church Hill Tabernacle, Bridgeport, CT
Discussion topics were well chosen and presented by skillful servants. The atmosphere was wonderful and the spirit of God was in control from the beginning to the end.
Rev. Dr. Sam K. Malu
Pastor, Church of God New Life, Bridgeport, CT