| | |
| --- | --- |
| | The Words of the Ellanson Family |
Horsemanship and the Keys to the Kingdom
Lowell and Lesa Ellanson
November 3, 2008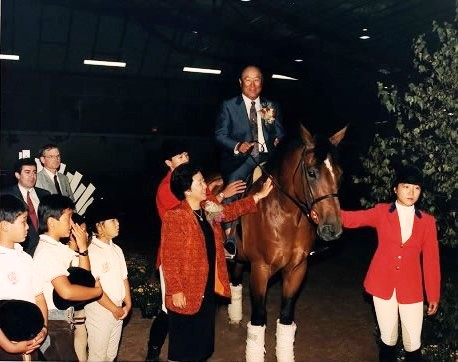 Father and Mother Moon and Family, NHF Grand Opening, 1989.
Introduction
New Hope Farms, Inc., a world-class equestrian facility and show complex, celebrated its ground breaking in 1986. An enterprise of Mrs. Hak Ja Han Moon, who was instrumental in its creation, NHF is famous in our movement for being the training ground for international equestrian and pentathlon talent. South Korea, the Philippines, United States and other nationals trained here. Its roster of global riders included equestrians Hyun Jin Moon and Un Jin Moon, both of whom attended the Olympic Games in 1988 and 1992, respectively.
Now open to the public and to the community of FFWPU families, we now thrive by offering horse shows*, youth horsemanship camps, retreats for the Special Needs members, riding instruction for the public and for FFWPU members.
*On November 9, 2008 and on December 7, 2008 (Sundays), New Hope Farms will be the site for local hunter/jumper horse shows with free admission to all. Start time is 9:30 and the show will run indoors, all day. FFWPU members with mobile businesses who wish to reserve vendor space, should contact Lesa Ellanson. Come out and enjoy the horse show. For directions log on to www.newhopefarms.com and go to the 'Visit Us' page.
Chronicle of a Horse Lady
I always knew that my path lay in working with the animal world, particularly horses. It had always been a lifelong dream to own a horse and live in the country, things that were not possible in Englewood, New Jersey. After having graduated high school, I moved to the countryside in West Virginia (my family's ancestral home); it was a small country hamlet called Dunbar. There I was able to purchase my first horse, my first true love. Her name was Penelope.
Then it happened. It was 1973. At the time, I was working at CBS-TV and also at a boarding barn where my beloved horse was maintained. A Unification Church missionary witnessed to me in downtown Charleston and subsequently articulated extremely compelling arguments for how and why my life should change. Upon hearing the conclusion, I joined. I was willing to transform my life and go this way: But what of Penelope?
Surely, God knew of my profound love for horses and the country life. Such loves would never die. But this is not the time for horses nor a bucolic way of life, I brooded. A cosmic junction in history was unfolding in my lifetime, so what was I to do? I had free will, but I had no choice. I went to my barn, scribbled a brief note for the staff, and tacked it to my horse's stall door. "I going off to be a missionary," it read. "Please take care of Penelope."
I never saw her again.
I left my horse and the peaceful Appalachian countryside to become a full time lay devotee, a resignation that, to this day, still induces tears. Setting myself on a course through my own volition, I set off for New York City, to save it and the rest of America from impending decline. Or so I thought.
Heaven's Equerry
Six months later, I received word that I was to work at stables in upstate New York. It was in an unknown country hamlet called Barrytown, at an old Christian Brothers monastery (now Unification Theological Seminary). There we would keep horses. My job was to teach horseback riding and my students would be, among others, the eldest children of Father Moon.
I held that position for eight-and-a-half years. I am eternally proud to proclaim that two of my former riding students from Father Moon's family, Hyun Jin Moon and Un Jin Moon, went on from that tiny country "barn in the back" to representing their homeland of South Korea in the Olympic Games.
Following my marriage in 1982, I left Barrytown for a twelve year hiatus to establish a family. In the autumn of 1994, we received a call from East Garden, requesting that we come to New Hope Farms, a newly constructed working horse farm and show facility. New because prior to our building, the property was a barren and open field save for a large antiquated chicken coop along with wooded mountainside acreage. We arrived in December of 1994. It was a little known country hamlet called Port Jervis in upstate New York. I was back with the horses. It was as if I was coming home again. But there was one difference.
Here was a towering equestrian center of world class quality and distinction, planned and built from the ground, up by Father and Mother Moon's company, the Han Corporation. I knew that Father and Mother Moon and their family really liked horses. The NHF facility confirmed just to what degree.
The vision, in part, was to provide a transnational complex to accommodate Olympic hopefuls who did not have facilities in their own countries. The other concern was the conditions of the competitive equine athlete. Many countries will do whatever it takes to win (and have done so), including the use of inhumane training practices. Father and Mother Moon established a tradition at NHF that the horse was to be trained humanely. Improvement in performance developed through patience, kindness and consistency. Utilizing those principles, a united trinity of horse-trainer-rider, the horse would work willingly and happily.
At the time we arrived, Father Moon's two children were already the veterans of the Seoul and Barcelona Olympic Games. Un Jin Moon was then in the process of qualifying for her third consecutive Olympiad, which she accomplished: An historic feat to this day, since no other Korean equestrian in history has ever qualified for three consecutive summer games! Unfortunately, following the injury of her horse in 1996, Un Jin was forced to withdraw.
NHF Business Development and Local Outreach
Following the Barcelona Games, NHF focused on producing, hosting and leasing the farm for events. Concerts were held, featuring such performers as Chicago, Willie Nelson, Moody Blues and others. We conducted many horse shows, from Arabians to Friesians, from dressage to Quarter horses to jumpers. We held training clinics given by Olympic equestrian veterans; world caliber shows including the World Cup qualifiers, Olympic Team selection trials, national finals, some of which were televised. We founded the annual Deerpark Family Festival, a community carnival and fireworks show, now entering its 17th year. Annual dog shows, agility trials and breed specialties have attracted the finest canine athletes and their show schedules at NHF are still expanding.
Along with these activities, we maintained our horse shows (both attending and producing), and our connection to the equestrian community through fox hunts, hunter paces, and judging horse shows. I have made lasting friends, contacts, acquaintances, and professional relationships. All of these efforts, centered on Father Moon's concern for nature and animal welfare, resulted in of our excellent reputation in the quality of horse care, even in far-flung quarters. Because of this, we ventured to address the needs of the equine rescue and rehabilitation.
NHF: God's Champions for Animal Welfare
As horses are one of the most beloved creatures of God (indeed, no other beast has played such an incalculable role in human history), we occasionally attend to the plight of mistreated horses. NHF not only advocates the end of animal cruelty, but our responsibility goes even further: We have rescued seriously ailing animals whose prognosis for recovery was so poor that they were of little value save for a future as meat. Yet we rescued them from their wretched fate, sometimes purchasing them, sometimes they were freely turned over to us. In each case, we saw the sorrow of the entire animal world written in their cheerless eyes. When we are merely using animals for our gratification at their expense and, when their use is apart from God's original purpose of love, then the crime, the historical heartbreak, that has been at the crux of the relationship between unrepentant man and animals is sadly repeated. I believe that Father Moon said it best in the following quotes:
Now all things are silently demonstrating, asking to return to the original owner. All things have protested to God: "Why did You create us and make us suffer as the slaves of unrighteous owners?" Historically, so many people exploited all things, using them to do evil, which they did not want to do.
All things will continue to protest to God, saying, "Why did you not separate human beings from us so that we did not have to suffer so unrighteously, so miserably, throughout the history of creation?"
Only one person in this tremendous universe understands what has been going on between all things and mankind. Now all things are hailing me, thankful that I understood their situation and included the Day of All Things as equal in importance to God's Day, Parents' Day, and Children's Day. All things will say thank you to Unification Church members for understanding them and treating them correctly. Do you want to liberate all things still owned by unrighteous people and return them to God? If so, please pledge yourselves to be the instruments to do that.
Rev. Sun Myung Moon
Day of All Things and Ownership
June 4, 1989
Thus we saw it as our duty to end God's sorrow. We reclaimed His horses and gave them back to His children. Our rescued horses responded remarkably; with a little vet care, some groceries, love, and time, otherwise doomed horses bloomed into our best equine partners. Their unspoken gratitude was later demonstrated, in one case, by an elderly work horse gently bearing a gleeful child with special needs.
The New Hope Farms families felt the need to share the creation, this love and all that it entails, to our members and to the public at large. We likewise believed that our calling is to liberate both the suffering heart of God and His creation. To do this, we needed to dedicate ourselves to God's children. Thus it was in the launching of programs to benefit the FFWPU community and the public that we truly witnessed the potential greatness of Father Moon's vision for NHF.
In 2002, we inaugurated the Chung Il Guk ("Kingdom of Heaven") Horsemanship camps for Unification Movement youth. We began with three students, all teenage girls. In 2007, our farm concluded its 21st year and, in contrast to previous years, today it feels as if we have entered Canaan. At the conclusion of the 2008 summer camp and internship programs, we "graduated" twenty students. In over six years, NHF has seen over 1,000 participants, from parents and children to college-age students, camps and challenges, workshops, internships, work-study programs, church gatherings, and special needs retreats.
Currently, instruction is the main focus of internal activity and outreach. The current lesson students are a mixed group of church members and community people alike. They come to learn about horses, riding and, more importantly, why it is a moral imperative to sacrifice oneself for them. Since all of nature, especially domestic animals, have been abused throughout history, it has now become our obligation to end this tragic state of affairs. To reverse this, our attitude and tradition in caring for horses (or any animal) must entail a heart of attendance to God, as taught by Father Moon. All students who attend riding classes at NHF are made fully aware of this and under what principles we operate, as well as who established these principles.
The Keys to the Kingdom, God's Children and Horses
We teach character education through riding. Riding instruction is not merely to drill a rider so that he is capable of piloting a horse. I daresay that almost anyone can be trained to become a rider. At NHF, educating a horseman is far more valuable to God than training a rider.
What defines a horseman? Purely, he is one who sees to the horse's needs before he sees to his own. It entails sacrifice, dedication, hard work, and humility. It is in the education of heart that changes the human so that he (or she) may come to understand God's love for the horse. And it is in expressing that love that human, horse and Heavenly Father become one. Thus NHF exists to educate horsemen and enlighten them to the role that God plays in that process. How do we achieve this?
Traditional Divine Principle education uses the indoor classroom setting. An educator stands before the students and lectures; the lesson is instilled by lecture practice and by examinations. By contrast, Divine Principle education at NHF merely removes the indoor classroom setting as the primary locale and uses the barn experience as the main means to instill lesson content. Yes, on occasion, we also need to instruct from inside a classroom, but the riding student learns Cheon Il Guk horsemanship mainly by doing.
In the process of doing, the students come to realize that the presence and workings of God is everywhere. Moreover, it is through the students -- the children of God -- that God is present and is working, whether it is the pulpit or the stable. He receives the joy of caring for His horses through His children. In fact, God derives joy by just being with His children, wherever that may be.
Similarly, the horses bask in God's love as it is conveyed through the students, and the students receive the horses' resounding affections. In the end, the students have the blessing of both giving and receiving love as true children. It is this approach that brings the lesson home, namely, the "frontline" is not where you are, it is who you are.
The goal then is to accomplish two things: First, to bring God comfort and joy by allowing Him to be with His creatures and His lands, and to abet Him in walking with them again. We open the way for God to again stand upon the earth, namely, the physical world. Second is to bring God's love to the creation and to one another. We, God's children, are the conduit so that people, the animals, the lands, skies and waters may know their true love once more. It is not easy.
During the camps, the students had teams assigned and together, they worked very hard. They collapsed exhausted from the rigors of riding and barn chores but the unadulterated spark in their eyes reflected their tenacity, their total investment. Their newfound vitality and camaraderie was a direct outcome of their dedication and perseverance. They came away with an awareness of God's absolute love and with a deeper connection to Him. They really valued their true brothers and sisters. They cherished the animals who gave so much. Plainly, they experienced a sample of life in the Kingdom of Heaven.
The New Hope Farm is the training camp for practicing precisely these things. It is where we invest and invest our love again, loving the earth, the water and nature. Many people of the world will come together as brothers and sisters here and practice the building of God's nation. By showing all people what we accomplish here we can educate them in how to establish a community of love transcending skin color, culture and nation. We can also show the standard of how to love and care for the creation. At the same time, we can awaken everyone to the fact that the global environment needs to be controlled internationally under this ideology. Here on this farm we can show mankind a model of how to rid the world of war, hunger and crime, and how to live in happiness and peace.
Rev. Sun Myung Moon
New Hope Farms in Brazil
April 1995 (edited)
Epilogue
Looking back in hindsight, I realized this: First, be willing to give up what you love the most; especially if it is for a higher purpose. It will come back, make no mistake. God knows our true loves. I know that He shares the same loves and only yearns to see us happy. Second, it is one thing to know your mission, accept it, even to be comfortable with it and in it. That is very good. However, it is quite another thing to realize your destiny. We believe that we have. Once your destiny is realized, your job becomes your joy. There is a saying: "Find a job that you love and you will never have to work a day in your life." Too true! It is both challenging and rewarding. It never ends. You live for it. It is just like love.
Our families are finding our joy at New Hope Farms in Port Jervis*, New York, a once little known country hamlet. We wish to truly thank those who volunteer to help in our endeavors, in particular, the Tashiro, Ichijo and Selle families. Although my husband and I are getting on in years, God willing, we will keep on working, keep on moving- forward. We still have a long way to go and we pledge to love every minute of it.
Authors
Lesa Ellanson is the equestrian manager, head equestrian instructor, and events coordinator. She has taught riding for over 25 years and was former teacher of Rev. and Mrs. Moon's older children at Unification Theological Seminary in Barrytown, N.Y. from 1974 -- 1982. The wife of Lowell Ellanson and the mother of four children, Mrs. Ellanson also works with the Special Needs Ministry with Yoshi and Fran Ichijo; she travels to give sermons and lectures on Animal Ministries' presentations, projects and programs. She produces her own horse shows, works as a horse show judge, and writes as a contributor to equestrian periodicals, such as The Chronicle of the Horse, Equestrian Magazine, and others. In late 2006, she was diagnosed with breast cancer. Today, Mrs. Ellanson attributes her cancer's remission to, "the help of God, my family and my animals." She now teaches classes year-round in riding, horsemanship, fine arts to the public and members of the FFWPU.
Rev. Lowell Ellanson, is the facility and property manager. He grew up in rural Minnesota and joined the Unification movement in 1975. For seven years, he served on the church's fundraising teams, both as a missionary and as a team leader. He is the former director of C.A.R.P. in Houston, TX, and in Los Angeles, California, where he worked as the Unification Church campus minister at the University of Southern California and at California State University, L.A., from 1982 to 1988. He was also the HSA-UWC state leader in Morgantown, West Virginia and the Richmond city leader in Virginia from 1988 to 1994. In addition to NHF property management, he gives instruction in archery, marksmanship, fishing, boating and hunting to Unification youth.
The Ellansons are currently in the process of establishing New Eden Equestrian Academy, Inc., a NHF-based character education curriculum of riding, horsemanship and fine arts for home schooled children. Under Yoshi and Fran Ichijo, they are also working to establish a permanent special-needs community home for Unification Church couples and adults.
* Port Jervis, New York was honored by Budget Travel Magazine as the 2008 Number One Coolest Small Town in America by Karen Tina Harrison, September 2008 issue.