| | | | |
| --- | --- | --- | --- |
| | The Words of the Gray Family | | |

Montreal Event World Peace Tour IV At Imani Family Full Gospel Church
Darryl Gray
December 17, 2006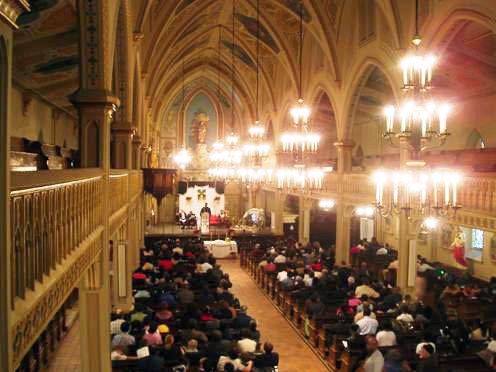 Due to the grace and guidance of God, over 700 gathered for World Peace Tour IV in Montreal, Canada on December 17, 2006 at the Imani Family Full Gospel Church, whose founder and senior pastor is the Reverend Darryl Gray.
Canada was the last stop on a world-wide tour of Ambassadors for Peace to spread the message of Father Moon entitled: "God's Ideal and the Kingdom of the Peaceful, Ideal World"
Montreal was blessed to have Archbishop George Augustus Stallings, founder of the Imani Temple African American Catholic Congregation of Washington D.C. who served as principal speaker. We were also blessed with the attendance of Reverend Hideo Oyamada from Japan.
Archbishop Stallings has visited every continent on earth during the past 2 months proclaiming this important message of peace.
The Voices of Imani, as well as Dina and Jany Silva provided soul stirring and heart warming song and music. A beautiful atmosphere was created. Rev. Gray asked "How can you worship a God that you cannot feel". The performances provided the base to experience and feel the living God.
Reverend Serge Brosseau did the invocation. He and his wife Melissa have been instrumental through their consistent support and participation at Imani. Reverend Gray guided the entire congregation through the Offering, Holy Wine and Blessing Ceremony with grace and wisdom. He interspersed his comments with the appropriate humour and seriousness required to convey the importance of this message of blessing and peace.
Rev. Gray himself had recently returned from bringing this same message to six countries in Africa, the land of his ancestors.
He did not shy away from boldly proclaiming that the effort of the Universal Peace Federation was due to the vision of Father Moon. Although controversial and challenging for some, he encouraged his congregation to be open minded and prayerful. Archbishop Stallings moved the congregation with his heartwarming introduction. The congregation is familiar with the archbishop who has visited Imani in Montreal four times since its founding in the summer of 2005. His reading of the Rev. Moon's speech was both eloquent and profound. Filled with spirit and conviction.
At the conclusion of the event, 12 elders of the Imani Congregation were appointed as Ambassadors for Peace by Archbishop Stallings and Reverend Gray.
Praise goes to all, too many to mention here, for their prayers and efforts in making this possible. Most of All, Praise be to God.


Download entire page and pages related to it in ZIP format


Table of Contents


Information


Tparents Home