| | | | |
| --- | --- | --- | --- |
| | The Words of the Haider Family | | |

Palestine
Peter Haider
July 16, 2006
Vienna, Austria
UPF-Austria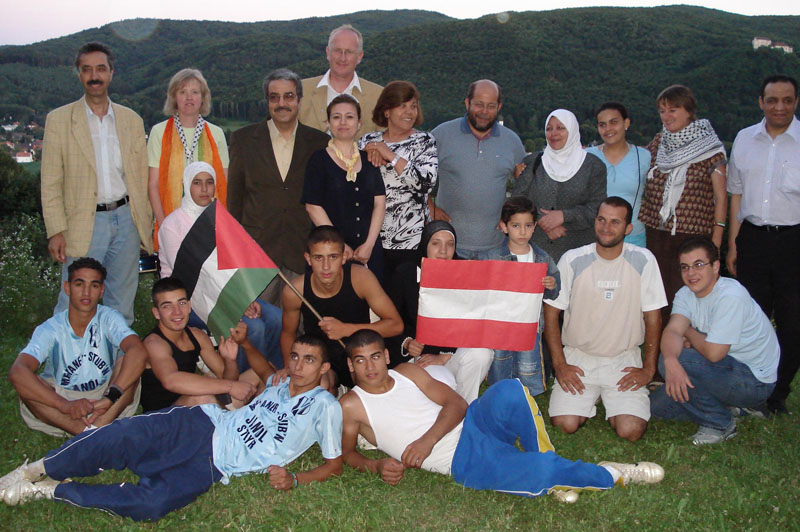 The Federation for World Peace has invited young Palestinians aged 14 to 18 from East-Jerusalem for a summer recreation camp with members of the Austrian youth group HARP during the second week of July 2006. They came from the Burj Al Luq Lug Social Centre in the old city of Jerusalem which is run by Dyala Husseini. The connection to this centre was made by a member of the Arabic chamber of commerce in Vienna.
"My goal was that these young people get to know each other and that they can spend one week in a nice and peaceful environment. We want to show to our guests from Palestine that there is an alternative to war and terror", said Erni Loos, who was coordinating the summer camp in an interview with APA, the Austrian Press agency. "The Austrians should be able to experience that there are peaceful people in the Middle East, not just terrorists. Such a camp is organized for the first time this summer. For me it is a totally new experience, I started small and want to expand this project", explained Mrs. Loos about her future plans. Next time – this was a suggestion of the Austrian participants - young Israelis should be invited too.
Amineh Palecek, an Ambassador for Peace from the Palestinian community in Vienna supported the project a well as Andreas Bauer, the leader of the youth group HARP. After two day of sightseeing in Vienna the workshop centre "Haus Regenbogen" in Seebenstein, Lower Austria became the place of many interesting talks and the starting place of leisure and sports activities like a mountain walk to the "Scheeberg" and a snowball fight in summer. During the closing cultural evening the Palestinian ambassador in Austria, Dr. Zuheir Elwazer expressed his gratitude to the organizers and said that it is the wish of the Palestinians to live in a free Palestine in peace with all the people of the region.


Download entire page and pages related to it in ZIP format


Table of Contents


Information


Tparents Home