| | | | |
| --- | --- | --- | --- |
| | The Words of the Haider Family | | |

Alpine Summer Camp Brings Jerusalemites, Austrian Youth Together
Peter Haider
July 18, 2006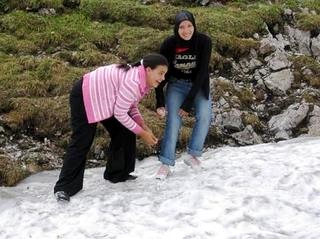 Fighting Again? When itís midsummer and snow is on the ground there are few better ways to spend your time than to get into a snow fight.
Vienna, Austria -- High in the Austrian Alps and some 3,000 kilometers (1,800 miles) distant from Arab-Israeli violence that is setting the Middle East afire, a small group of teenagers from Jerusalem have had the chance to chill out at a summer recreation camp with members of a local youth group.
Invited by the Austrian branch of the Federation for World Peace, 10 Palestinians, aged between 14 and 18, came from the Burj Al Luq Lug (Tower of the Stork) community center in East Jerusalem, which is run by its director Dyala Husseini.
The coordinator of the weeklong camp, Erni Loos, told the Austrian Press Agency that her goal was to give the youth from different cultures an opportunity to get to know each other and for the Palestinians to spend a week in a peaceful environment.
"We wanted to show our guests from Palestine that there was an alternative to war," Loos said, adding, "The Austrians should be able to see that there are peaceful people in the Middle East, not just terrorists."
This was the first camp of its kind and Loos admitted that it was a totally new experience for her to help organize. "I started small and [now I] want to expand this project," she said.
Participants suggested that Israelis should also be invited next time.
The July 8 to 16 activities were supported by the vice-president of the Palestinian community in Vienna, Amineh Palecek, who is responsible for women and social affairs, while Andreas Bauer led the Austrian HARP youth group.
The summer camp, located near Seebenstein, a small town some 60 kilometers south of Vienna, was abuzz with physical and cultural activities, like soccer, swimming, singing and playing music, barbecue, and games. The teenagers also took two days to sightsee in Vienna and to a climb Scheeberg (snow) mountain.
The Palestinian government's ambassador to Vienna, Zuheir Elwazer, spoke at the closing cultural evening thanking the organizers and telling them that the Palestinians hoped to live in a free Palestine in peace with all the region's people.


Download entire page and pages related to it in ZIP format


Table of Contents


Information


Tparents Home