| | |
| --- | --- |
| | The Words of the Haider Family |
Austrian-Slovakian Friendship Meeting and Concert
Peter Haider and Milos Klas
November 15, 2009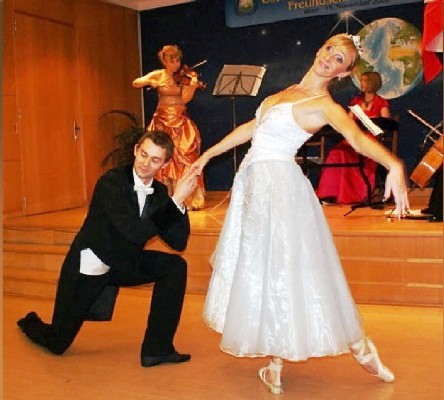 Vienna, Austria - UPF-Austria in cooperation with UPF-Slovakia organized a meeting of Ambassadors for Peace and guests from Slovakia and Austria in order to get to know each and discuss possible future cooperation. The November 15 gathering was one of numerous events taking place throughout Europe commemorating the fall of the Iron Curtain 20 years ago that had separated the peoples of eastern and western Europe for decades.
There were contributions from both countries: Mrs. Barbara Grabner, an Austrian journalist living in Slovakia, spoke about the Iron Curtain becoming the European Green Belt, an ecological network that runs from the Barents to the Black Sea. This project took one of the world's leading symbols of human division and transformed it into a model of future nature conservation in Europe. She illustrated this change by showing first a film about the reality of the Iron Curtain and then beautiful pictures of the ecological paradise which exists today.
Amb. Robert Harencar, chairman of UPF-Slovakia, gave a short overview about the history of Czechoslovakia from the time after World War I when Czechoslovakia became an independent nation holding 60 percent of the productive economy of the dismantled Austro-Hungarian empire until the present time when a separated Slovakia became a member of the European Union and even the Eurozone. He vividly described the ups of freedom and the downs under Hitler and during the time of Communism experienced in his nation during the twentieth century.
Dr. Maria Riehl explained her situation as a young student from Slovakia working in Austria during the summer of 1968, when suddenly Warsaw Pact forces took over Czechoslovakia. She did not return home but continued her studies in Vienna, married an Austrian, and became a medical doctor.
Mag. Christian Zeitz, Secretary General of the Vienna Christian Democratic Party 20 years ago, spoke about his involvement in projects of cooperation after the fall of the Iron Curtain and reminded the audience about the need to protect traditional values in Europe today.
The activities of UPF in the respective nations where introduced by Mr. Peter Haider, Secretary General of UPF-Austria and Milos Klas of UPF-Slovakia.
After a break with typical Vienna coffee and cakes the highlight of the day awaited the audience, which grew to more than 100 people. Elena Rozanova, a Russian violinist living in Vienna, performed with her Ensemble Rondo Danube typical "old Viennese music" from Mozart, Strauss, Dvorak, Brahms and Lehar as well as Slovak folk tunes. Soloists from the Slovak National Theater included soprano Eva Šeniglová. Bohuslav Smutny gave a performance on the fujara, the Slovak national instrument. Kvetoslava Štefeková and František Šulek danced folk dances in traditional costumes and a classical Vienna waltz to the music of "The Blue Danube" by Johann Strauss. The only complaint of the audience was that the evening ended much too early.
Peter Haider UPF-Austria, and Milos Klas, UPF-Slovakia