| | |
| --- | --- |
| | The Words of the Haider Family |
Sephardic-Andalusian Concert in Vienna
Peter Haider
March 27, 2011
UPF-Austria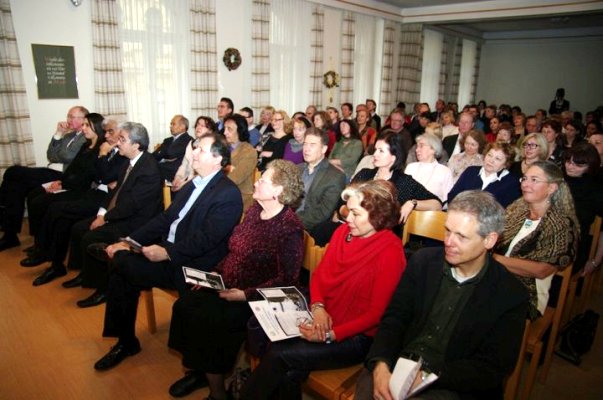 Vienna, Austria -- A Sephardic-Andalusian concert by "Fleur Joyeuse de Jerusalem" drew an audience of more than 100 guests to a concert celebrating the diverse styles of Sephardic music.
Sephardic music has its roots in the musical traditions of the Jewish communities in medieval Spain. Since then, it has picked up influences from Morocco, Argentina, Turkey, Greece, and the other places where Spanish Jews settled after their expulsion from Spain in 1492. Lyrics were preserved by communities formed by the Jews expelled from the Iberian Peninsula. These Sephardic communities share many of the same lyrics and poems, but the music itself varies considerably. Because so many centuries have passed since the exodus, a lot of the original music has been lost. Instead, Sephardic music has adopted the melodies and rhythms of the various countries where the Sephardim settled. These song traditions spread from Spain to Morocco and several parts of the Ottoman Empire including Greece, Jerusalem, the Balkans, and Egypt.
The group included Gila Perach-Hirsch, who was born in New York and studied music in Paris. She served for many years as the music director of Or Chadasch, the progressive Jewish community in Vienna. Now she is a professor at Webster University in Vienna, and she worked as an accompanist and pianist at the Vienna Opera House and other opera houses. C. Léon de Kostal, a baritone with a Mexican mother, sang recently at the Vienna "Theater an der Wien" alongside Placido Domingo. Neno Marin, originally from Serbia, played the guitar and sang. Bashir Mirzo, a Syrian musician who has his own group of Arabic musicians, played the Arabic lute Oud and the Arab sitar Qanun.
Mrs. Perach-Hirsch reminded us of the great era of peace in Medieval Spain, when Jews, Christians, and Muslims lived together in harmony. Even today we can appreciate the achievements of these days when visiting the Andalusian cities of Sevilla, Cordoba, and Granada. She expressed her appreciation for Bashir Mirzo, whom she met by coincidence a few years ago and who helped her to recall the old times of harmony among the Abrahamic faith traditions.
Among the guests were the ambassadors of Palestine to Austria and Slovakia. The concert was cosponsored by the cultural department of the city of Vienna.