| | | | |
| --- | --- | --- | --- |
| | The Words of the Handschin Family | | |

Ambassadors for Peace Observe International Day of Peace
Carolyn Handschin
September 21, 2006
Co-director Office for United Nations Relations - Geneva
Geneva, Switzerland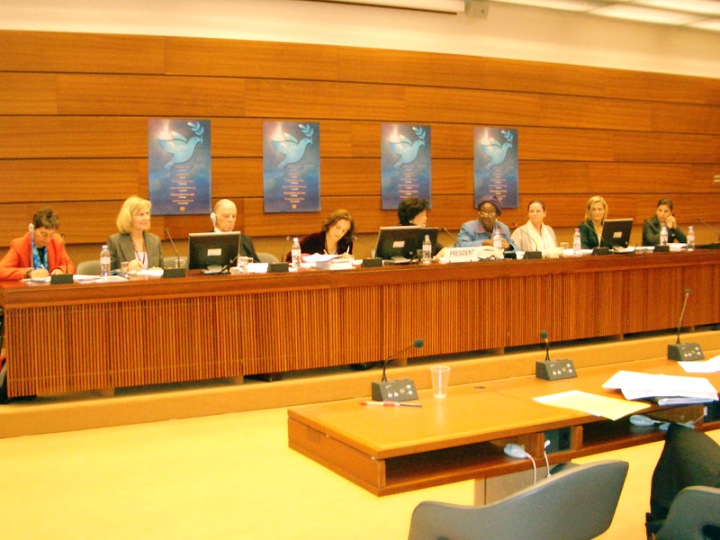 Four UPF Ambassadors for Peace joined a celebration of the International Day of Peace (Sept 21) in Geneva. The Working Group on Peace and the Working Group on Women's Employment and Economic Development of the Geneva NGO Committee on the Status of Women of the Conference of NGOs (CONGO) organised a panel on "Peace, Gender Equality and Development", to mark the International Day of Peace and mobilise action in relation to the work of the Human Rights Council.
The UPF Ambassadors were Conchita Poncini; Chair, UN NGO WG on Women and Employment and Rep. for Int l Federation of University Women, Charles Graves; Vice Chair, UN NGO Committee on Racism and Sec.-Gen. Interfaith International, Bineta Diop; Co-Chair, UN NGO WG on Peace and Exec Dir., Femmes Africa Solidarity and; Chair, Astrid Stuckelburger; Chair, UN NGO Committee on Ageing.
Some of the key issues highlighted by the Panel which need immediate attention were the following:
The massive violation of women's human rights in war-torn areas such as Darfur, Sri Lanka, Colombia and the Middle East region necessitates not only compassion but most urgently "passion" and decisive action.
The question was raised about the misuse of security budgets allocated for human security and development by UN Member States in order to maintain anxiety and a culture of fear and violence for the vested interest of a few.
Attention was called to the obvious gaps in the integration of women in the UN Reform, notably the Peace Building Commission and the Human Rights Council. Participants called for re-emphasizing the importance of gender equality perspectives and women's right to development and in this regard, the issue of a UN women's specialized agency was raised.
Participants were struck and reminded of the aspect of celebration in "World Peace Day" by the exemplary efforts of a young Kosovar woman, who after experiencing the atrocities of war in her own family and country, decided against hatred and created her own peace movement, "Kids for Peace", at the age of twelve,.


Download entire page and pages related to it in ZIP format


Table of Contents


Information


Tparents Home