| | |
| --- | --- |
| | The Words of the Hanna Family |
I love TwoRivers VIP
D. Hanna
June 7, 2008
Chungpadong Church, Seoul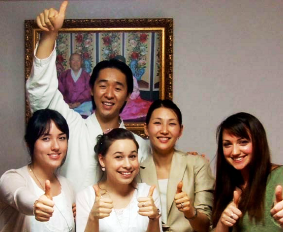 I love two rivers vip!
While studying here in Korea for my language exchange year, I've had the opportunity to attend Two Rivers Saturday service, it has been an amazing journey. I have had many special experiences over the past six months and feel I have grown closer to True Family through attending Hyung-jin nim and Yeon-ah nim, I truly respect and Love this couple! I am moved by how much they devote themselves unconditionally to their mission, and how much they care for others. They are role models for us all.
They actually give four services on the weekends, one on Saturday for western members, and three for Korean members on Sunday! I have been to both, however the western service Hyung-jin nim can express himself more naturally, and the atmosphere is also quite different. Its nice because members from all over the world living in Korea, or just visiting can attend. Its very colorful, very lively.
The service includes Songs of Praise led by the amazing Two Rivers choir (Which I considered trying out for, but found out they practice four times a week!) meditation, prayer, and the best part of course, Hyung-jin nim's sermon. He is a great sermon giver, even now when I think back I can remember the topics he spoke, practical advice he gave, stories he told, each week the theme is inspiring and thought provoking, there is always something to reflect upon.
I think it is because as a couple they put in their best efforts to lead a blessed life, to practice what they teach that they can successfully guide and inspire others to lead the blessed life with them. Hyung-Jin nim is always giving encouragement throughout service, empowering us to believe in who we are, in our potential.
When The Youth Letter asked me if I could try and find the chance to ask Hyung-jin nim for an interview, I wasn't sure how it would be possible, I thought I would casually ask him after service, but it turned out he was happy to set aside time in his office with Yeon-ah nim for a proper interview, yeay! I took Abi and Julia along of course (I was a little nervous) We went into their room, very simple with true family pictures, a low table, fruit, a water feature and Japanese tea sets. After sharing some raspberries and thanking them for service, I began asking the questions.
Hyung-jin nim gave some very lengthy answers! He was honest and responsive. When we asked them about how they manage with public mission and family, they could share openly how it really is for them, they expressed it to be a challenge, but stressed how important it is for them to make time for their children and also as a couple so they have several daily practices they do. They expressed how their spiritual life and family life were one, never separate.
We spoke with them for almost one hour; it was a really precious time; thank you guys, I hope you can take your time to read what Hyung-Jin nim had to share with you.