| | |
| --- | --- |
| | The Words of the Hanna Family |
World Peace Blessing in Bromley
David Hanna
February 20, 2010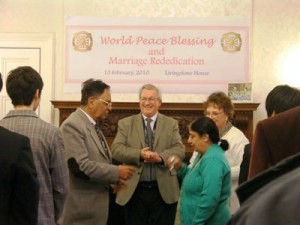 Last Saturday (Feb 13th 2010) in Bromley we held a Blessing Ceremony for five couples, although the room was filled with more than twenty people and it felt like a world gathering! In terms of religious background, we had two Hindu couples; a Jewish and Christian couple; a Muslim couple and a Buddhist gentleman. Additional support came from families and friends.
Two families had all three generations present. This included a blessed family, Matthew and Emiko Cohn with their blessed daughter, her husband and her brother -- in this instance it was the grandparents in their family, George and Peggy Cohn, who came for the Blessing. For them it was a long journey from Bournemouth, but for our movement in Britain we felt it had particular significance; George and Peggy Cohn carried out an amazing job running the 'Parents' Association' back in the late seventies and early eighties when there was much media persecution and concern from parents over their adult children joining the Movement.
We began with lunch together and then shared the meaning of the Blessing through two, quite detailed presentations. After a moving ceremony, each couple was given a red rose and we shared a 'wedding' cake together. We want to thank all those who supported, and all those who worked hard to bring people to this historic event.