| | |
| --- | --- |
| | The Words of the Hentrich Family |
Report from Colorado - America's Destiny Tour
Michael Hentrich
May 26, 2007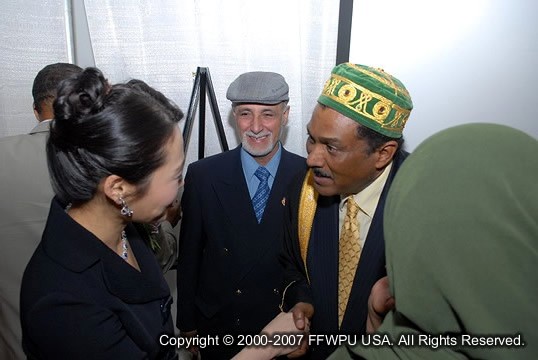 Mrs. Jun Sook Kwak Moon gave her Message of Peace on May 25th to a standing room only crowd at the St. Francis Interfaith Center in Denver, CO, calling upon all in attendance to create "One Family under God".
The program, masterfully guided by our MC, Rev. Michael Hentrich, began with an invocation from Rev. Josephine Falls of the Fishers of Men Fellowship, followed by a beautiful rendition of What a Wonderful World and Let There be Peace on Earth by soprano Leslie Soich. Peggy Yujiri followed with a PowerPoint introduction to the Ambassadors for Peace principles, appointing as a new Ambassador for Peace the current president of the UNA-USA Colorado
David and Sherrian Muhammad served as representative couple for the Marriage Blessing ceremony. Everyone else joined in this special ceremony of marriage rededication from their seats. As special offering, Rev. Lorenzo Stewart and his daughter enthralled us with a spirited gospel song.
We were then treated to special remarks from Ambassador Babiker Khalifa, former Sudanese Ambassador to Korea, who emphasized the importance of Rev. Moon's work to renew the United Nations by incorporating a religious council. Rev William Ephriam, pastor of Progressive C.O.G.I.C. then shared that Rev. Moon was doing so much for peace that even if he spoke about the various projects Rev. and Mrs. Moon had initiated all night, the time would still not be enough. Next we were treated to surprise remarks from none other than Archbishop George Augustus Stallings, who had flown into town on his way to Laramie, Wyoming for the tour event there. Archbishop Stalling emphasized the importance of the tour theme "One Nation Under God" and encouraged Denver to be the first to accomplish this task of unity.
Rev. Jesse Edwards introduced our keynote speaker, Mrs. Jun Sook Kwak Moon with the utmost enthusiasm, testifying about how Rev. Moon's teachings on marriage has turned his marriage of 36 years around and brought new joy to his life.
When Jun Sook took the stage the audience became quite quiet and everyone seemed to be listening intently to her words, which she delivered with great sincerity. The speech seemed to be over all too soon and flowers and a gift were presented by the women of the Welcome Committee, who also signed the Peace Proclamation on stage together with Jun Sook Moon. Nin Bebeau then summed up the speech for us and presented Action Points for us all to consider.
To end the evening Leslie Soich led us all in the singing of America the Beautiful, which really seemed like the dream that we all had in our hearts, to fulfill America's Destiny as One Family Under God.
Dr. Jennie Rucker:
"The program was absolutely fantastic. It just brought everything together. My guest also enjoyed herself immensely"
Nin Bebeau:
"This program will definitely be on my list of things I am grateful for. Ms. Moon presented the speech with such incredible grace. Her spiritual energy just brought everyone in."
Moyna Hudgens:
I just really enjoyed the evening, the diversity of perspectives that were presented. Thanks for inviting me".
Ambassador Babiker Khalifa:
The program was very well done. I am proud to be a part of it."