| | |
| --- | --- |
| | The Words of the Hentrich Family |
America's Destiny Tour One Family Under God - Hope - Harmony - Healing - Mrs. Yeon Ah Choi Moon
Michael Hentrich
May 26, 2007
Laramie, Wyoming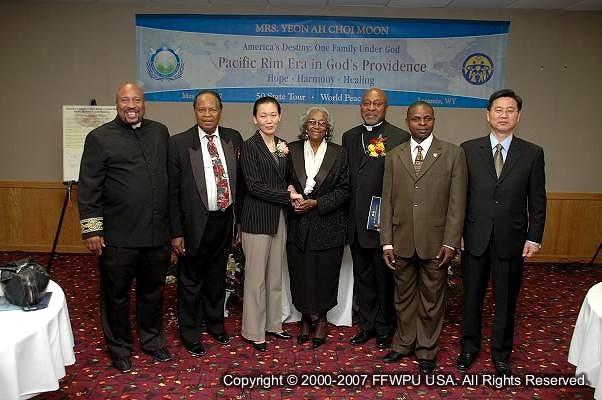 Mrs. Yeon Ah Choi Moon spoke to a packed house at the Ramada Inn in Laramie, Wyoming on May 26th. The theme of her talk, "Americaís Destiny: One Nation Under God" was one that resonated with both the religious leaders and the many young people in the audience.
As guests enjoyed the delicious catered Korean meal, they were entertained by the melodious sounds of the Laramie High School String trio. The main program began when our MC for the night, Rev. Michael Hentrich, introduced Wendy Berelson, former president of the Jewish community of Laramie, to give the invocation. Wendy sang the prayer for peace in Hebrew and then translated it for us all.
After a short PowerPoint presentation on the Ambassador for Peace Initiative, we all had the opportunity to participate in a ceremony of marriage blessing. George and Maria Love, the Universal Peace Federation representatives in Wyoming, were the representative couple at the front of the room as we were all able to join in this blessing from our seats. This was followed by two beautiful songs by the Laramie High School Plainsmen Chorus. The Loveís son, Matthew, is a member of chorus, which is the best in the state.
Maria Love shared some heartfelt remarks on the theme of the evening. She expressed her desire that each person take back a new determination from this evening that they would live their lives as "one family under God", working to break down the barriers and division that divide us.
Our keynote speaker was introduced by the inimitable Archbishop George Augustus Stallings Jr. Archbishop Stallings had nothing but glowing remarks about Ms. Moon, saying that her manner was both as soothing as a "gentle breeze" and also as strong as a "quiet storm".
Yeon Ah Nim herself prefaced her reading of the speech by expressing her gratitude for the opportunity to travel to 19 states to share this message of peace, meeting many new friends on the way. She said that her main concern, as a mother of six, is how she can raise her children in a good way. When she thinks of her children, she told us, she realizes that she can do anything for them. So, in that way, she can always determine herself to do her best. Yeon Ah Nim told us that every mother is like this. The message of peace that is being shared in all 50 states during this Peace Tour emphasizes the role that women and mothers must play in bringing about a world of peace. So Yeon Ah Nimís remarks about the determination mothers must make to accomplish their responsibilities were extremely relevant.
After the speech, flowers were presented by Rev. Thelma Sidberry and a gift was presented by Rev. Arthur Boyd, Bishop Gary Mosley, and Rev. Stephen Ngalame. We ended the evening with a touching rendition of the National Anthem by the Laramie High School Chorus and String trio in unison.
Yeon Ah Nim stayed and shared with the guests long after the event was over, taking pictures with everyone and thanking them for coming. The spirit was such that no one seemed to want to leave, lingering in the banquet hall and sharing their hopes for peace with one another. It was truly a new beginning for Laramie.