| | |
| --- | --- |
| | The Words of the Iwasaki Family |
Brief Report on Tong-Il Moo-Do Activities and Promotion Tests from Clifton, New Jersey, San Diego, and San Francisco
Shota Iwasaki
January 3, 2008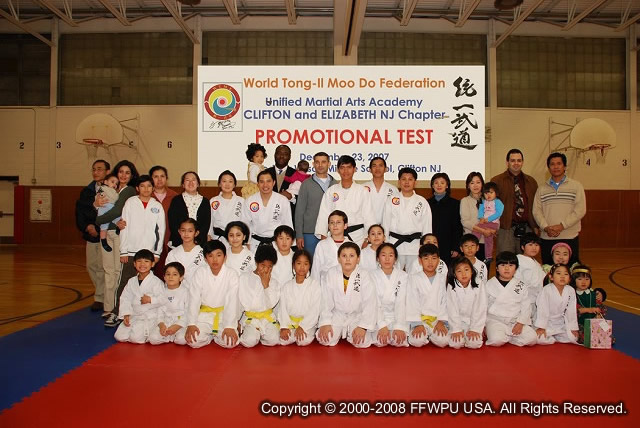 Since the report on the promotion test at the Queens Church several weeks ago on the Family Federation website, three Tong-Il Moo-Do chapters, San Diego, New Jersey, and San Francisco reported with some photos of their recent activities.
San Diego Tong-Il Moo-Do chapter was just started in September 2007 by Mr. Satoh, a third-degree black belt graduate from UTS and has been well supported by Pastor Walter Frank Jr. and members of the San Diego Family Church. The chapter promotion test was held in November, when several 2nd generation tried out for the rank of yellow belt. Furthermore, the pastor himself set the example by participating in every practice and is striving to obtain a black belt besides his already-attained high rank.
San Francisco began its chapter a few years back and has increased its membership. Many of Tong-Il Moo-do chapters combined training and service projects as part of their leadership and character development programs.
Clifton and Elizabeth, New Jersey, schools held combined promotion tests in December, when 26 students of all ranks tested their skills and spirit up against numerous physical and mental challenges.