| | | | |
| --- | --- | --- | --- |
| | The Words of the Jenkins Family | | |

One Family Under God - 12 City Tour Victory with Hyun Jin Nim in Los Angeles
Michael Jenkins
January 23, 2007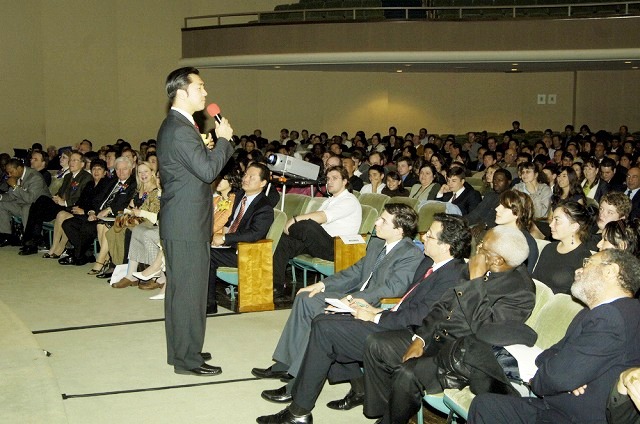 Dear Family,
This tour is absolutely beautiful. The theme that has now been created is "One Family Under God". LA, SF and Seattle have been very successful.
In Los Angeles we were at the beautiful Founders Church and Hyun Jin Nim was deeply touched by the spirit of the gathering. Many diverse clergy, Muslims, Christians and Jews were embraced by Hyun Jin Nim.
Ms. Norma Foster - of the WFWP National Board and President of the United Nations Foundation for the west coast - was deeply moved she said, "This was such a beautiful program, I felt like we all have become one family and I want to thank Dr. Hyun Jin Moon for sharing with us. He is such a wonderful representative of the teaching of family coming from Father and Mother Moon."
At the Ambassadors for Peace Dinner - all were testifying about the power of the world tour. Imam Bundakji testified that the True Parents are really the King and Queen of Peace. They love and respect everybody and I can see the Middle East changing because of the work of the Middle East Peace Initiative."
Rev. Betty Tatalajki testified at the main event along with Father Cardenas of the Old Catholic Church and Rev. Jesse Edwards. Each testimony demonstrates that now that the Ambassadors for Peace have come to a completely new level.
Rev. Betty testified how in the Congo their event was on the day of the election and the VP who heads the army called our Ambassadors for Peace to meet him because he saw our event on TV. He said, "Peace? I don't have any idea what that word means. I see Muslim, Christian and Jew traveling together and working together. This is so shocking. I will not go to war - I will lead the way to peace." She testified that the Ambassadors for Peace shared that it was the reading of Father Moon's message and God's love that brought us together.
More reports on LA will follow.
Hyun Jin Nim won everybody in the audience. He was deeply inspired by a new theme that God and True Parents gave him. One Family Under God. AJU!!! AJU means the dwelling of God and it also means that our family dwells in the Kingdom of God on Earth!! Amen is an affirmation of God's word or a prayer to God and is still to be used. But AJU proclaims that we HAVE ARRIVED IN GOD'S KINGDOM. MY FAMILY LIVES IN GOD'S KINGDOM.
The video of this event will be truly historic. It was so moving to the Sikhs, the Hindus, the Muslims, the Christians. A key representative of the Church of Jesus Christ Latter Day Saints attended. He was moved. He said this is true.
God is working. America is being uplifted by God and True Parents through Hyun Jin Nim.
Great Job America. Bring your guests to your program in your district. THEY WILL BE INSPIRED.
Love and Victory,
MWJ


Download entire page and pages related to it in ZIP format


Table of Contents


Information


Tparents Home