| | | | |
| --- | --- | --- | --- |
| | The Words of the Jenkins Family | | |

Hyun Jin Nim Brings Honor To True Parents In The 12 City Tour
Michael Jenkins
January 24, 2007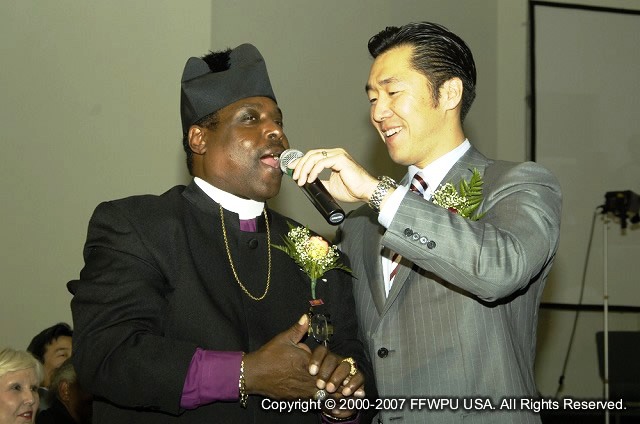 Dear Family,
True Parents are being presented with great dignity through the tour of Hyun Jin Nim. His message, heart, clarity and warmth are winning the audience over completely. Yes, we see True Father and True Mother in him, his walk, his expressions, his spirit. However, another phenomenon is occurring each evening.
The clergy and Ambassadors for Peace are deeply moved to see the son of Rev. Moon standing for God, testifying to Jesus and leading the way to bring all races and religions together for Peace.
It is an amazing phenomenon - the scripture says that you will know them by their fruits. The True Family is the fruit of True Parents - the most central fruit of True Parents life comes through the direct family. Hyun Jin Nim and Jun Sook Nim are shining brightly.
He is taking many of the things that ACLC has taught and promoted from the Bible that affirm the Divine Principle and who True Father is. He is testifying that Jesus anointed Father Moon, and now Father Moon is anointing you to be ONE FAMILY UNDER GOD, AJU.
Last night the Houston event was magnificent. LA, Seattle and Houston were in very beautiful churches that are connected to ACLC. In Seattle he won the hearts of the people by teaching so clearly Jesus mission and providential history. He is also proclaiming that religious people of faith must be the first to come together to fight for goodness. They shouldn't divide. He proclaims war will not bring peace and if religious leaders fail to unite as Muslims, Christians and Jews the current conflict which is unmistakably linked to each faith will become the worst global war - a religious war. But we are here to change that direction. That is why we must raise up a movement such as ACLC and the Ambassadors for Peace who demonstrate that the faith traditions that came from God have a fundamental common ground. We are all created by one heavenly Father. Therefore we must realize the goal of this age. How? Only by True Love.
What is True Love - there are many people that are serving and loving others - what is the difference between True Love and the love that's already out there. True Love is not horizontal - it comes from God and is perfectly aligned with God's heart. Since God's heart is a heart of compassion for all people True Love manifests pure uncorrupted love for all people. From that basis Jesus' teaching that we must love our enemy has enormous power to transform and to change enemies into friends.
The goal of God at this time is to realize we have only one God and that we must make One Global Family Under God. One Family Under God!! Aju!!
As Hyun Jin Nim goes through the audience he calls upon people to stand with him from each and every faith tradition, race and culture. Muslims, Jews and Christians all melt and repeat with him, one by one, side by side - One Family Under God!! AJU!!!
Aju means the dwelling of God is here. In other words we are proclaiming that our blessed family now dwells in the Kingdom of God -- Now!! The kingdom of heaven is in our hearts and though the world has not yet been transformed, a quiet revolution is now going on in every country through the Ambassadors for Peace - it is a revolution of heart and love in which we will over come all enemies with True Love.
Brothers and Sisters - True Parents authority and power is based on love. Now is the time to bring your colleagues, clergy, women leaders and all Ambassadors for Peace to the events each evening.
They will be uplifted and they will sing as Pastor Bennit Hayes said last night at the event in his own Gloryland Baptist Church - Mine Eyes Have Seen the Glory of the Coming of the Lord!!!
This is the fulfillment of scriptural prophesy. True Parents are fulfilling not only themselves but through three generations and through all Blessed Families.
Let us rejoice in the great historic transformation of America into the True Elder Son Nation.
With Love and Hope,
MWJ


Download entire page and pages related to it in ZIP format


Table of Contents


Information


Tparents Home