| | | | |
| --- | --- | --- | --- |
| | The Words of the Jenkins Family | | |

Reverend Acevedo's 6th World Peace Tour Report
Michael Jenkins
March 12, 2007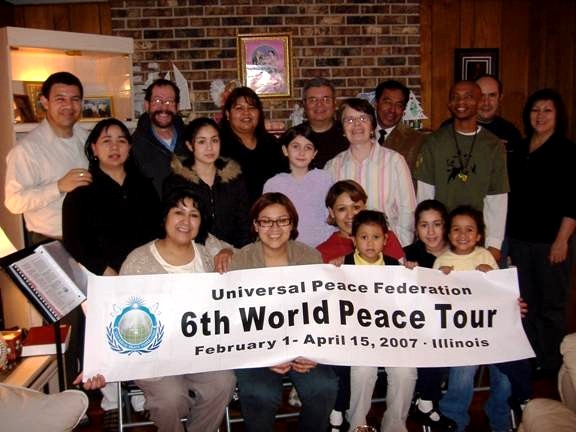 Dear Family,
Rev. and Mrs. Acevedo have developed a foundation of several hundred people through their Hoon Dok Family Church. It is very sincere and very real.
Within their group one key Representative of Mexico connected with the current and former President.
They have high quality people of all backgrounds and professions.
They are on fire.
Congratulations to the Acevedos for leading the way for HDFC. They are also fulfilling many times more than their goal for the 12,000 events for the 6th World Peace Tour.
Love,
Rev. Michael Jenkins
Report by John Acevedo:
We have a small gathering of 11 Ambassadors for Peace last night as the kick off for the 6th world peace tour. We have Fr. Maldonaldo, Rev. Hincapie, Mr. and Mrs. Blas Villanueva, Mr. and Mrs. Santiago Torres, Mr. and Mrs. Burciaga, Mrs. Linda Ramirez, Mrs. Betty Perez and Mr. Thobo Letshabo. Mrs. Agnes Rendel is also present and she helped us in entertaining our guest and brought the cake for the birthday celebrant Mr. Burciaga.
We read the speech and translated it to Spanish, everybody expressed their opinion as a peace maker , after the speech we give them the Holy wine and since we have two new guest we also presented to them the video of the Ambassador for peace.
We ended the meeting with a unison prayer and everybody was inspired to hold their own event in their home and in their community and this the schedule of our events.
Betty 3/10/07
Burciaga 3/10/07
Sahara Torres 3/18/07
Villanueva 3/10/07
Santiago 3/11/07
Hincapie 3/16/07
Linda 3/17/07
Socorro 3/15/07
Adolfo Cos 3/11/07
Elba Torres 3/18/07
My wife and I will be in Colombia to celebrate my Mother's 71st birthday from March 20-27 there we will hold 8 events as a new beginning to restore my whole tribe.
Take care and God bless America.
In True Parents Love,
John and Marina


Download entire page and pages related to it in ZIP format


Table of Contents


Information


Tparents Home