| | |
| --- | --- |
| | The Words of the Jenkins Family |
Dr. Pak Looks Great - Soon He Will Come To America - Let Us Welcome Him
Michael Jenkins
May 9, 2007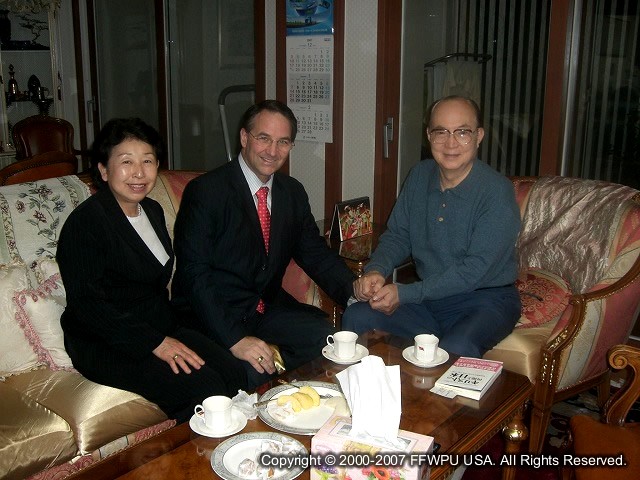 Dear Family,
On a recent trip to Korea my wife and I had the honor of visiting with Dr. and Mrs. Bo Hi Pak, our beloved elder brother and sister and pioneers of the American movement for True Parents. We went together to see him with his brother Dr. No Hi Pak who is a major leader of FFWPU in the Fatherland. Both he and Mrs. Pak were so happy to see us and to hear about America. Dr. Pak listened with great interest as we shared about True Parents foundations in America and how so much is developing so quickly - from the clergy to the Ambassadors for Peace to our work in the education of key American leaders. As soon as we met so many wonderful memories were naturally recalled of all the battles that were fought and won centering on True Parents. From the Media to AFC to the movement of CAUSA and the clergy. All of these foundations are the basis for the ACLC, AFC and the MEPI activity that we carry on today!! What a great and wonderful history we shared together with our True Parents.
We are deeply grateful to God and True Parents for the healing of Dr. Pak who looked to be in great condition and great spirit. Though he was still recovering from surgery he was looking quite well and his spirit was stronger than ever. As he said, "I am ready to go!" Most importantly he expressed his profound gratitude for God and True Parents and their immense love and support. He attributed that love to his strength and full recovery. His "bubbling enthusiasm" is more powerful than ever. He also expressed his love for Dr. Yang and all the American members. On the foundation of the New Beginning Workshop we all shared how grateful we are all that all Blessed Central Families have been given a new start before heaven and earth.
So much of the development that True Parents initiated in America was manifested through Dr. and Mrs. Pak, Rev. Kwak and other key 36 blessed couples and Elders from the Fatherland. Along with True Parents they gave their blood, sweat and tears as they strove to revitalize the founding spirit and the Christian roots of America while planting God's heart and tradition of the Completed Testament Age here. We ask that the American Family welcome our beloved Elder Brother and Mrs. Pak with deepest love and heart as he is about to visit America once again.
Sincerely,
Rev. Michael and Reiko Jenkins