| | |
| --- | --- |
| | The Words of the Jenkins Family |
The Passing Of Olympic Equador, True Mother's Horse
Michael Jenkins
May 16, 2007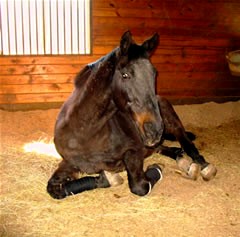 On May 16, Olympic Equador was humanely euthanized due to failing health at the age of 30 at New Hope Farms Equestrian Park, where he was living out his life in retirement.
"Duckie" as he was affectionately called, was officially owned by Mrs. Hak Ja Han Moon, wife of the Rev. Sun Myung Moon. Duckie was a grand prix show jumping veteran of the 1992 Barcelona Olympic Games along with his rider, Un Jin Moon, both top qualifiers for the Republic of South Korea. The pair was also the highest scoring horse and rider at the 1992 Games for South Korea. Twice an Olympic veteran in her own right, Un Jin Moon honored Duckie, stating that, "He feels like my first horse," when she acquired him in early 1992 from Holland. Following their outstanding performance in Spain, Un Jin Nim turned down an offer from a rival national equestrian team to purchase Equador.
The pair went on after Barcelona to successfully qualify for the 1996 Atlanta Games; unfortunately, neither attended due to a suspensory tendon injury suffered less than two months before the Games. Duckie returned to New Hope Farms where, after 18 months of care, therapy, exercise and reconditioning, he again entered the grand prix ring as a bona fide contender. With heart, zeal and a stoic "give-my-all-without-complaint" attitude, he went on to compete, including a first place win of the $35,000 HITS Grand Prix in 1997. He bravely vied in show jumping for the next year and a half, placing in the ribbons and winning prize money, until he re-injured the same leg.
He was retired. He returned to New Hope Farms where the True Family directed that he be allowed to live out his life in comfort. Rewarding the animal who gave so very much, Hyun Jin Moon, himself an Olympic equestrian veteran, declared to the NHF staff that, "Equador is a champion, and he is to be treated like a champion". And he was. Olympic Equador personified the very power and grace typified by the greatest horses in the sport of grand prix show jumping. He gave his all in the show ring and maintained his gentle dignity in retirement. At the very end, he proved his enduring bravery, passing peacefully and painlessly in the arms of his loving caretakers.
The True Family and the staff at New Hope Farms will forever celebrate Equador's life and the ideal of God's creation as embodied in the loving relationships of great horses and their riders. May we all go to a heaven where there will always be horses. Aju!