| | |
| --- | --- |
| | The Words of the Jenkins Family |
New York Event Was Wonderful
Michael Jenkins
May 22, 2007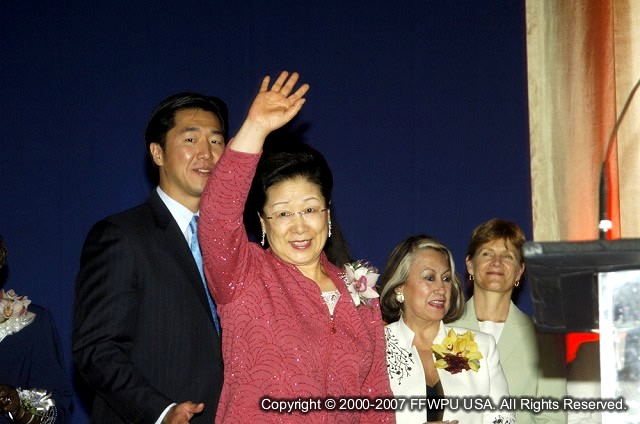 Dear Family,
Father's first words this morning were "Now America can lead the world." The New York event was wonderful. Father was extremely warm and loving this morning. He said, "I created a leadership structure in America that even when I am not here America will go the right way!! "
A big highlight of the NY event was when over 120 Women leaders of the "Welcome Committee" stood up at their seats before True Mother, Dr. Hyun Jin Moon and all the audience to show their support for True Mother's work to build ideal families of True Love and realize a world of peace. They not only came but they brought their organizations and received the Certificate of Appreciation from UPF USA.
Mrs. Alexa Ward WFWP, Mrs. Walsh - women leadership of Ambassadors for Peace and Mrs. Jenkins- ACLC Women in Ministry as the coordinators of the Welcome Committee joined together with Ms. Connie Teresena Ambassador for Peace andCounselor of the Permanant Mission of Guatemala to the UN, Ms. Shelly Grodner WFWP , and Rev. Nolan representing ACLC Women in Ministry. The strength and spirit of the women in support of True Mother and True Family was quite uplifting and significant. They truly showed understanding of True Parent's Pacific Rim Era message - that this is the Era of Peace centering on Women leading the way.
Each member of the "Welcome Committee" received a beautiful Certificate of Appreciation. They also will become Ambassadors for Peace.
Bishop Herbert Skeet of the United Methodist church brought the invocation. Bishop Skeet has served as the Presiding Bishop of both the Boston and Philadelphia Districts of the UM church. In Philadelphia he oversaw 600 Methodist Churches. His prayer was beautiful.
The program was very beautiful as an overflow audience crowded the Grand Ballroom of the Manhattan Center. Truly New York had done well to bring so many guests. Ambassadors for Peace, ACLC Women in Ministry - so many groups came together. Bishop Riley - Chairman of ACLC brought a large group from his "Freedom Hall" church. Bishop Riley said " I am so excited about the way God is blessing this movement. I feel love from Father and Mother Moon and the confidence that we are really changing America."
Former Ambassador to Korea from Sudan, Ambassador Babikar Khalifa participated along with Rev. Kennard Davis and other clergy including Native American leaders. They made a special prayer and burning ceremony to set the condition for God's forgiveness for all mistakes and to make a new beginning for the world. Rev. Davis, also brought over 50 leaders from his church community. Rev. Nolan, brought over 100 women leaders who experienced Mother Moon's love and heart for the first time.
We are definitely on a different level now. The Ambassadors for Peace and clergy are multiplying in number. They are bringing the people forward and the message of peace is spreading to every community of America.
Rev. Dr. Walter Fauntroy, Civil Rights leader U.S. Congressman from 1971-1991 testified. "When I was a freshman Congressman, Father Moon came to see me. He moved me deeply then with his vision that all God's people would come together and make families of peace and love. Now I see this vast movement for Peace and unity of faith and I do believe that the "Dream" of Rev. Dr. Martin Luther King Jr. is being realized. I totally support Father and Mother Moon because they are leading the way for the family and peace in the world. They are fulfilling the "Dream" with all of God's children and helping America to go the way it must to be right with God."
Dr. Hyun Jin Moon strongly proclaimed that America is now returning to its founding spirit as one nation under God and will lead the way to building One Family Under God. He said that 9/11 could not deter the spirit of New York and those who attacked America underestimated the resolve and resiliant spirit of New Yorkers and Americans at large. When Hyun Jin Nim introduced his Mother - it was a very deeply moving moment. His sincerity and warmth were overwhelming. He testified that his Mother - with 14 children has the incredible love to bring all the children together and as she has united with Father Moon, she has become truly great leader and True Mother for all the world.
Mother's presence was profoundly beautiful and totally at peace. The audience followed her message very closely and they could not contain the applause as Mother said, "Victory came because God had chosen and raised the United States of America as the second Israel, in accordance with the plan for His providence, and had raised and trained the American people through Christianity... The responsibility, within God's providence, to bring harmony and oneness among the world's 6.5 billion people and to expedite the creation of a peaceful, ideal world, is on America's shoulders. These are not simply the words of Rev. Moon. This is Heaven's decree... " Concerning the establishment of ideal families Mother said, "The path is now wide open for humanity to find and establish true families. The family sets the pattern for living together in harmony. The warm environment of oneness based on love and respect between parents and children, mutual fidelity and love between husband and wife, and trust and mutual reliance among siblings is the manifestation of the model, ideal family..." We could feel it and the audience was filled with joy as we realized that the path to establish a "true" family is now wide open for all of us!! After the address to pastors who were among the 120 Religious leaders that went to 120 nations Rev. Joseph Nagi and Rev. Gilda Price presented the flowers for True Mother and Dr. Hyun Jin Moon.
86 Ambassadors for Peace received their appointments and they all came onto the stage together. What a moment!! Representative ACLC Pastors received Family Church of Peace Flags and then over 100 churches accepted this "flag" and pledged to make their church a "Family Church of Peace" which means they will unify the body of Christ, embrace all faiths in the community and bless the families ending divorce.
Thanks to Rev. and Mrs. Bruce Grodner and all of New York for a most beautiful program.
Thanks for Mrs. Ward, Mrs. Walsh, Mrs. Jenkins and all the local Coordinating committee of the Welcome Committee - they are women of destiny. They bring Hope, Harmony and Healing.
Americas Destiny - to realize One Family Under God - in America and the World is now being fulfilled.
Sincerely,
Rev. Michael Jenkins