| | |
| --- | --- |
| | The Words of the Jenkins Family |
True Mother's Tears, Love And Heart For America
Michael Jenkins
May 29, 2007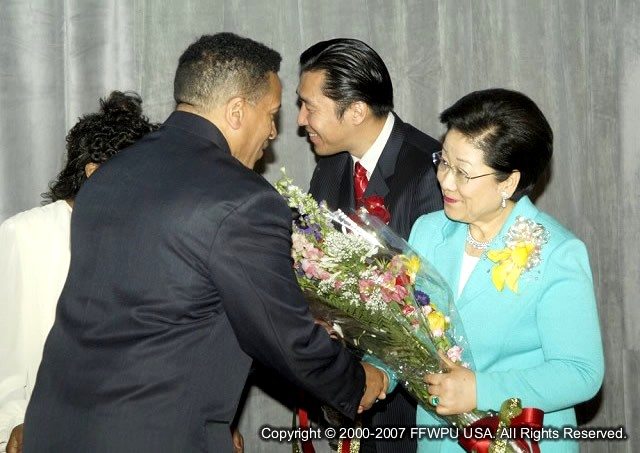 Dear Family,
This tour is one of the most significant tours that True Mother has ever done in America. The depth of response and the commitment of the Universal Peace Federation Leaders, ACLC Clergy, the Women leaders and the Ambassadors for Peace is very strong. It is absolutely a reality that their ancestors are supporting them to take "responsibility" for their area of God's providence.
Last night in Chicago, on Memorial Day - the Chicago family pulled together and against all odds had a beautiful event. This is our time in history. Mother said at breakfast that she felt confidence in the Chicago leaders and appreciates Chicago so much because of the support generated there from the ACLC Clergy and the Ambassadors for Peace.
However, Mother is very very serious with us on this tour. Its a tour proclaiming the era in which women will take the lead for peace. True Mother is standing in the lead of this era and sharing such a profound heart with us.Its a tour proclaiming the era in which women will take the lead for peace. She is trusting us to be able to receive a new dimension of God and True Parent's heart. She is really encouraging us to realize that we must rise up to a new level. America must begin to fill stadiums - this should be the natural response of the clergy and Ambassadors for Peace if we correctly guide them. They are ready. Over 100 hundred churches supported True Mother's event on Memorial Day in Chicago and 150 plus women stood with the Welcome Committee.
If we prepare now - and guide them from now - they are ready to bring their foundations in a huge way to rally for the Peace Kingdom and for the Blessing of the Family. We should not hold the women leaders, clergy or Ambassadors for Peace back with our "old" concepts. Mother shared that we don't really understand that if we set the right "conditions" of heart - we can unleash a huge waterfall of support from the Spirit world and then tens of thousands can come. The key is how to prepare the ACLC churches and our Ambassadors for Peace from now. There will be another speaking tour in the fall. We have to educate and prepare them now. Nothing should be done from a cold start. We should be preparing them from today for the next speaking tour. We should prepare and educate each church on how to organize 100 to come. Then 100 churches can bring 10,000 in one week. We could see that spirit in Chicago and Ohio. One woman pastor, Bishop Emma White brought 136 people from Dayton, Ohio. We must keep this foundation hot. How - through the ACLC Prayer breakfasts, through the ACLC Women in Ministry every other Monday Conference call. Through a very strong WFWP program each month or regularly, and through strong Ambassador for Peace appointments and educational programs. We have to make these Pillars of the Providence stand strong. This is our vertical and providential course. The leaders from various fields are ready to support us.
On another point, True Mother is asking us sincerely, do we really know God's heart? If we did we would understand that each and every one of us must bring spiritual children that God has prepared. Through Hoon Dok Family Church - and through our Youth Programs and CARP - young people and families must engraft into the Tree of Life and become "core" believers as members that True Parents can count on. We need fully dedicated tithing and even full time members like we had before. Once again, the goal of 30,000 new members must be achieved in the next 3 years. We must have a massive multiplication at this time.
Mother is trusting each district and is encouraged by the leadership she sees. Miami, Texas, Ohio, Chicago - were all successful events. NY, NJ, Boston and Washington also each had special victories.
Hyun Jin Nim called each one a great victory - however, as Mother is guiding us - he is teaching us that we must not be satisfied with our level of victory at this time. We must see God's vision and know the immense power and spiritual support we have at this time. We have absolute spiritual authority based on True Parents victory of completing all conditions to allow God's dwelling to be with the Three Generational Realm of the Blessed True Family on earth. This is the basis for God to be dwelling in the Chung Jeong Goong - the Peace Palace and Museum. God's dwelling is on the earth now as well as in heaven. This is the prophecy of Revelation 21... that the "Dwelling of God would be with men... and they shall be His people and He shall be their God."
We must become absolute in our conviction that our whole lives have been prepared for this Jubilee year. The time in which all mistakes and past debts and sins are forgiven. This is the time that we have absolute authority to call the prepared people together and bring the harvest. This is God's Time and moment in history. We were prepared and chosen for such a time as this.
Mother has shed many tears on this tour. When she talks about America - how much she and True Father, love America, how much God prepared this nation for this moment in history. Mother has been also even saying that she feels repentful herself that she couldn't bring America forward more quickly. She wept before us and shared with incredibly kind love and tears that the time is short. She shares frankly and from the heart as our "real" mother who tells it like it is. That we must rise up to a new level. We must realize who we are as Americans. We are not a weak people, we are the people who can embrace all races and lead the world. America must rise up to come to surpass the level that Japan has achieved in support of the providence. American members were chosen and are now being entrusted with the Destiny of America at this time to make One Family Under God. With this heart she commissioned us to be bold and confident. To reach out to our relatives and families and bless them, to our neighbors, to the colleges and to the nation on the highest levels. She commissioned us to pray and seek the new members that God has prepared. Our most important concern at this time is that we must multiply ourselves through HDFC and through the College outreach.
This is the time of harvest. We must know the season of the providence in which we live. We must develop the "harvest" teaching and methods that will allow us to harvest all that God has prepared. Dream big - think what it will be like with 600 new members in each state - how fast would we be able then to move forward the Era After the Coming of Heaven in the Realization of the Peace Kingdom.
We are deeply grateful for True Mother's trust and that she is opening up for us a new window into God's heart. The heart of God that is deeply urgent to save his children.
Matthew 9: 37 - 38 "Then saith he unto his disciples, The harvest truly is plenteous, but the labourers are few; Pray ye therefore the Lord of the harvest, that he will send forth labourers into his harvest."
Let us bring total victory for True Parents and for the Peace Kingdom. America has be entrusted and chosen for this hour. Rise up America. You have what it takes. True Parents are calling us.
Sincerely,
Dr. Michael Jenkins
Chairman of UPF USA
President of the FFWPU USA