| | |
| --- | --- |
| | The Words of the Jenkins Family |
Reverend Michael Jenkins speaking to the 2nd Generation
Dae Mo Nim
July 13, 2007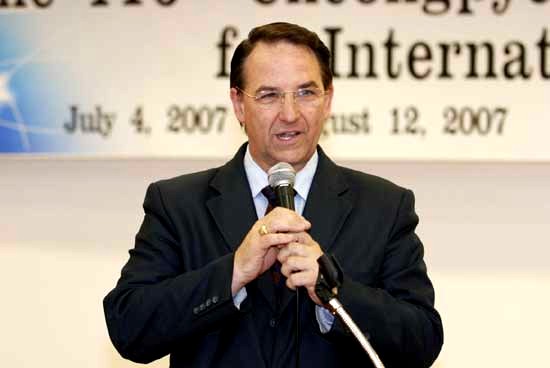 Rev. Jenkins speaking to the 2nd Generation, July 8, Chinhwa Educational Hall.
On July 8, after attending the 837th Chung Pyung Special 2-day Workshop, the members of the '116th Chung Pyung 40-Day Special Workshop for International 2nd Generation' received a special lecture from Rev. Michael Jenkins, President of FFWPU-America. Rev. Jenkins shared his words with the members of the workshop with much love and interest.
After a brief introduction, Rev. Jenkins was welcomed to the stage with huge and warm greetings by the members of the workshop.
He said, 'Why are you here in Chung Pyung? You are here to grow your spirit. Your spirit grows on two basic things, believing in the truth and practicing the truth. The Divine Principle is the truth, and the life in Chung Pyung is the life of Divine Principle.'
'You will experience God if you do your best. Give yourself, give your best, never give up, and push your heart. You will suddenly have a change, an experience with God. You will be touched by his love, here in Chung Pyung.'
He then shared his experience of Chung Pyung 40-Day Workshop with the members and testified how it changed his life completely. He expressed his gratitude to Heung Jin Nim and Dae Mo Nim for having this workshop for the 2nd Generation and ended his speech saying, 'Your life, even though you are unaware of it, will benefit from it'.
In the midst of his busy schedule, Rev. Jenkins came to Chung Pyung and lectured to the 2nd Generation. He will again, lecture to the members in the middle of the workshop.