| | |
| --- | --- |
| | The Words of the Jenkins Family |
Report on the International Leadership Conference
Michael Jenkins
July 21, 2007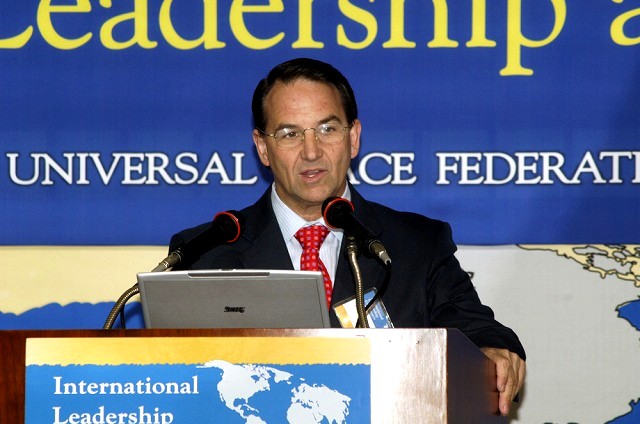 International Leadership Conference
July 17-21
Seoul, Korea
From July 17 to July 21, the International Leadership Conference (ILC) conducted a seminar in Seoul, Korea, for Ambassadors for Peace and delegates from the United States, United Kingdom, and France as well as ambassadors to those nations and to the United Nations from many countries of the world. The theme of this conference for the over 300 diplomats and leaders was "Providing Vision and Leadership at a Time of Global Crisis." Dr. Hyun Jin Moon chaired the conference, and Amb. Phillip V. Sanchez was co-chair. Dr. Thomas Walsh, secretary general of the Universal Peace Federation (UPF), designed and guided the conference, which received high marks in reflections given by the participants in terms of quality, diversity, and uniqueness.
The opening dinner was moderated by Jack Corley, assistant Secretary General of the UPF. Welcome remarks came from Amb. Phillip Sanchez, Rev. David Hart, international secretary of the World Congress of Faiths, as well as the Hon. Donzella James, former senator of Georgia. The keynote address for the evening was given by Dr. Chang Shik Yang, chairman of UPF for North America. There was great excitement from the very beginning as three nations that represented the Allies of World War II were gathered together. The spirit of the conference emphasized the importance of achieving peace through dialogue and understanding, with a new vision of leadership based on core values that affirm faith and respect for all religions, races and cultures.
The next morning Dr. Walsh moderated the opening plenary titled "Providing Vision and Leadership: What is needed at this time in history to create a world of peace and human development." Renowned journalist and author Mr. Alan Hart from the United Kingdom gave quite a stunning address, in which he mentioned, "I never have talked about God in a public forum before, but today I will speak about God." He emphasized that in all his years as a journalist, one of the things he saw was that leaders and elected officials do not stick to their principles but often are caught trying to win votes rather than lead nations. Therefore, many of the things needed to bring statesmen, diplomacy, and a world of peace are lost as politicians focus not on the benefit of the nation but on their own political survival.
One former American ambassador, appointed to various diplomatic posts by several U.S. Presidents emphasized the importance of the family and that though she was new to the UPF, she enjoyed very much the spirit of the conference and the respect demonstrated for all faiths, as well as the theme of the centrality of the family.
Amb. Pierre Lafrance, former ambassador from France to Mauritania and Pakistan, encouraged the delegates to seek new ways to achieve peace at a conference such as this, which focuses on core values that together with the spiritual perspective brings a new and fresh understanding to the possibilities for peace.
Rev. Dr. Clinton Bennett, former executive secretary for interfaith relations of the British Council of Churches and associate professor of ministry at UTS Interfaith Seminary, shared that though he is a theologian, he would not talk about God and religion but rather about politics. He went on to describe the fact that the faiths get involved with building boundaries and barriers, and politically dividing one from another over the slightest thing. This is destructive. He called for the delegates to realize that we were all part of one global community and that the faiths of the world should not be political; rather, they should show the way to value and appreciate every manifestation of God in humanity by seeking unity and understanding.
The keynote speaker of the day was Dr. Hyun Jin Preston Moon, chairman of the ILC. Dr. Moon delivered the core message that he's been repeatedly delivering during the 50-state tour of America, the 12-city tour to churches last January, the Korean Parliament, as well as to youth leaders in the Philippines and throughout the world. That message concerns the vision of his father, Rev. Sun Myung Moon, a vision that is now manifesting globally as a direction for peace and understanding in the world. That vision is one family under God.
His address and his presence resonated in a profound way with the audience, which was composed of elected officials, diplomats, ambassadors, opinion makers, journalists, and religious leaders. The gridlock at the dais after his speech was evidence of the overwhelming impact he had on the delegates. His presence and leadership are definitely helping people understand the life and ministry of his parents, Rev. Dr. and Mrs. Sun Myung Moon.
The next session was titled "Providing Vision and Leadership at a Time of Global Crisis," moderated by Ms. Margaret Ali, director of UPF in the United Kingdom. President Yong Cheol Song, chair of European Region I of the UPF, gave welcoming remarks. Mr. Jack Corley gave an overview of UPF in 2007, and a presentation on the need for new vision was given by Dr. Michael Jenkins, chairman of UPF-USA.
Session 3, "Religions, Diplomacy and Conflict Resolution," was moderated by Dr. Song. Dr. Thomas Walsh spoke on the significance of religious life and spirituality. Mr. Ricardo de Sena gave a presentation on renewal at the UN and the significance of civil society and religion. This session emphasized that conflicts arise for many reasons, but one of the primary factors related to their emergence is the disharmony among world religions. When we witness global tragedies, we should recognize how important it is for religions to come together to dialogue for the benefit of the whole human family. At the root, human problems are not entirely social or political, so those kinds of solutions will always be of limited effectiveness. Religion lies at the heart of national and cultural identity and has far greater importance in people's hearts than do political loyalties.
Session 4 was "A Vision for Peace: One Family Under God." Mr. Tim Miller, vice-chair of UPF-Europe, moderated. Mr. Jim Flynn, secretary general of UPF-North America, gave a presentation on God's original ideal of peace. These were high-level presentations of the core values expressed in the Principle about God's original ideal of peace, emphasizing the importance of the family as God's original model for teaching the four great realms of heart -- parents' love, children's love, and love between husband and wife, and brothers and sisters. Jack Corley gave a presentation on the family as an instrument of peace.
The evening concluded with a special address by Rev. Chung Hwan Kwak, chairman of UPF. His address emphasized that the core breakdown that occurred in humanity happened at the very beginning, when the first human ancestors disobeyed God. The International Leadership Conference under Rev. Kwak and Dr. Walsh's leadership is bringing forward the most essential teachings on ethics and values and helping people understand the broader perspective of the work of UPF and its founder, the Rev. Dr. Sun Myung Moon.
Over 50,000 Ambassadors for Peace in Korea have now completed these seminars, creating a whole new dimension of leadership in which diplomatic skills and leadership qualities are now being strengthened and supplemented by moral values and ethics. Honesty, trust, integrity, faith, fidelity, and living for the sake of others are core principles that are absolutely necessary for diplomatic efforts to bring peace. Rev. Kwak stated, "Given this reality, how can we move forward and create a world of true and lasting peace? That is the purpose of this conference. We will learn principles and methods that show the way to move from a state of hostility and conflict, to a state of peace: from resentment to reconciliation: and, from enemy relationships to relationships of true love."
The 50,000 Korean Ambassadors for Peace who graduated from these seminars are former and current members of parliament, governors, ambassadors, military generals, professors, and leaders of society. That's why a very noticeable change is occurring in Korea at this time; the value of the life and work of Rev. Moon is coming to be appreciated and understood. Many are clearly identifying this work as a central hope for a peaceful reunification of Korea as well as for bringing peace in the Middle East and ending war and conflicts in the world.
The next day was very special experience. The whole conference was invited as special guests to the Peace Palace at Chung Pyung. A stirring performance was given by Professor Kim, renowned opera star with a very full and rich baritone voice, of the theme song from Exodus as well as a Korean folk song. The Peace Palace is high in the mountains surrounding Chung Pyung and generally has a magnificent view of the valley and lake. On this day, however, the whole area was cloudy, with only the tops of the mountains peaking through the clouds and the light rain. It gives a mystical feeling that the Peace Palace is sitting on the clouds.
Dr. Walsh was the emcee for this special luncheon. Archbishop Stallings gave a beautiful prayer to open the occasion. Mr. Alan Hart from the United Kingdom noted that he himself had been married 44 years, which drew applause from all. And he offered a toast calling for all families to be blessed in marriage, to be faithful in their marriages, and to bring peace in the world.
Mr. Richard Jorandby (who was elected to seven terms as public defender in south Florida), was one of the participants who gave reflections. He has been aware of Reverend Moon's work for 27 years but watched from afar. He apologized to Reverend Moon for not having helped him during those 27 years; but now he has found a way to help as an Ambassador for Peace. He pledged his full commitment to take some of the burden off Reverend Moon and expressed appreciation for his Moon's tireless, patient efforts to love all humanity.
Dr. Khan, a heart surgeon from the United Kingdom, spoke movingly about how the conference's emphasis on the family couldn't come at a more crucial time, when the family is under great stress. If the family is weak, society is weak. Dr. Khan also praised the work of the UPF in the Middle East and said that the greatest gift we could give Reverend Moon at this time is our commitment and ultimately success at bringing peace in the Middle East. He pledged that this would be his lifelong work.
Dr. Hyun Jin Moon introduced his father, the founder of the UPF. Father Moon gave the Pacific Rim Era address, which was the same address given on March 17, April 17, May 17, and June 17, and now became part of this July 17th convocation. Reverend Moon emphasized that these seven convocations from March 17 in Hawaii each month until September 17th in New York have an important significance as foundations for preparing for a complementary United Nations, which he called the "Abel UN."
Though Reverend Moon's written text only takes 30 minutes for him to read, his address lasted more than three hours as he felt deeply inspired by the gathering of the Allied nations of the United States, the United Kingdom, and France. He emphasized that we're creating a new era, revisiting the time after World War II, when the Allies launched the UN; now they are creating the Abel UN. He emphasized the role of women, saying that nations with a majority of women as elected officials will more quickly rise to the call of peace. He also emphasized the importance of the dignity of women and the importance of respecting them. He called upon all of the women there to think of him as an elder brother who wants to protect them and reminded them that the greatest protection is forming strong families with faithful husbands, children, and grandchildren to make three generations.
There was great humor, warmth, and love, in the address, as well as seriousness appropriate to the crisis we are facing at this time. Overall there was an enormous spirit of confidence. Diplomats from Africa, the Middle East, Asia, South America, and Europe were in attendance, coming from UN and diplomatic positions in the United States, the United Kingdom, and France to learn and understand how we might deliberate more effectively toward peace.
Hearing a three-hour address was overwhelming for many of the participants. Father, however, won the day with his passion, his love, and his heart. People were amazed that a man of his age could express such vibrant energy akin to that of a man in his 40s.
At the end, the ambassador from Chad and his wife presented flowers to True Parents. Dr. Walsh, the moderator of the luncheon, called upon Reverend Jenkins to give four cheers of Ok Mansei, which means eternal blessing upon your faith, family, nation and all humanity.
It was beautiful to hear the testimonies of the participants after the event was over. They felt truly that Rev. Moon had changed their perspective and given them a new and fresh understanding that all religions can be harmonized and that we can achieve peace in our time.
The conference had further presentations on reconciling enemies and the core cause of conflict. All in all the conference was uplifting and filled with hope that peace will be realized. That night the conference were special guests of the Peace Cup Tournament and watched France win against Argentina.
The next morning at breakfast at the Original Peace Palace and Museum, Rev. Kwak, Dr. Yang, and Rev. Song gave very detailed presentations on the testimonies from the various participants in this extraordinary conference. True Parents were moved at the profound commitment for peace that the Ambassadors are sharing and realizing through UPF.
Reflections of the participants are included below.
Reflections of Participants -
Media Consultant
"This conference has been a "soul journey". The ILC has been one of the most exciting, memorable and dynamic conferences I have ever experienced. The Ambassadors for Peace program is the single most important personal, social and spiritual action network for people on the planet. I am honored and thrilled that such a program exists, and to be a part of it.
The opportunity to be together with different men and women around the world is a life-time dream. Thank you UPF!! I applaud the tremendous quality of speakers -- I learned so much from each one of them. I could listen to them forever -- they are amazing teachers!"

Former GA state senator, who also has 30 years experience in broadcast media, earning 3 Emmys for her work.
"My cup runneth over. The spillover will spread to various endeavors we are involved in with resetting personal foundations for peace and Godly relationships. This conference has made my biblical scriptures come alive with greater clarity. I have long espoused the personal philosophy and acted in accordance with the belier that "it is not about me". This conference has reaffirmed and solidified that belief. I thank God for Rev. Moon and his divine purpose. I thank God for the opportunity to participate in this gathering for such a time as this -- at time of global crisis."
Mother of the Mayor of a Major U.S. City
"This has been a very inspiring, informative conference and a soul enriching experience. It is always good to meet others who share your view for a better world. I have had the song "Let there be peace on earth, and let it begin with me" running through my head with each speaker. I am grateful to have been able to share the Dream of Peace with so many people of different races and religions. I hope I'll can be an instrument in God's work for love, peace, unity, understanding and progress."
Bank Vice President
"I am very grateful for being invited to the UPF conference in Seoul. This is the kind of program that we need to solve problems and conflicts throughout the world. The conference was well-organized and well-presented, and I am very happy to become part of the Ambassadors for Peace."
Former Commissioner and former Police Chief of Atlanta
"I found that during this conference there were common themes espoused at every session: love for oneself, love for others, and love for God and family. I also really appreciated the inspired words of wisdom from above by Rev. Moon, as well as the presence of love shown everywhere."
Educator and Native American leader
"Thank you deeply for the opportunity to understand more clearly about your movement towards peace. It has given me ideas to take back to my homeland. As a Native person I understand the importance of a life reflecting qualities of God… The spiritual understanding that you are presenting can only bring hope and healing to the world. I thank you!"
Pastor and President of a major Christian organization in Georgia -
"I want to express my joy and profound appreciation to UPF and the ILC. It is very rare that I have been afforded the opportunity to be in an environment of positive people from across the globe who are dedicated to bringing about world peace through the family."
Archbishop and Married Priests Now Leader
Dear Rev. Moon,
It has been my great pleasure to participate in the International Leadership Conference that began on July 17, 2007.
I have received a good review of the Divine Principles which are part of your vision to renew and redeem the world. The speakers were enthusiastic and presented the material with solid knowledge and dedication.
It was good to participate with the other members from France, the United States and other countries of the world. The highlight of the conference was the visit to the Peace Palace. I enjoyed your speech which told of the great vision God has given you and of the hardships you have endured in fulfilling your promise to God and your dedication to His message to you. …
Thank you for your generosity and for sharing your message with me and the world.
Congressional Coordinator for an Embassy in D.C.
"I am amazed at the energy and strength of Rev. Moon. His children are so smart, handsome and beautiful. I will help UPF in every way I can.
Counselor from the Middle East to U.S.
"I felt Rev. Moon's heart is so pure and beautiful. That is why he can bring a great success and unity among many people from different races and nationalities."
Ambassador to US from Middle East
"I really appreciate the concern of UPF leaders toward the Palestinian people. UPF has been able to engage in Middle East peace efforts, without taking sides. Because of this, UPF can have influence on both sides. Even though you feel sympathies for one side or another, it is still quite important to avoid taking sides. That is the only way to have credibility with both sides, and thus to have influence with them."
Ambassador to the USA from Africa
"Dr. Preston Moon got his father's wisdom. I have never met a young man like him. He can carry on his father's vision. UPF will grow rapidly.
I am going to recommend UPF's vision to the president of my country to adopt it for the peace building.
Report by Dr. Michael Jenkins
Chairman
UPF USA