| | |
| --- | --- |
| | The Words of the Jenkins Family |
Greetings from Jerusalem
Michael Jenkins
August 23, 2007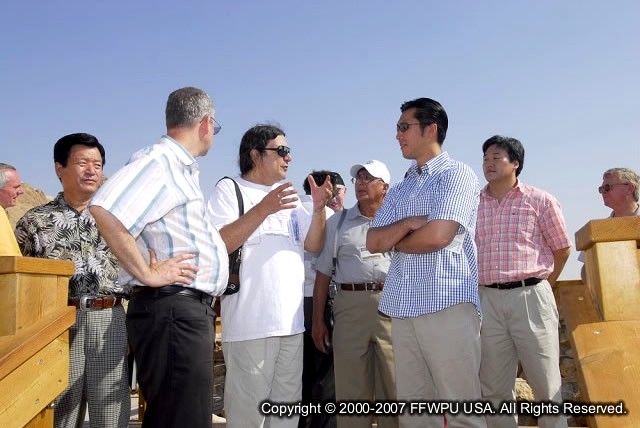 Dear Family,
We are here in Jerusalem with 120 Ambassadors for Peace from the U.S. and 60 from Europe. We are joining with our Ambassadors for Peace from Israel and having many different programs to bring unity of the family of Abraham.
Tonight Sheikh Bukari greeted us. He is a Muslim Sufi leader whose home (which some sections date back 2000 years) is on the Via Dolorosa which Jesus carried the cross on the way to Golgotha. His family is the famous Muslim family of Bukara and they have lived in this house for 600 years.
In addition Dr. Eliezar Glaubach who is a member of the Global Peace Council of the Universal Peace Federation also welcomed our delegation.
The participants from the United States include Rabbi Wachman from Florida, Dr. Muhammad Khan from Los Angeles and many other key leaders from the three Abrahamic faiths. Our focus is more clear than ever - we are going to the root of the separation of the family of Abraham, our strength, depth and numbers are growing.
9 elected officials have come from the U.S. including the well known Senator Steen Miles who recently retired from the Georgia State Senate.
At the same time we are hosting events all over the Israel - we will be at the Rabin Center to pay respects to the family of the late PM Yitzak Rabin. We will be at major Universities and of course to all the holy sites.
We are here again at time when there seems no end to the conflict - however - we see hope on the rise as the Ambassadors for Peace from all three faiths in the Holy Land are getting stronger and more committed. They share continually that the Pilgrimages of the Ambassadors for Peace greatly strengthens their hope and resolve.
We pray for Peace in the Middle East. Thanks to all who helped support these outstanding leaders to make this Journey to the Middle East.
Thanks.
MWJ