| | |
| --- | --- |
| | The Words of the Jenkins Family |
LA Brought A Tremendous Victory Last Night
Michael Jenkins
November 12, 2007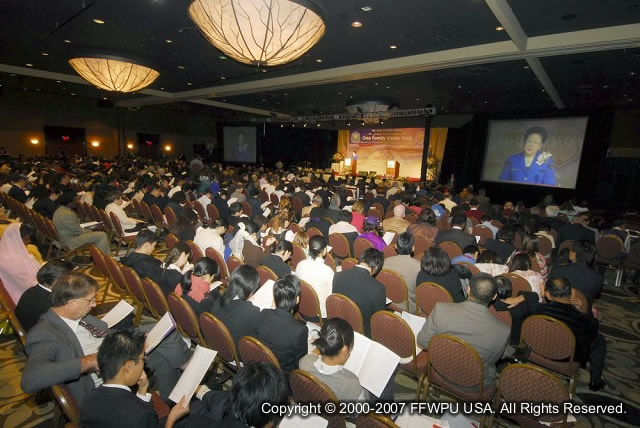 Dear Family,
We made up our minds and hearts to show True Mother greater devotion and to realize an even greater response from the Ambassadors for Peace and ACLC clergy. It happened last night. It was great, almost two times the size of the events over the last 6 years. The spirit was absolutely beautiful and the very large ballroom at the Westin Bonaventure LA was filled to capacity.
120 dignitaries were appointed as Ambassadors for Peace. It was great.
Particularly moving was the way True Mother, when reading about Father's course and how he is doing his best to comfort God - she broke down in tears. It was difficult for Mother to read. The audience started weeping, then as Mother cried naturally the whole audience came to its feet weeping and applauding for True Mother's courage and strength. They expressed that "True Mother - you are not alone - we are with you." Mother regained composure and then read on through.
Brothers and sisters, the hearts of the Ambassadors for Peace are being moved deeply. We sincerely thank Rev. Henning and the LA family for launching this tour in a most historic, beautiful and victorious way. All related organizations cooperated so well to bring such a beautiful spirit. It was just that it was overflowing - the event had the magic that only comes from prayer, sacrifice and sincere heart and love for the people. Congratulations LA!!
Here is what True Mother said a few minutes ago,
"Did you like the event last night? I want to sincerely thank you for your sincere Chung Seong (devotion) that you gave for this big and historic event. That sincerity brought about the victory last night."
AJU!!!
MWJ