| | |
| --- | --- |
| | The Words of the Jenkins Family from 2008 |
Happy True God's Day, 2008
Michael Jenkins
January 1, 2008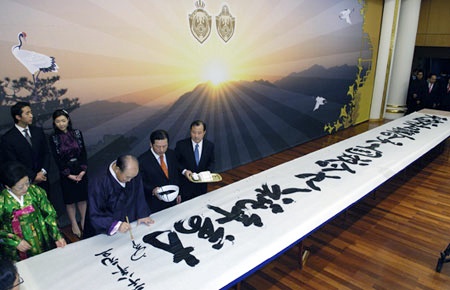 Dear Family,
True Parents began the 8th Year of Cheon Il Guk with 10,000 gathered for the midnight prayer at the Chung Pyung Heaven and Earth International Training Center.
As they prayed, True Parents offered tears of gratitude for the Jubilee Year of 2007 and asked God to extend this grace and victory throught 2008 so that the Cheon Il Guk will become visible before all mankind.
Father then did a beautiful caligraphy of the motto for 2008 with True Mother, True Family and Rev. Kwak and Rev. Hwang in support.
Roughly transliterated it is:
Cheon Ju Pyung Hwa Yun Hap Cheon Il Guk Seung Hap Ship Chil Pal Shi Yang Mansei
Roughly Translated it is:
Mansei for the Universal Peace Federation and Cheon Il Guk for the double Jubilee year of 7 (2007) and 8 (2008).
NOTE: THIS IS UNOFFICIAL AND ROUGH - THE OFFICIAL MOTTO WILL COME OUT FROM FFWPUI.
HAPPY TRUE GOD'S DAY!!!
Rev. Michael Jenkins