| | |
| --- | --- |
| | The Words of the Jenkins Family from 2008 |
Happy 49th True Parents Day - From Kona, Hawaii
Michael Jenkins
April 6, 2008
Hawaii King Garden, Kona, Hawaii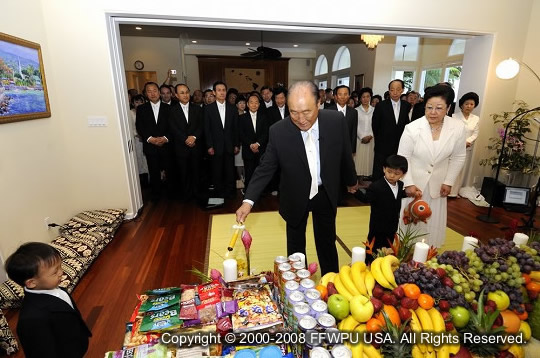 Dear Family,
We are here at Hawaii King Garden in Kona at the morning Pledge Service for True Parents Day. A most beautiful atmosphere of love of hope is lifted by the gentle, cool Hawaiian breeze as we prepare to give our love and devotion to God and True Parents. We are here with representatives of Korea, Japan and America as well as the Regional Presidents of every continent of the world.
In honor of Hyo Jin Nim all men are wearing dark suits and white ties and all women in white dresses. All should continue 40 days of prayer from March 20th in memory of the sacrificial course of God, True Parents, True Family and all the saints of history.
True Parents entered and lit the seven Holy Candles before the offering table. Father is in a dark suite and white tie and True Mother in a beautiful white dress with jacket. True Family offered Kyung Bay, followed by the congregation. Representatives of the three primary nations and the continents and the representatives of the world
Father gave a profound meaning of the providence at this time and how everything is centering on the Pacific Rim Era especially Hawaii and America. This leads to the unification of the Fatherland. Father emphasized unity and that all brothers must unite now centering on True Mother, the Abel and Cain UN should cooperate and come together centering on America. Heung Jin Nim went to the spirit world and could bring heaven and earth together and liberate and bring together the Communist world and the Free World also bring grace to all humanity.
Hyo Jin Nim's going to the spirit world will allow the unity of all brothers and bring Cain and Abel together. He is the first to go from True Family after having created a Blessed Family on earth. He will be the center of heaven His sacrifice will allow the Abel and Cain UN to become one centering on America.
True Mother was asked by Father to MC the program. This has never been done before. True Mother called on Won Joo to read the 13th Peace Message. Then True Parents had the cake cutting and True Mother called for the flower presentation. In a very special ceremony of unity, flowers were presented by Hyun Jin Nim and Kook Jin Nim to True Parents. Then True Mother, Hyun Jin Nim and Kook Jin Nim came together in unity and offered Kyung Bay to True Father.
It was such a unique and moving True Parents Day. We have now made a new start in the dispensation and True Father has now set enormous conditions to speed the providence through the offering of Hyo Jin Nim. Let us comfort God and True Parents through our beautiful lifestyle of building blessed families of True Love and extending that love to every religion, race and culture.
Happy True Parents Day!!!
Rev. Michael Jenkins