| | |
| --- | --- |
| | The Words of the Jenkins Family from 2008 |
A Shower of Blessing onto the New Jerusalem Small Groups
Michael Jenkins
May 28, 2008
New Jerusalem Community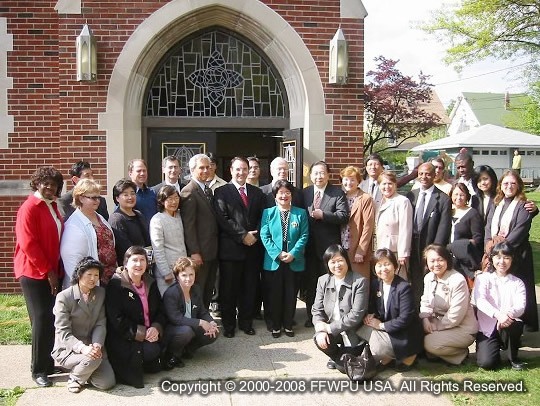 Reverend Jenkins' Visit with Family Fellowship Small Group Leaders Meeting
Kathy Sato
Assistant Coordinator of FFSG -- District #3
We had a surprise visit from Reverend Jenkins right after three leaders from our District attended the Saddleback Church Small Group Conference. Reverend Jenkins came specifically to attend our regular small group leaders' meeting, which is held on the 1st and 3rd Sunday of every month. He attended the meeting and also visited one of our small groups that night. It was such an honor and a blessing to have our national pastor come and visit our community.
On May 4th we had a surprise visit from our national pastor, Reverend Jenkins. He came to meet and share with our Family Fellowship Small Group Leaders. After Sunday Service, we gathered in a classroom behind the sanctuary in our new church. The room was packed with small group leaders and full of excitement (about 40 leaders attended).
Mrs. Feddema, the District Coordinator of FFSG, and Reverend Geller, the District Director, warmly welcomed Reverend Jenkins to share with the leadership. Reverend Jenkins first wanted to hear what was happening in the Family Fellowship Small Groups. One by one, the leaders stood up and shared their hearts passionately. Reverend Jenkins listened intently as small group leaders testified to how God was working in their groups, how God, through our prayer and caring for each other, had helped to resolve problems, bring healings of illnesses, or resolve difficult relationships. Some shared about making Jung Sung conditions to break through in bringing guests. Others shared their passion to create community-level events with a seasonal or cultural theme, various entertainment, food, and guest speakers in order to inspire the members and bring guests. About 20 of the leaders were able to give reports.
Watching Reverend Jenkins' face was almost like seeing True Father listening to all our reports. He even extended the time he planned to stay in order to hear more testimonies. Reverend Jenkins commented as he took notes that every report he makes is immediately translated and given to True Father. It made us feel special and important. However, it also reminded us of how serious Reverend Jenkins is about America becoming a filial elder son nation for True Parents.
After allowing leaders to share, Reverend Jenkins spoke. He emphasized the Family Fellowship groups are one of the two main pillars of our church growth, in the sphere of life. He reminded us that True Father is always emphasizing the importance of Family Fellowship (HDFC) and becoming Tribal Messiahs. He encouraged us to study and learn the methodology from the Saddleback Church. He said, "They have a good system of bringing and educating people. Multiplication is a byproduct of living correctly. If we are not multiplying, then we are not fully living it yet. Our root is Christianity. True Father came on that foundation, not on the foundation of another faith. In this respect, we should study their materials and adapt them to our situation."
Mrs. Feddema responded that Reverend Geller and our leadership team will study and apply the material to the Family Fellowship groups in New Jersey.
"Now is the time!", as Reverend Jenkins said. "True Father is waiting to see America break through. Through the Family Fellowship Groups and the Witnessing Summit we can bring new members. This is also the time to reach out to ex-members. They may have left but they still love True Parents. The door is open wide for them through Family Fellowship Small Groups. They can come back through our love. Between now and 2013, everything will change. Everything will happen quickly -- new members will join, ministers will receive True Parents. Let's all be part of this great revolution of heart and family."
We are deeply grateful for Reverend Jenkins' visit. We all felt True Parents' heart and love for us through him. We are all encouraged to work harder to reach out to lost souls out there.
May all other regions and Family Fellowship Small Group Leaders also be uplifted and encouraged by Reverend Jenkins' heart and investment in guiding the growth and development of the Family Fellowship providence here in America.
Spirit-filled Heaven's Visitation by Reverend Jenkins to Our Small Group Meeting
Darryl and Sara Franklin
Community Leaders in Elizabeth
Our small group in the Hispanic community has been active by having weekly meetings and community gatherings. The guests have been coming to these meetings consistently and we had a few Divine Principle Workshops (in Spanish) on the weekends.
In the early afternoon on May 4th we were informed that Reverend Jenkins would come to our small group meeting that evening. We were surprised yet were very excited for his coming. Reverend Jenkins came to one of our members' house that night and participated in the meeting. It was very good. The spirit was very high. Brothers and sisters shared warmly from their hearts. There were about 30 brothers and sisters. The topic of discussion was how our spouses impacted our relationship with God. We chose the curriculum from HDFC Small Group Manual (Published by New Jersey HQ). Reverend Jenkins was very inspired with everyone sharing. Darryl guided the group with discussion questions, and we received a lot of inspiration towards witnessing. After sharing, we had refreshments and singing. Two songs were offered by Darryl and his son. Reverend Jenkins got so inspired that he led brothers and sisters on a soul train dance line. Everyone got involved with dancing!
Afterwards Reverend Jenkins spoke for about 40 minutes on Father's course for the past eight years, explaining the historical significance of Father's conditions. We felt so empowered through the words and inspiration he shared with all of us.
The Family Fellowship small group meetings have been a blessing to our spiritual lives. All of our testimonies reflected the appreciation of having True Parents and the Divine Principle in our lives. Again, we are deeply grateful to Reverend Jenkins for his heavenly visit to our small group. We will strive harder to bring and connect people back to God and True Parents.